Skye Gallery is well known in town as the hip, unconventional wild child of the Aspen art bubble. Since its inception in 2016, gallerist Skye Weinglass's creation has proved to be a community gathering space with unusual programming.
Ecco Hominem, the current show on display through March 9, is a solo exhibition by Utah-born artist Andrew Jensdotter featuring paintings, drawings, sculpture and video art. At first glance, a colorful array of materials excite the viewer, inviting them to fantasize about its inception. Upon taking a closer look, we discover everyday materials and scenes hidden beneath the apparent.
A circle structure made of old colored brooms, a heart shape made of zip ties, and a flag constructed from old snow shovels are only a few examples of his unconventional choice of materials. It is true, now more than ever, that art can be made of virtually anything.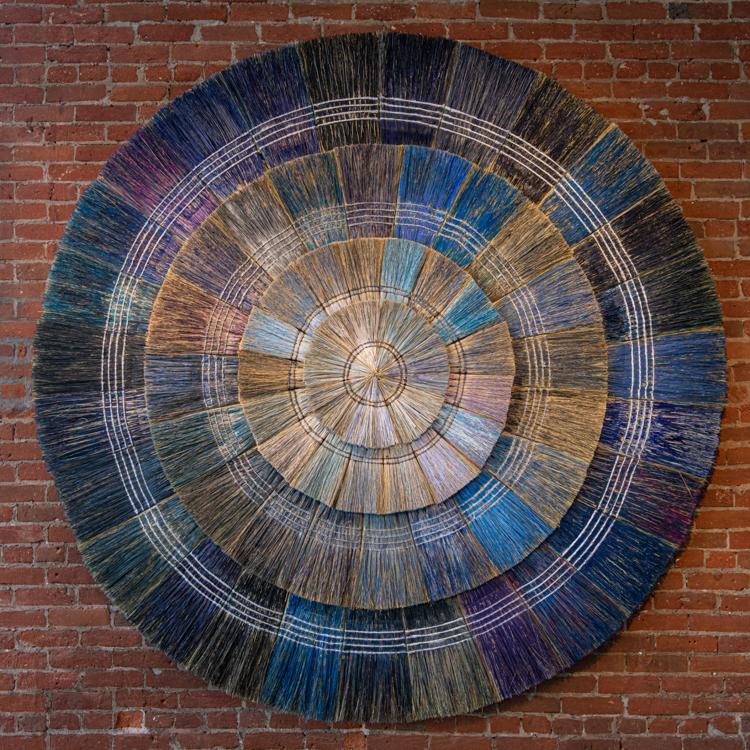 With Ecco Hominem, Jensdotter presents a new body of work that signals a shift in his artistic approach. Gaining wider recognition in Colorado after his solo show at the Museum of Contemporary Art Denver last spring, Jensdotter reinvents his large-scale "carved paintings"—made through a refined and laborious process of layering painted images sourced from Google search.
His subject now shifted from being individual close-up portraits of well-known characters to depicting group compositions of skiers on a slope, sunbathers on a beach, or even ravers at a party. Inspired by simply observing human behavior—hence the name Ecce Hommo in Latin, which means "behold the human"—seems to be the common denominator.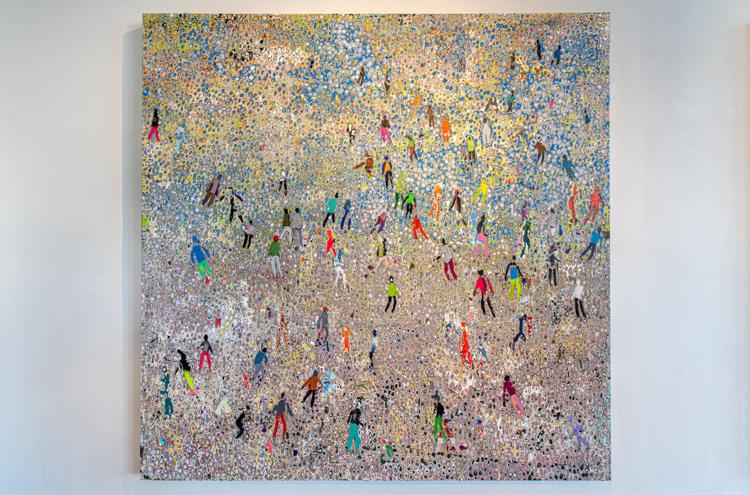 The construction of these paintings is an ongoing process of revealing and concealing. Jensdotter paints each image only to paint over it with the next one. Meticulously repeating this process more than a hundred times, he eventually takes a knife and carves away at the surface to expose residual fragments of the layers below. Once complete, we are presented with raw, abstract color fields that hide beneath the true origin of each component.
"I'm very interested in how the show elaborates on me wanting to convey an 'Americanness' through painting, in both feel and in attitude," Jensdotter explains. "I'm trying to achieve [this] through a wide variety of textures, colors and mediums that while disparate, feel familiar and therefore authentic. There is tension in these present days, there is also beauty."
IF YOU GO
Who: Andrew Jensdotter
What: Artist talk
When: March 6, 6 to 9 p.m.
Where: Skye Gallery
Cost: Free and open to the public. More information at skyegalleryaspen.com.
Agustina Mistretta is an independent art curator and consultant. You can find her running around the local art galleries with @aspenarttours.