I first came across the Aspen Art Museum by chance. I had just visited Aspen to ski and was wandering around the John Denver sanctuary when I discovered a wooden building with an open door. Once inside, I discovered a maze of colorful, movie set-like structures by Morgan Fisher. The impression I walked away with after having experienced an aesthetic punch-in-the-face was unforgettable. And the feeling of having encountered a place to satisfy my art-student hunger made me realize I was at the right place.
Eight years after that first interaction and having watched the organization's transformation to its current location, the same awe-inspiring feeling gets me each time I see a new exhibition at the Aspen Art Museum. The AAM's latest—American artist Lisa Yuskavage's Wilderness, which is on display in galleries 4, 5 and 6 through May 31—is no exception.
Co-organized by the AAM in collaboration with the Baltimore Museum of Art, the show features nearly 50 works by Yuskavage, including a large selection of fairly recent oils on linen and a group of early watercolors from the 1990s.
Having developed a strong visual identity linked to exploring female anatomy, Yuskavage's paintings leave little room for feelings of indifference. They are challenging and uncomfortably explicit, yet there is a mysterious aura that captures the viewer. Voluptuous female figures with impossibly huge breasts, perfect peach skin and child-like complexion play around immersed in idyllic landscapes.
The curatorial approach looks beyond the eroticism suggested by her representations of sensuous and sexualized women to more closely examine the fantastical nature of the artist's pictorial interest in landscape. Mostly within rural settings or tale-like forest backdrops, the striking green hues and smoky surroundings take on an almost otherworldly transcendence, like a supernatural force.
The spectacular technical ability with which the artist manages to capture the weight and tenderness of women's forms demonstrates a highly accomplished level of expertise that borrows from Old Masters as well as Romantic and Impressionist traditions. Art history has ruthlessly disregarded female participation, unless it was as an idealized nude model. But time is wise and we are now empowered and reclaiming the spaces that were neglected. We no longer accept the idea of a story written by men, for men.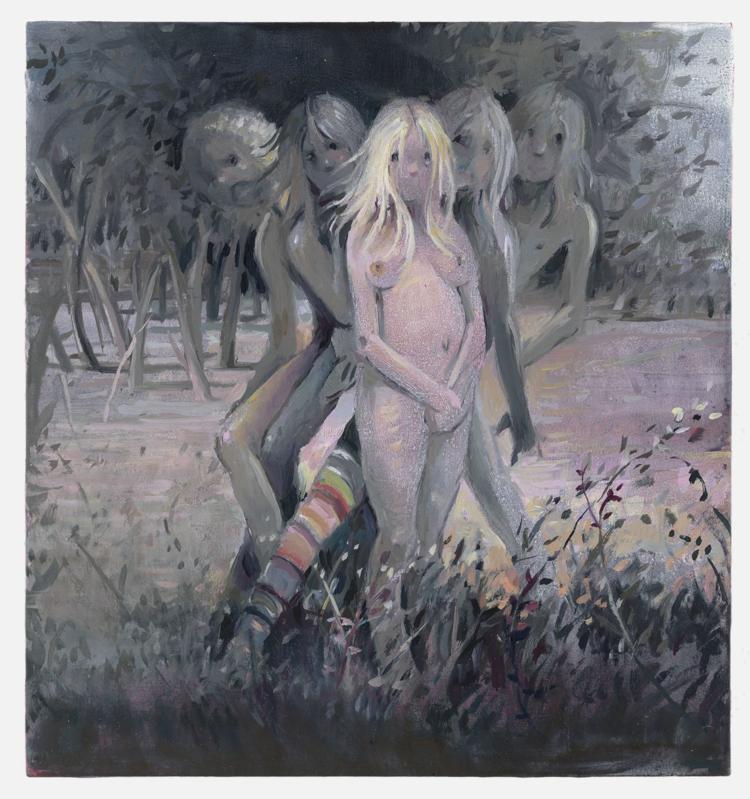 The practical absence of male bodies within this group of paintings—with the remarkable exception of the work Tongue Tondo, the only round canvas of the show that exposes a couple's intimate bond—is a question that keeps lingering. Is denial a way of creating a new narrative?
In conversation with former AAM director and CEO Heidi Zuckerman, Yuskavage cleverly remarked: "I don't paint because it's the right thing to do; I hold to a narrative that makes sense for what the work is supposed to be doing. That game of men getting to paint naked ladies so I should get them back never made sense to me. It's about a bigger picture. This is an art historical conversation, a popular-culture conversation, and a conversation about the self. Why should I have any other conversation?"
That is the ultimate goal of art. To create a conversation, to foster change and incite to action and recognition of the most sensitive issues in the contemporary world.
Agustina Mistretta is an independent art curator and consultant. You can find her running around the local art galleries with @aspenarttours.