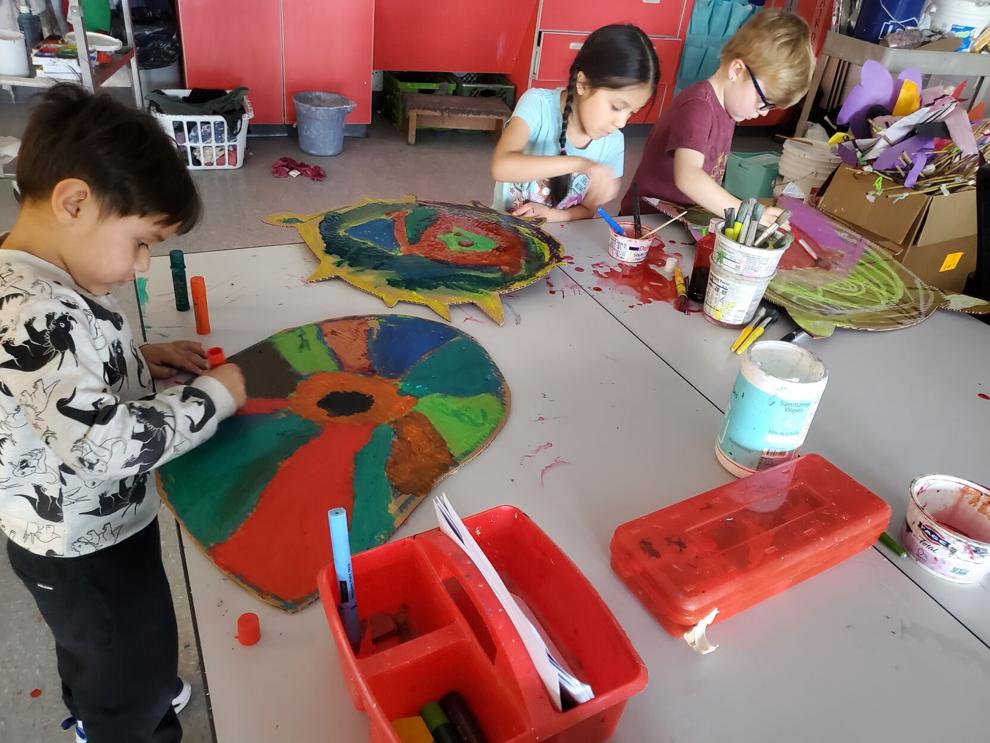 Filling the walls of the Aspen Art Museum are more than 1,000 colorful puppetry works made by young residents of the greater Roaring Fork Valley. 
As part of the AAM's 2023 Youth Art Expo program, students from kindergarten through 12th grade from 13 different schools have been engaging in the art of puppetry in their classrooms or in workshops at the museum over the past several months. 
Their works — ranging from moveable and wearable objects to video material and more — now fill two floors of the AAM's gallery spaces in an exhibition titled "Youth Art Expo: Puppets, Masks, and Storytelling."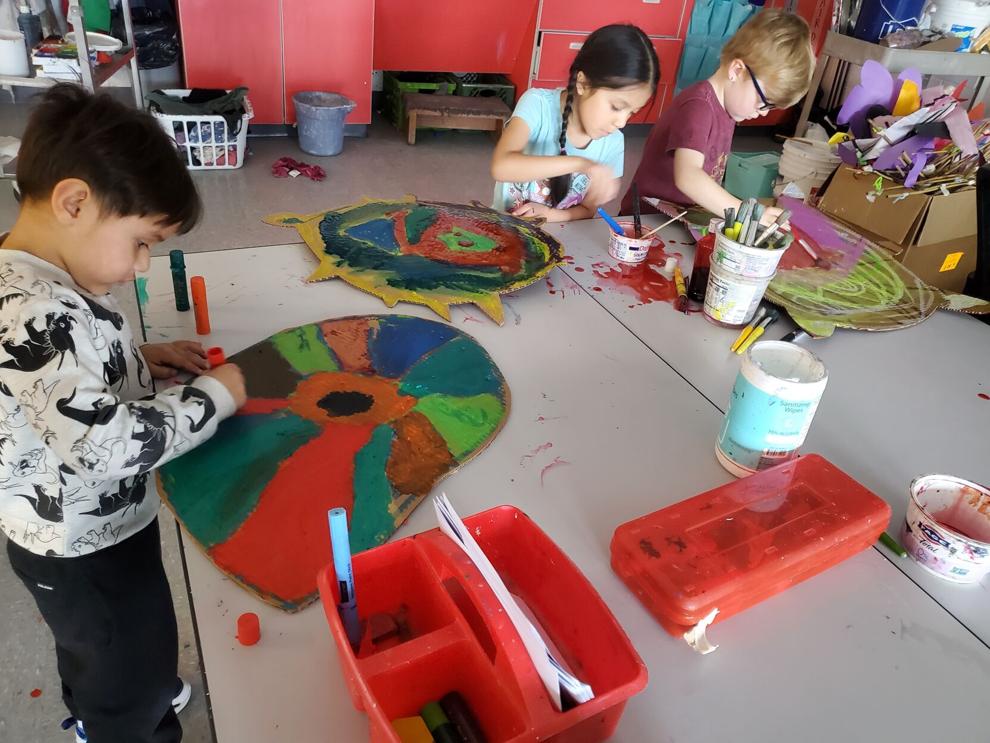 The exhibition will open to the public on Saturday, with a daylong reception to celebrate the students' creations and their storytelling. It will remain active through the end of May. 
Saturday's opening party kicks off at 11 a.m. and is pajama themed. Pancakes and waffles with edible decorations and hot chocolate will be served all day, puppetry performances will commence at noon and 3 p.m., and an interactive music experience by Soul Rhythm African Drumming will close out the festivities from 4-6 p.m.
Kids, families and community members are invited to drop by the free event at any time. 
For this year's Youth Art Expo program — which takes place every other year and is organized by the AAM education team — the museum brought on the internationally celebrated Puerto Rican art collective, known as Poncili Creación, and the New York-based nonprofit group, called MAPS (Music Art Puppet Sound), to spearhead curriculum and mentorship opportunities leading up to this puppetry-focused exhibition.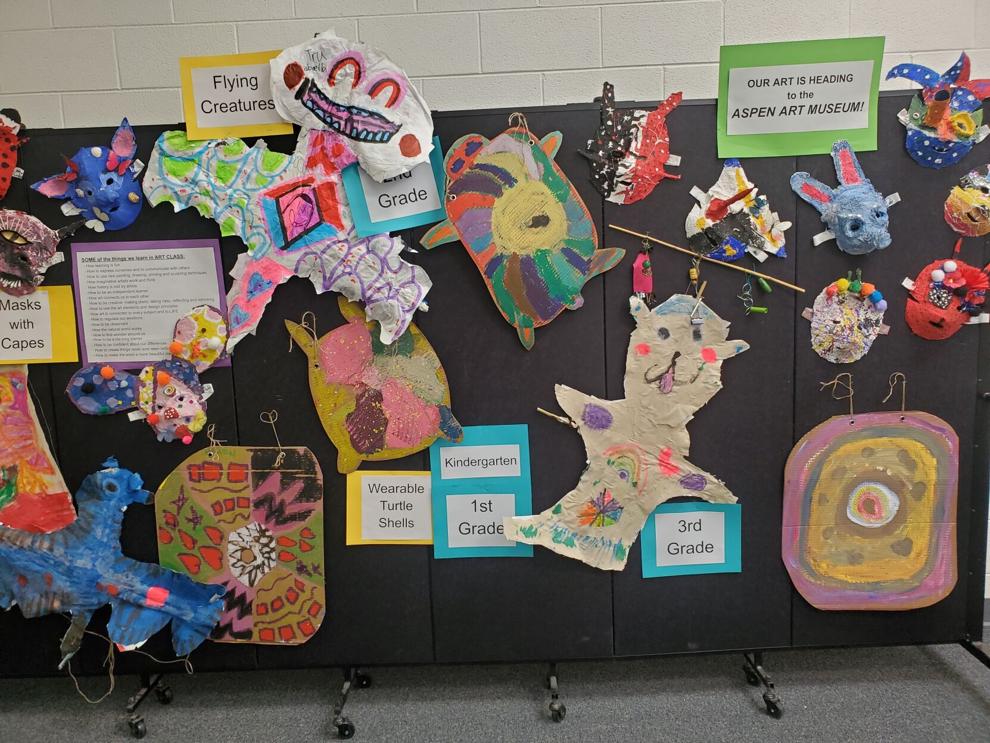 Behind the scenes 
Poncili Creación comprises twin brothers Pablo and Efrain Del Hierro. For the last 10 years, the Poncili brothers have been developing their concept as a DIY performance group centered around foam sculptures — or puppets — which have the "mechanisms to perform stories," Efrain explained. 
"These explorations in sculpture and performance allow us to connect with people and with many communities, and the project has started to grow into something where we just champion accessibility to inspire people with creativity," Efrain said. "And we don't focus on any type of person or age or nationality, we just do it everywhere for everyone — our shows are for adults, they're for kids, they're for everybody — and what we are doing is more of like an energy shift." 
Through large-scale puppetry, improvisation and performance, the Poncili brothers also channel their art as a form of protest and call to action. And in recent years, they've garnered national attention for their works, attracting press from major media outlets, like MoMA PS1, Bomb Magazine, PBS and Frieze — for which they made the cover of last month's issue. 
MAPS was founded in 2018 as a nonprofit arts organization by artists Rachel Sherk and Aaron Rourk. MAPS' mission is to bring experimental "artist studio practices" to communities that typically don't have access to that kind of practice, Rourk said, either because they don't have teachers with the expertise or because they lack the materials to do such creative work, he explained. 
"We work all around the country really trying to spread that attitude that artists have in the studio," Rourk said. "This attitude of creation and exploration, and working with material and ideas, and finding the intermediate zones in between those things."
This Youth Art Expo project through the AAM marks the first time for the MAPS and Poncili Creación duos to work together, and it's a partnership that both Rourk and Efrain described as being "a match made in heaven."
Together, the two art collectives created lesson plans, instructional videos and various curriculum tracks around the craft of puppetry, which was then sent out to teachers at schools from Aspen to Parachute. The AAM provided the participating schools with all of the necessary materials and supplies at no cost to remove any barriers in the kids' learning and creation of these artworks for the exhibition. 
"The teachers facilitated the creation of these art pieces, inspired by the ideas that we put forth and the curriculum that we created," Rourk said. "And you know, we encouraged the teachers and the students to really take these ideas that we provided in their own direction." 
Both the MAPS founders and the Poncili brothers are spending a two-week residency at the museum, during which time they've been helping to unpack and install the thousands of puppetry works that were created by students. 
Rourk noted how in putting together the show, they've been thrilled to see such a broad range of art — from massive hand puppets and flying creatures to masks, capes and even video and sonic recordings in the mix, he said. 
Also during their residency, MAPS and Poncili led a puppet-making and performance workshop for teens last weekend at the AAM. The teens who participated in the workshop will be performing their storytelling, alongside the MAPS duo and Poncili brothers, in the noon and 3 p.m. showcases at Saturday's celebration. 
Puppetry's Magic 
Efrain noted the significance of these kinds of workshops, especially for young people. He explained that whenever he and his brother are facilitating a workshop as such, it's important first to discuss with the teens "what really you can do with art," he said, and what all can be done with puppetry as an artform. 
"Because it's important to understand how these are actual, valid tools that you can use in your life — you know, creativity is a valid tool and that is important," Efrain said. "So we start speaking about that, and then we talk about more like the magic of puppets and why we do this and why we choose this way to tell stories and it's not only to tell stories — you can do many, many things with puppetry because it's like the creation of another world." 
Efrain went on to break down the different steps that go into puppetry and the beneficial skill sets of each, from knowing how to create a three-dimensional sketch to crafting that vision physically with one's hands and then expressing stories through those materials. 
"The cool thing about puppetry is that it makes you draw from many art forms, like you're not only the maker of the story, you're the teller of the story," Efrain said. "You're the maker of the puppet, you're the builder, you're the painter. you're a screenwriter. Also you make costumes because puppets need costumes, and then lastly, the big one is like the live performance part, you know, you're the performer." 
Rourk chimed in to note how in turn, the result of puppetry on the viewer — whether in performance, moving or stagnant — allows us to "expand our imaginations," he said, and even shift our realities. 
"This is, I think, where puppets come in," Rourk said. "They give us an opportunity not only to go to imaginary worlds, but they also force us to see the magic in the world that we really do live in."
"Puppetry enhances storytelling," Efrain said. "And it enhances it because it prompts the imagination and prompts the imagination with physical objects, and prompting the imagination with physical objects is an exercise that changes the viewer — you're not only inviting the people to dream, you're kind of like making them dream a little bit — and that is what is at the heart of puppetry, and at the heart of what we do."
Walking into the AAM gallery spaces, filled with thousands of colorful and lively puppet creations, spectators will indeed see the magic and enter the dream. 
"You'll remember it for a long time," Rourk said.