One canvas has a religious cross scribbled across it. It sits next to a sloppy ACDC logo, as in the band. There are references to Twitter and Facebook, and there's the F word. Another print depicts the starting lineup for a soccer team positioned out on the green field, each player represented by a dot with their name next to it. Volkon is the goalie. That makes sense, given he was a national star for the Turkish team in the 2000s, and these are the doodles and streams of consciousness of school-age children from more than 30 countries, collected by artist Oscar Murillo since 2013.
Once Murillo gathers the fabrics, many from schools he has visited, they are woven together as large, single canvases that then become part of his own ongoing artwork. In the project's history, there are more than 40,000 tapestries collected from 250 schools from places like China, Colombia, Brazil and Germany.
"You can see each canvas as stitched with a desire," Murillo explained. "There is a frequency of difference — social, hierarchical, economic — there's a difference and a tension."
Murillo opened his exhibition "Social Altitude" at the Aspen Art Museum on Friday during a walk-through with former executive director and curator Heidi Zuckerman. The series of work featuring the children's canvases is called "Frequencies."
"The canvases were put on the kids' desks," Zuckerman said. "All the gestures are made from kids from these countries. They're physical and tangible and not just digital. The commonality is that they're all sitting at their desks. There's such diversity and geography. Some are more artistic, some are more automatic."
Once the fabrics are stitched together, Murillo paints onto it, using the children's work to complement his own — though he might not use those words to describe the process.
"The work is chosen with multiplicities in mind and then when it comes to gesture or intervention on surfaces, it is achieved with similar tension," he said. "From the outside, the desire is not to eradicate completely, otherwise the tension will be completely lost. … The satisfaction is spread along different canvases, and there's an urgency — not creating in aesthetic result — it's about marking space."
This idea of making marks and being a recording device runs consistently through his art. There are five distinct bodies of work in "Social Altitude," and "Frequencies" is just one.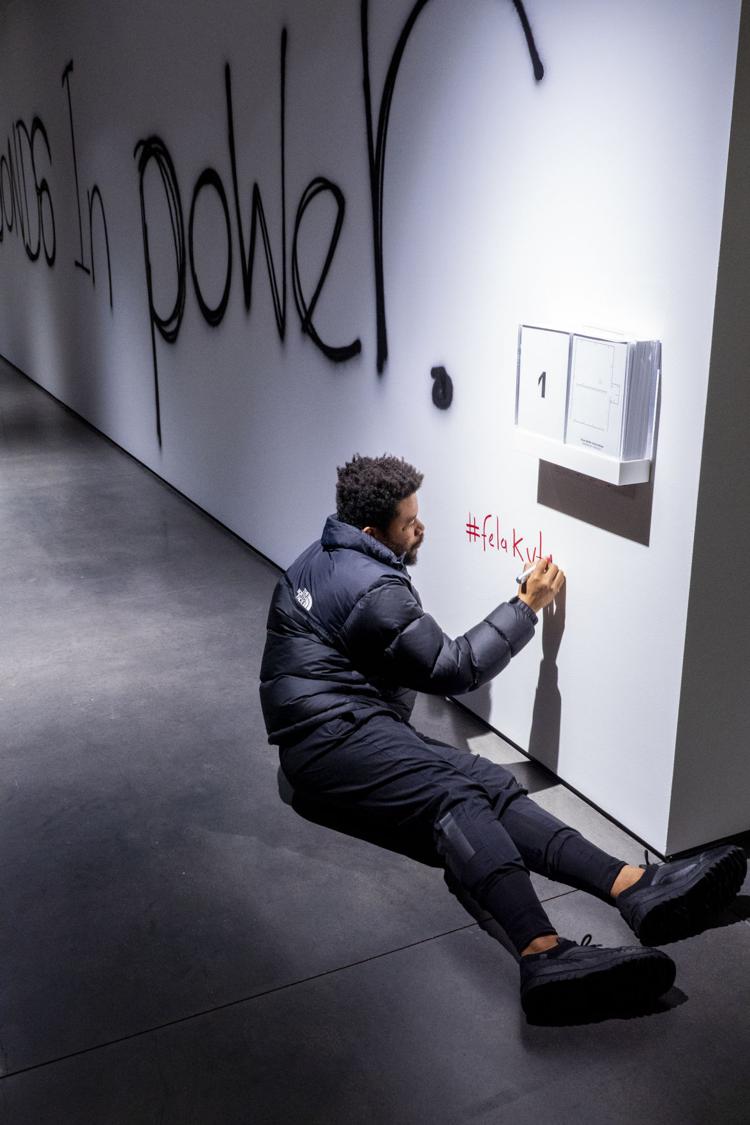 But to start to appreciate even just one body of work, it's worth pulling back from the immediate art, most specifically what's showing in Aspen, to explore the artist.
Murillo was born in Colombia and moved to the United Kingdom at 11, where he still lives. He's traveled extensively and is obsessed with airplanes and the act of being in them, according to reports. His Aspen installation of drawings, "flight #," backs that up, with small pen and pencil compositions that were drawn while Murillo was in airplanes.
He's crisscrossed the globe in the past five years, tracing a speedy ascent in the art world that's put him in private collections, world-renowned museums and shortlisted him for this year's Turner Prize, given to a British artist of merit, which is announced in early December.
Cumulatively, he's spent more than a month in Aspen over the past two years, working with the art museum in preparation for this exhibition and simultaneously being influenced by Aspen itself. Two of the most obvious examples of that are his 35-minute video, "Industrial Park," which was made in the Hunter Creek Valley, and the introduction of the color green into his works, which had never been done before.
"Before I was thinking about the mark-making and not the color," he said of using primarily blue, black and red. "That began to change, this is the first time that I've included green. I was thinking about Aspen, and thinking about nature. ... Aspen is also being in this beautiful reality of a place, it just made sense to experiment with that and include them in the paintings. Whether I continue on with it, I'm not sure."
Though it's not prominent, hints of green are seen in "Frequencies" and his newest series of oil paintings on canvas, completed in 2019, is called "Manifestation." He has previously told reporters that he is greatly influenced by a sense of place and consequently globalization, and this makes him keen to social and political change.
"This is both more serious, and tongue in cheek, but if somebody calls to me from another part of the world [while I'm in Aspen], I tell them I'm breathing the most expensive air in the world," he said.
Though the village where Murillo grew up in Colombia is different in many ways, he said geographically Aspen's contained valley reminds him of home. His path from Colombia to Colorado was unlikely; while earning an MFA from the Royal College of Art in his 20s (he's now 33) a Miami-based art couple took note of his work and helped to catapult him into the art world.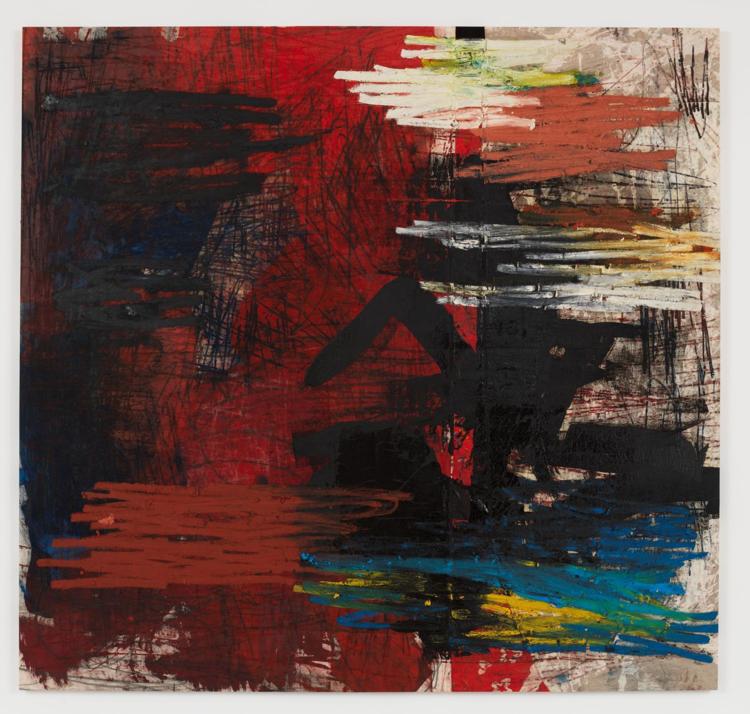 In five years, he's landed in major exhibitions, most recently at the Haus de Kunst in Munich and the CAPC musee d'art contemporain de Bordeaux et Concord in Paris.
Zuckerman met Murillo several years ago over dinner in New York City. Murillo is part of David Zwirner, which has three galleries in New York, as well as London, Paris and Hong Kong.
"I like that place is important to you," Zuckerman told Murillo in front of the crowd on Friday.
Murillo likens each body of work to an index; it's a frame of reference to where his consciousness is at that time, and he puts it down as a recording in the form of art.
"I hope the presentation opens up rather than closes a conversation," he said. "I'm constantly overwhelmed with endless possibilities. The exhibition space ultimately becomes an arena to crystallize these concerns. And the next show perhaps gives a different reading."
The exhibition, and the artist, show that he continues to make his mark.
Oscar Murillo, "Social Altitude"
Presented by the Aspen Art Museum
Through May 17, 2020
Tuesday through Sunday,
10 a.m. to 6 p.m.
Free admission