The arts and cultural industry accounts for 12.4% of economic activity in Pitkin County and has doubled in 15 years, according to an Aspen Snowmass Arts & Culture Economic Impact Study, which was released this week. That translates to $451 million in economic impact and 2,831 year-round jobs, directly or indirectly. 
"We expected arts and culture industries to be an important part of the economic picture, but seeing these numbers on paper really drives home that point," said Sarah Reynolds Lasser, senior director of business development for the Aspen Chamber Resort Association.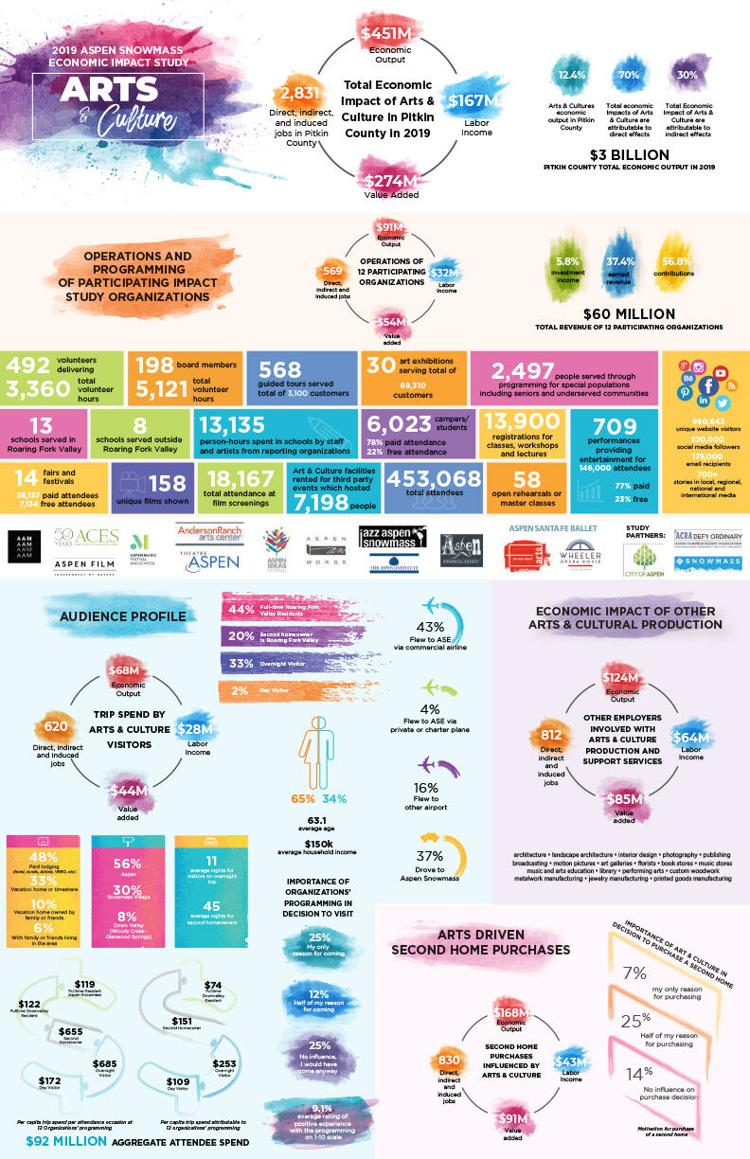 The report was conducted by RRC Associates and the University of Colorado Boulder Leeds School of Business from June 2019 through February 2020. It was commissioned by ACRA, Snowmass Tourism and 12 local arts and culture organizations and presented to ACRA's board of directors Tuesday.
The numbers show that Pitkin County outranks the state, nation and comparable markets — such as Santa Fe County, Summit County and Teton County — when it comes to the percentage of jobs in the arts and culture sector. In Pitkin County, 4.7% of jobs are related to the arts, compared to 3.3% in Colorado and 2% nationwide. 
Officials weren't surprised by the results, but metrics will help organizations in marketing, fundraising and growth opportunities. The 64-page report is packed with information and shows just how far-reaching the sector is for the local community. For example, the 12 participating organizations spent more than 13,000 hours in regional schools, providing education and programs for thousands of students. To help these institutions operate, 198 board members volunteered more than 5,000 hours of their time. In terms of overall arts offerings, area organizations saw 453,000 attendees through their 2,319 programs. 
The participating organizations include: Anderson Ranch Arts Center, Aspen Art Museum, Aspen Center for Environmental Studies, Aspen Film, Aspen Historical Society, Aspen Music Festival and School, Aspen Santa Fe Ballet, Jazz Aspen Snowmass, The Aspen Institute, The Red Brick Center for the Arts, Theatre Aspen, and the Wheeler Opera House. 
A focus on second homeowners and their decisions for purchasing homes in Pitkin County was also part of the study. About a quarter of second homeowners said that the area's arts and culture industries were a motivation for buying, with 7% citing the rich offerings as their only reason for purchasing here. According to recent Census data, about 36% of properties in Pitkin County are second homes. 
"I think the second homeowners are an opportunity," Reynolds Lasser said. "Organizations will try to figure out how to capture more of this demographic as patrons of arts and culture, or for restaurants or retail. Everyone is interested in this area, especially now that we have so many new homeowners in the Aspen-Snowmass market. It's a growth opportunity for all business sectors, in a way."
Real estate transactions year to date have already passed $2 billion in sales, largely reflecting people's desire to move away from cities into the mountains. 
"With the second homeowners, the old saw is, 'I came for the skiing and I stayed for the summer,' and I think this gives us a little data about that," said Alan Fletcher, CEO of the Aspen Music Festival and School and ACRA board member. 
Though the report was conducted pre-COVID, researchers acknowledged that the numbers may look different now. But they provide a benchmark to which organizations can strive to return. The board said a similar study in a few years would be recommended, and, similarly, economic impact studies for other business sectors in the area might be considered. 
The full report can be downloaded from ACRA's website.