Aspen ArtWeek is now in full swing. With over 70 participating artists and a lineup of experiential and thought-provoking events — most of which are free and open to all — this year's weeklong celebration is looking to be memorable.
Hosted by the Aspen Art Museum every August, ArtWeek is a cultivation of discussions, performances and parties to honor artists whose creativity and vision have greatly impacted the field of contemporary art. The event started Monday and leads up to AAM's annual ArtCrush gala, commencing Friday night at the base of Buttermilk Mountain.
The 2022 Aspen ArtWeek kicked off in high spirits during the welcome party held Tuesday evening at the museum. All floors of the museum were open, allowing attendees to view the "Mountain/Time" exhibition in addition to the ArtCrush auction works on view. Unlike last year's opening event, a handful of these auction works were displayed among the AAM's rooftop space.
Between the booze, live music performances and a poetry reading by artist and poet Precious Okoyomon — whose garden-sculpture installation is currently being exhibited on the rooftop's outdoor space — the evening was intimate and the shared energy was palpable. Not to mention the excitement around artist Gaetano Pesce's monumental "My Dear Mountains" project — which covers the façade of the museum — finally going up in time for ArtWeek.
Artist Russell Craig is in town for his first Aspen ArtWeek and ArtCrush experience; in fact, this is Craig's first experience ever visiting Aspen. The self-taught artist survived nearly a decade of incarceration after growing up in the foster care system. He now lives and works out of New York.
In a conversation with Craig at the welcome party, he said that being in Aspen for ArtWeek has differed from any other celebratory art event he's experienced thus far in his career.
"There's like a vibe connected to this place that's different … it's very chill, but there's a lot of people out here who come from privilege and got a lot of money — I will mention that, because you can feel the difference," Craig said. "But there's a flow here and it's good to be here; it's good to experience the people who live here and bring our experiences together, so that we learn from each other."
Craig donated a layered self-portrait, titled "Nobody Was There II," to ArtCrush this year and expressed his excitement for already having two bids on the piece in the online auction.
Hosted by Sotheby's, the online auction includes around 60 artworks up for bidding until Saturday (Aug. 6) and is in addition to the 10 works featured in the live auction to be held in person at the ArtCrush gala. All auction items have been donated by artists and galleries in support of the museum's artistic and educational programs.
Craig's donated piece was also chosen as one of the ArtCrush Collector Picks, as was a piece by his friend and business partner Jesse Krimes — who is also a formerly incarcerated artist. Both Craig and Krimes shared their stories at the "Confronting Mass Incarceration" talk hosted by Anderson Ranch Arts Center on Monday, and the two artists' works are currently on view in a joint exhibition at Malin Gallery's Aspen location.
Craig expressed the importance of sharing new perspectives and stories with the Aspen community through art, rhetorically asking how far people are willing to go down the rabbit hole of trying to understand another human being's experience.
"I think it's important for people like me and Jesse coming from that experience and being able to have a platform or the opportunity to speak to people who are very privileged," Craig said. "They get a one-on-one with us and with the artwork … it brings you a little bit closer to it."
More than one person approached Craig during the conversation to thank him for sharing his story.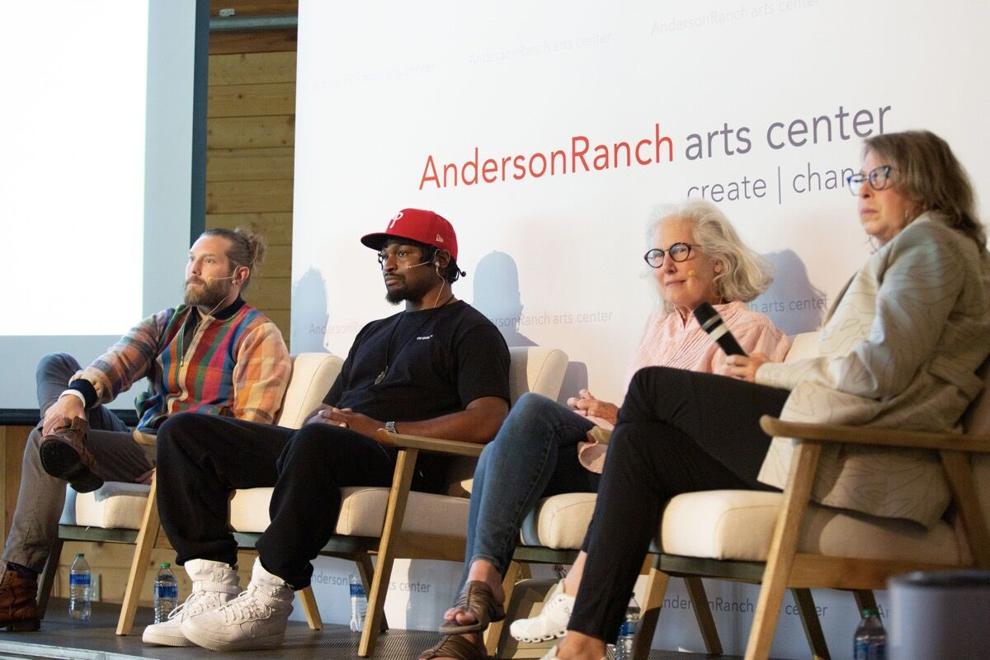 Artists and collectors from around the world come to Aspen for ArtWeek and ArtCrush, and the AAM also encourages community members to engage in the artist-centered experience by putting on accessible events throughout the week.
On Wednesday, the AAM hosted an artist breakfast and in-depth conversation around the auction works with Collector Committee Chair Mary Zlot. There was an afternoon discussion with artist Eddie Rodolfo Aparicio, followed by a flag spinning and speaking performance by Jeffrey Gibson titled "The Spirits Are Laughing," which took place in the Anderson Park Meadow at the Aspen Institute's campus. All three programs were free and open to the public.
Rolling into today's roster of events, there will be a free artist talk with the 2022 ArtCrush Honoree, Gary Simmons. Taking place at 4 p.m. on the AAM rooftop, Simmons will be joined by writer Travis Diehl to discuss his practice and evolution as an artist. Registration is required and can be accessed through the AAM website.
Tonight at 8 p.m., artist Korakrit Arunanondchai and director Alex Gvojic will present a "ghost cinema" performance in an Aspen tree meadow at T-Lazy-7 Ranch, which is located up Maroon Creek Road. Shuttles will run every 20 minutes between the museum and T-Lazy-7 beginning at 7:15 p.m., and limited valet parking will be available.
"I think it's really rich to be able to perform here, in a place where there are so many histories but also where both the performers and the audience are exposed to nature most of the time," Arunanondchai said.
Titled "Together," the performative piece is inspired by cinematic traditions in rural communities of Northeast Thailand. Arunanondchai — who, like Craig, is here for his first Aspen ArtWeek — has put on the piece twice before in New York and Bangladesh. The Aspen iteration of "Together" will feature around 20 local dancers of all ages and levels, and this marks the first and only time of it being performed in a natural setting, Arunanondchai said.
"It's in the right context … surrounded by the Aspen trees and in nature," he said. "I feel like the spirit of this space will really come through the performers and the audience."
The "Together" performance at T-Lazy-7 is also free and open to the public and requires registration. Evening outdoor attire is highly recommended.
Over the years, galleries and other art-based entities in Aspen have capitalized on the action AAM's ArtWeek brings to town. The incoming pool of high-paying collectors mixed with some of today's most renowned artists means it's go time for the entire Aspen art community. Throughout the week, multiple galleries are hosting artist receptions and exhibition openings. Today marks the final day of the Intersect Aspen art fair — which has been running since Sunday at the Aspen Ice Garden.
A handful of these events are in partnership with the AAM, while others occur independently in timing with ArtWeek. No matter, the art scene in town is indeed buzzing, and at the heart of its pulse are the shared interactions between the incoming artists and the Aspen community.