In one of Summers Moore's photographs, a pair of droopy-jowled bulldogs are perched on chairs at a table adorned with a white tablecloth, candles and red roses, with two martinis in front of them. A similar image shows one of the bulldogs, pink tongue hanging out, panting in anticipation of a raw rack of ribs placed on that same table.
Bland Nesbit, who photographs for the Aspen Animal Shelter, uses plenty of humor in her series of images, including several of her five rescue dogs posed in costume in various situations — one, entitled "We Chew. So What." shows three of the innocent-faced dogs decked out in devil's ears and red capes, surrounded by detritus, along with one angel-winged dog standing in a cloud of what look like cotton puffs.
"Man's Best Friend," the current exhibit at the Aspen Chapel Gallery, isn't all about dogs, and not all the images are funny. Instead, the photographs take us through the entire range of emotions that having a pet entails. There's deep affection, for example, in a portrait of a woman and her horse by Klaus Kocher, their faces almost touching as the horse appears to be raising his face to her for a nuzzle.
Dan Bayer's series, "Oh My doG, I Must Be Dreaming," juxtaposes black-and-white images of dogs with various landscapes to explore "what some dogs dream about in the world we share with them," in the photographer's words.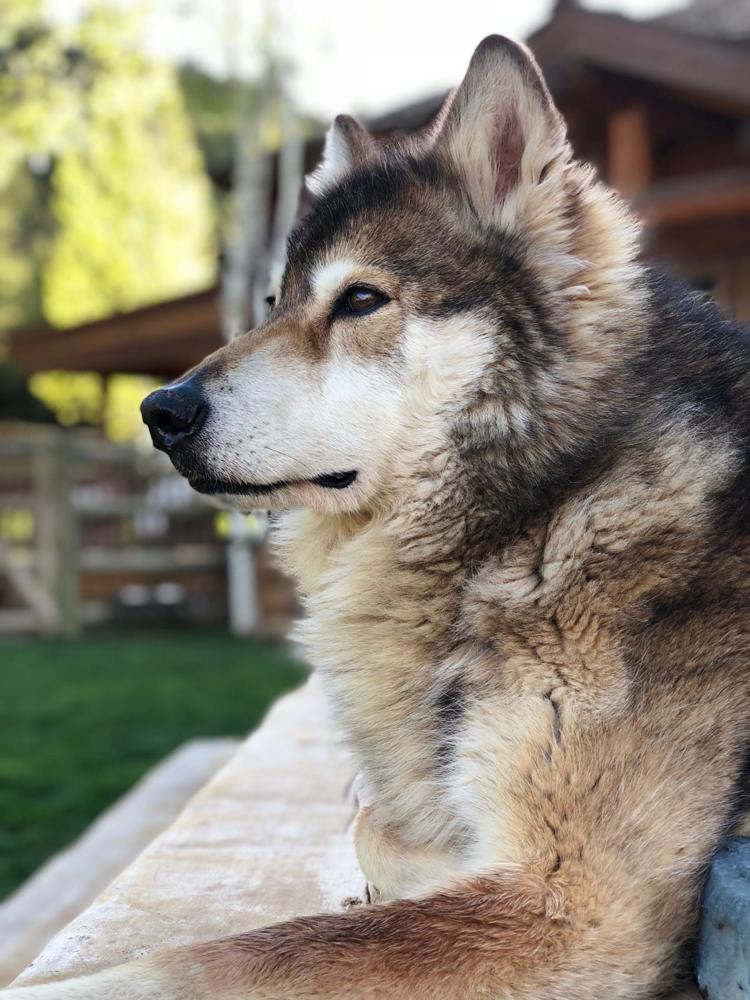 And the sheer joy and wonder of being a dog are conveyed by several images — among them Anne Hosier's photo of a dog rolling on her back on a lawn covered with tennis balls ("Best Birthday Ever!") and Heather Lafferty's black-and-white closeups of dogs just doing what they do, such as a terrier in mid leap in a field.
"It's a very fun show," says gallery director Tom Ward. "I think people in Aspen are really into animals, so it's been really well received."
The exhibit also represents a new era of nonprofit partnerships for the Aspen Chapel Gallery. Beginning with the previous exhibit, "Watercolors for Wilderness," a collaboration with Wilderness Workshop, the gallery chooses a nonprofit and then curates a show around that nonprofit's mission. A percentage of sales goes to the nonprofit partner; in the case of "Man's Best Friend," according to Ward, most of the artists chose to donate all their profits to nonprofit partner the Aspen Animal Shelter. And the partnerships also benefit the chapel, says Ward, because he can more easily find sponsors to cover some costs of putting on the exhibits.
"We look at it as bringing in organizations that aren't usually associated with art and allowing people to look at them in an artistic way," says Ward. "It brings them alive in a different way, and it brings people into the gallery who perhaps haven't been in there before."
Future exhibits planned with nonprofit partners include "Flowers," benefiting River Bridge, a regional child advocacy center based in Glenwood Springs, and "Art in Action," partnering with midvalley nonprofit English in Action, which pairs up English speakers with English learners and in the process helps forge bonds in the community, one pair at a time.
Now that the nail-biter of the election is over, do yourself a favor and go look at happy pictures of pets. And if you'd love to have a memorable image of your best friend, Moore, who is also the curator of the show, is offering a pet portrait session and finished print for $1,000.
"Man's Best Friend" runs through Nov. 25, 2018, at the Aspen Chapel Gallery at the roundabout. The gallery is open daily from 10 a.m. to 5 p.m.