Anderson Ranch is spicing things up — literally and figuratively — over on its lush, five-acre campus.
Seasoned local chef David Wang joined the arts center this summer in a new, full-time position as director of culinary arts and operations. Along with transforming the ranch's dining from cafeteria to destination restaurant, Wang is planning special culinary events — the first of which is set for Sept. 10.
"I'm just hoping to blow it up, really," Wang said at the café Tuesday afternoon. "I want people to talk about us. I want people to talk about the ranch not just in the material art aspect, but also, I want there to be a buzz about the food."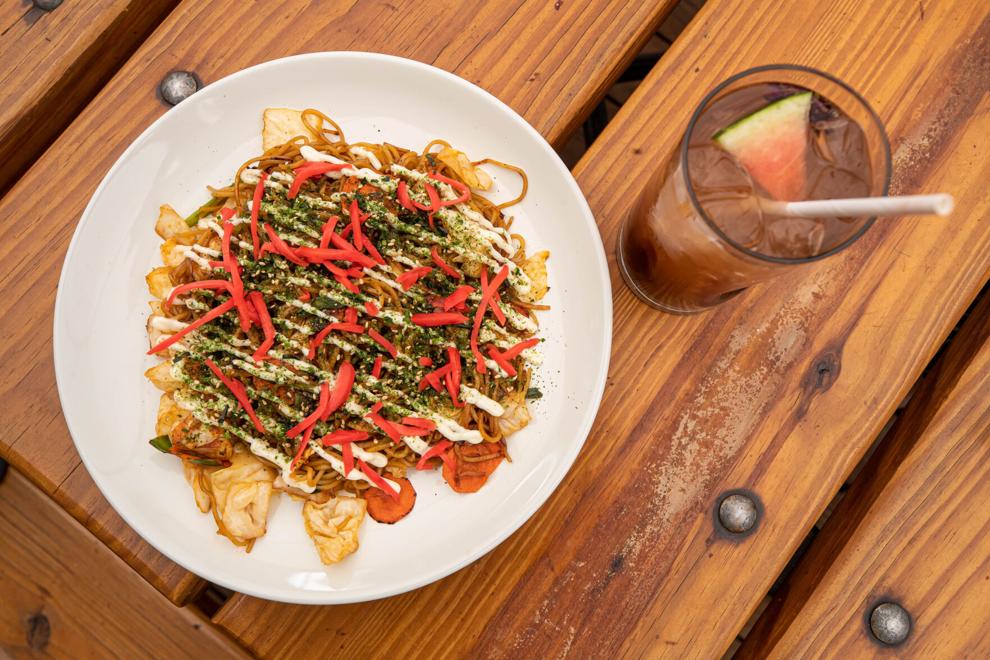 The dishes on the café's menu, which changes weekly, is a reflection of Wang's diverse culinary palate and skill. This week, the menu features a creamy New England clam chowder, crisp heirloom BLT and a spicy chicken korma wrap — all new additions — alongside best-selling staples like Wang's Vietnamese noodle salad and yakisoba. Although he is best known in the valley for his Asian creations (and specifically, ramen), Wang's gastronomic penchant and expertise extend beyond any one region.
"The menu is not meant to be categorized or bound by anything, really. Someone recently said my food tends to be on the rebellious side, which I kind of like," Wang said. "The flavors are globally inspired; we're not really any particular category or country or style or anything. It's kind of just whatever we feel inspired by for the week."
He pointed to regional American, barbeque, East Asian, Southeast Asian, Latin and Mediterranean cuisines as frequent sources of influence. "We're kind of all over the map, quite literally," Wang said.
The café also uses and works with locally sourced ingredients whenever possible, as reflected in the weekly "chef's farmhouse salad."
Wang added: "The whole campus is about creativity, so it should reflect in the food and drink as well."
As part of the new culinary direction, the ranch also brought on barista and beverage coordinator Larissa Huffman, who is working with Wang on a slew of projects. By the end of this week, the café will boast a full-service espresso bar as part of its revamped beverage service that starts at 9 a.m. Fresh smoothies — and eventually wine and craft cocktails — will soon follow.
The café, which offers socially distanced indoor and outdoor seating, is open from 11:30 a.m.-1:30 p.m. Monday to Friday.  
Starting this fall, the café will also host a series of themed happy hours. The first, from 4-6 p.m. on Sept. 10, is Indian-themed. A $50 ticket comes with samples of classic Indian dishes, a drink ticket, live music and access to a cash bar as well as an optional tour of the ranch's "Sculpturally Distant" exhibition and opportunity to mingle with a few of the artists featured. At least two more happy hours are on the books for Sept. 17 (Latin-inspired) and Sept. 24 (Octoberfest-themed).
The ranch plans to pepper in a few more culinary-focused special events, said Anderson Ranch director of marketing and communications Katherine Roberts.
The dream is to one day offer a workshop in the culinary arts, she said.
"This has been something that we've wanted to do for a long time," Roberts said of the ranch's culinary program. "Luckily, COVID didn't prevent us from moving forward with it."
For Wang — who first collaborated with the ranch earlier this year when he brought his popular King & Cook pop-up dinner to the campus for an open house event — the return to Snowmass Village is full-circle.
After graduating at the top of his class from the Culinary Institute of America in Hyde Park, New York, Wang moved to the valley in December 2012 and worked under executive chef Will Nolan at the Viceroy Snowmass. He later began developing his personal cooking style at 8K and the Nest before leading the kitchen at Meat & Cheese as executive chef.
In recent years, Wang has built his own brands, King & Cook and the Ramen Monster, through catering, semi-secret dinners and collaborations with notable local restaurants like Jimmy's and Bosq.
"People love [Wang's food]. I effusively say that," Roberts said, noting his strong local following. "It sounds cliché, but the food speaks for itself."