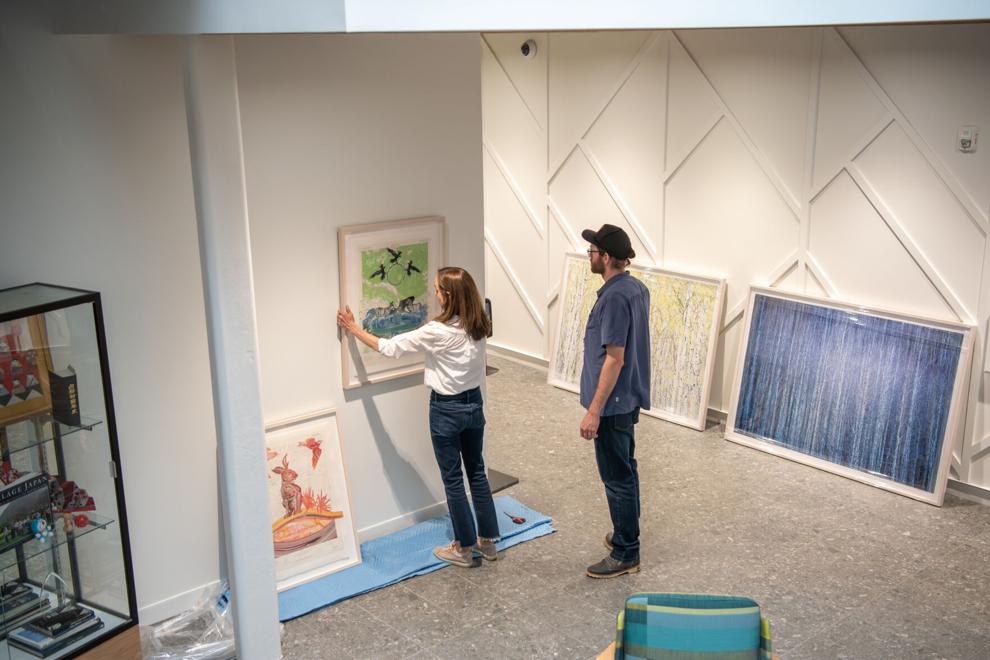 A dozen local and regional artists have been selected to show their works in the second exhibition at the newly built Aspen City Hall. 
The artists installed their pieces last Wednesday, replacing the inaugural exhibition that went up a few months after the new City Hall building on Rio Grande Place opened in November 2021. This second exhibit will remain through April 2025, and there will be an artist reception for the show in August, in conjunction with the Aspen Community Picnic. 
Organized by the city of Aspen and the Red Brick Center for the Arts, the rotating art exhibition program at the City Hall building was established to enhance the experience of the public space and to celebrate and recognize the art and artists of the Roaring Fork Valley and greater Colorado region.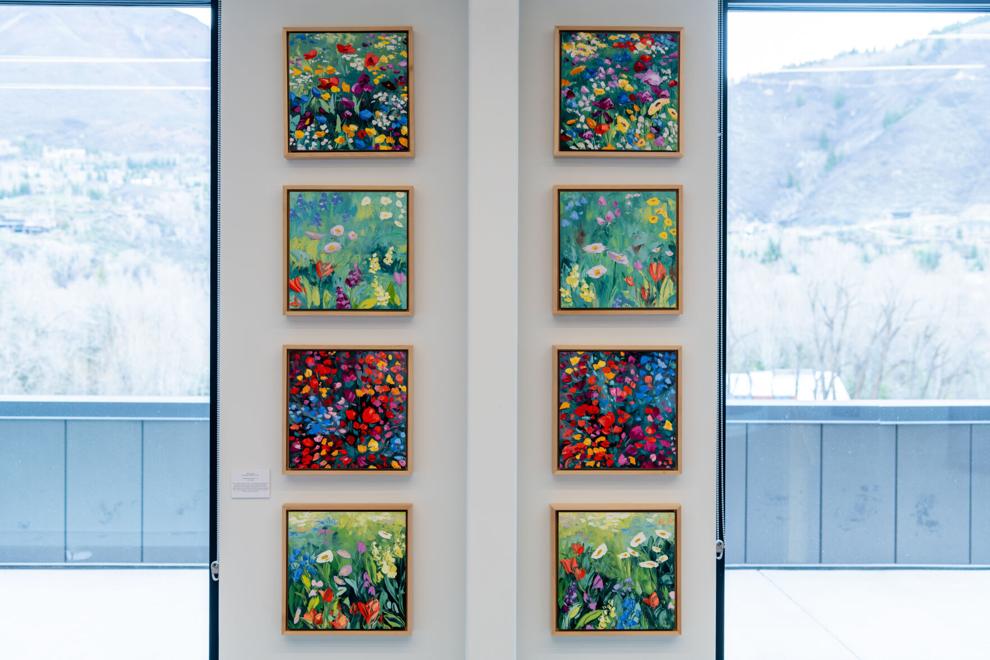 "I think it's a really smart decision from the city to decide to use their new gorgeous City Hall space in this way," said exhibiting local artist Emily Chaplin, "as they rotate exhibits, rather than purchasing from a permanent collection, for example; and I think it shows a commitment from the city to support local artists, which is terrific — local artists can use all the support that we can get." 
Chaplin, a resident artist at the Red Brick whose abstract aspen tree oil paintings are represented by Elliott Yeary Gallery in town and other galleries in the Southwest, said that when she was selected for the exhibition, she was able to look at the space and assess with Sarah Roy, executive director of the Red Brick, creating new landscape-oriented pieces that would go really well in that space. 
"So we decided on a series of oil-painted, abstract floral that speak to wildflower meadows in this valley, which is one of my main inspirations and joys, and I'm really excited about it," Chaplin said. "It's going to be a series of four diptychs that are really colorful and should grab your attention all the way across the room to the council chambers."
Similar to the inaugural City Hall exhibition, the artists this time around were asked to submit artwork that speaks to values and topics important to Aspen and or loosely relates to the local and regional environment and connectivity.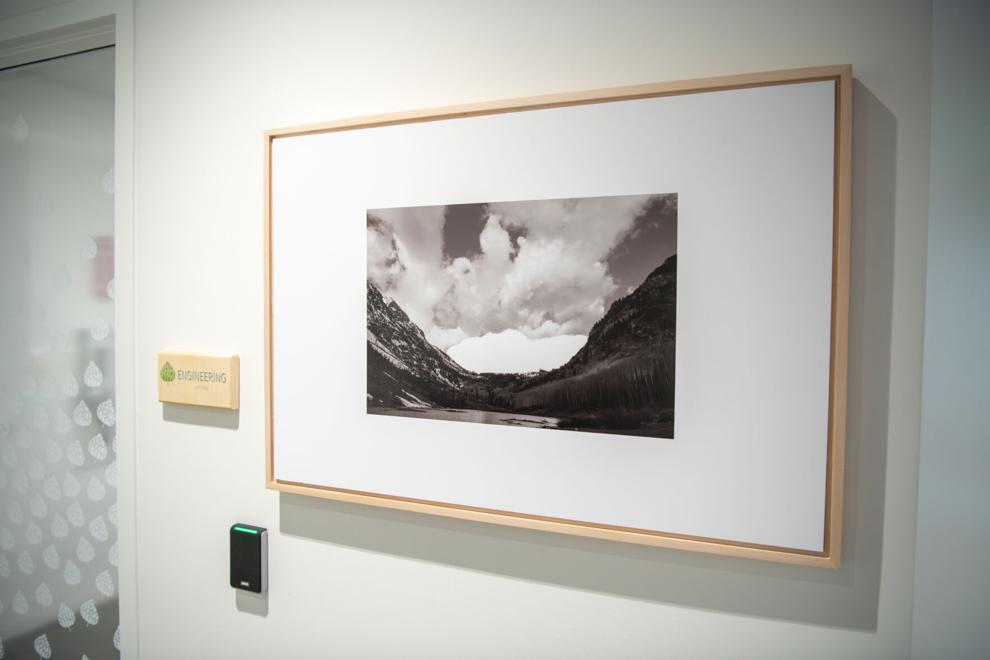 Take local artist Esther Nooner's exhibiting piece, for example, which is an image of the Maroon Bells, but with the Bells removed. Nooner — whose practice also revolves around landscape imagery but through print manipulation and using the photograph as a metaphor for "our human relationship with nature," she said — explained how the Bells piece is from a body of work that she did using household chemicals to manipulate ink on paper pertaining to photographs.
Nooner said the Maroon Bells image speaks heavily to why people come to the valley and visit "this really iconic scene," while also commenting on what it might look like in 50 to 100 years and how we can protect it, she said. The artist went on to explain how showing locally crafted works like this in the City Hall exhibit has the potential to elicit a much larger message.
"In terms of my piece being in there, you know, thinking about local landscape, and also thinking about landscape on a national and global level — I think that that's important for people just to even consider," Nooner said. "I'm certainly not asking anyone to come up with resolutions for climate change, but I think just acknowledging that how we use the space around us does have long-term effects, and I hope that the landscape imagery that will be represented by all of us [artists] would elicit some thought in that direction, as well."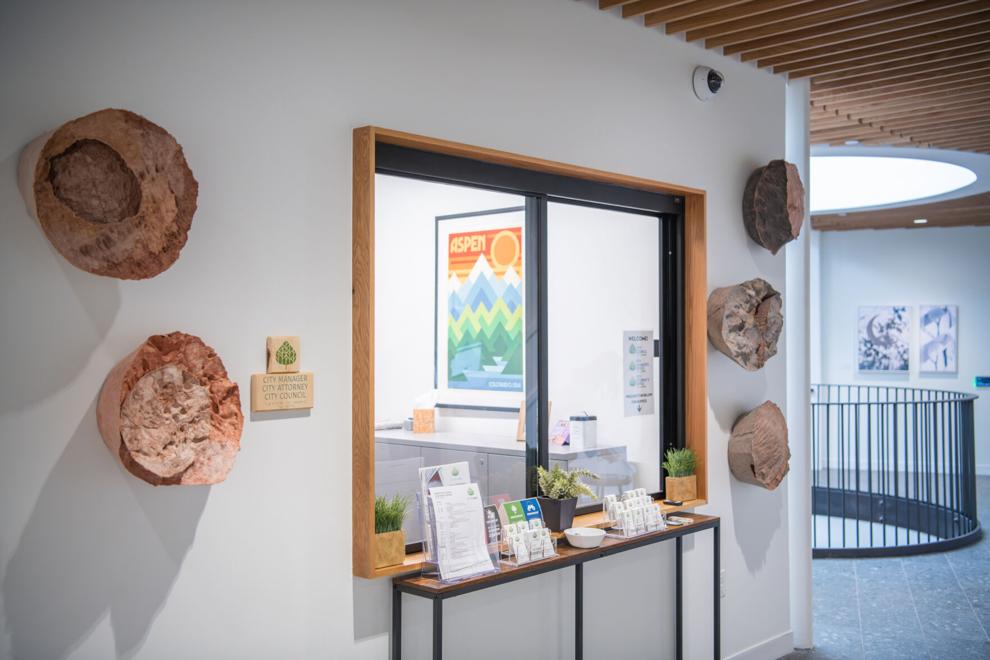 Leah Aegerter is another exhibiting artist who explores landscape; she does so through using 3D scanning to capture textures and digital fabrication techniques to reproduce geological surfaces in new materials. Aegerter explained how her object-based sculptures mostly involved woodworking until about a year ago, when she started working with cast paper. 
Aegerter's geological compositions on-display at City Hall were made during this time of exploration within her craft, she said. The artist explained how all of the geological textures present in her exhibiting works — a series of cast-paper, circular sculptures — are from Grand Canyon National Park, where she was doing a residency last fall. 
Aegerter expressed how having the opportunity to show her works at City Hall for two years is "pretty amazing," noting that there aren't too many venues for an artist, especially a younger artist who is earlier in their career, to exhibit in Aspen. 
The Red Brick also awarded a stipend to the group of exhibiting artists for their participation, and the works on-display at City Hall are for sale but must complete the exhibition cycle. Those interested in a specific piece can reach out to the artist directly and inquire about purchasing the work or one similar. 
"I would say, for the exhibition as a whole, I would hope that the public kind of takes initiative in seeking out more local artists and hopefully, purchasing works from local artists," Aegerter said. 
Both Nooner and Chaplin agreed with Aegerter on this point of increasing awareness and support of local artists. And for these three female artists, in particular — who all focus on landscape yet through different mediums — they share an aspiration to portray the significance of landscape in their individual works up at City Hall, from its greater messaging to micro moments. 
"For my works in particular, I'm really looking at these micro moments and emotions that I experienced and noticed in the landscape," Aegerter said. "And so my desire would be that someone looks at my work and feels inspired to look up close when they're walking somewhere or just kind of be more observant of their surroundings and like the small moments that make our landscape so amazing."
"I completely agree with Leah about increasing awareness — maybe exposing the public to new artists that they did not know about — and I think that's a wonderful opportunity," Chaplin. "And my work is also similar to both of these other women in that, with it, I'm hoping that it invites people to pause and hone in and to take note of the beautiful details in our valley just kind of at a micro level." 
Joining Chaplin, Nooner and Aegerter in this second City Hall exhibition are artists: Brenda Biondo, Ghislaine Boreel, Jessie Chaney, Brian Colley, Sam Harvey, Michael McConnell, Johanna Mueller, Trace Nichols, Kristin Wright and Chris Erickson — whose work was renewed from the first exhibit. A selection of Tom Benton political posters on loan from Fat City Gallery also is on view at City Hall. 
For more information, visit redbrickaspen.com.