The shows will go on — but online — as Aspen Film launches today a virtual version of its 29th annual Shortsfest in the wake of the coronavirus pandemic.
Featuring the best short-form cinema from around the world, the six-day Oscar-qualifying festival will span today through Sunday as initially planned.
A full festival pass to all nine programs this year costs $75 and individual program passes are being sold for $10. Traditionally, a full Shortsfest pass ranges from $250 to $400, or $25 per program, Aspen Film executive and artistic director Susan Wrubel said Monday.
"An at-home experience is very different from an in-theater experience, which we needed to take into account, and felt that the $10 price seemed fair, particularly if more than one person is viewing a program from the same place," Wrubel said. "We wanted to keep costs low to attract the widest audience and offer an affordable entertainment option." She noted that a limited number of discount codes for students are available through area schools.
Aspen Film partnered with the Paris-based platform Festival Scope to bring to life an online version of its Shortsfest. Like the traditional festival, the virtual iteration is a "limited-time" event running only through the scheduled dates. Access to the films, which were selected from more than 3,000 submissions, will be limited to viewers in the U.S. Each festival program is limited to 500 viewers.      
"We believe these are some of the most compelling, innovative, beautiful, hilarious and emotionally resonant films that our amazingly generous audience in Aspen will experience this year," said Aspen Film's recently hired director of Shortsfest programming, Jason Anderson, in a statement. "We're thrilled to showcase such an abundance of emerging and established filmmaking talent from all over the world. That's why we're so happy to have this opportunity to present them despite the very challenging circumstances that surround all of us right now."
Continuing Shortsfest tradition, a special jury will present its annual Ellen Award to a filmmaker. The Ellen Award honors Aspen Film's founder and executive director Ellen Kohner Hunt, who retired in 1995.
A complete lineup of the 2020 Shortsfest, tickets and more information can be found at aspenfilm.org.
In a similar vein, many local organizations, art galleries and nonprofits are offering online programming and other ways to feel connected in the community amid a state-mandated stay-at-home order. Below is a compilation of offerings that are available to the public as of Monday evening. Please note this is not intended to be a comprehensive list.
Aspen Art Museum
The art museum is sharing and developing a host of educational and curatorial-based programming opportunities online, AAM communications director KristinAnn Janishefski said Monday. The museum launched an "Art Anywhere" initiative that spotlights its online Open Studio prompts designed by past AAM exhibiting artists. Artist Huma Bhabha authored the first exercise, which can be found at aspenartmuseum.org. AAM is also offering its Art Studio Live — an online version of its Art Studio workshops — at 2:30 p.m. Wednesday. The workshop will feature hands-on art-making using common materials found at home.
Aspen Music Festival and School
AMFS is asking their artists to send performances from home, which the organization is sharing on its Facebook page (facebook.com/aspenmusic or @aspenmusic). Performances by violist Matthew Lipman and harpsichordist Nicholas McGegan can be found on the page right now. Up next this week are violinists Stephen Waarts and Augustin Hadelich, among others, AMFS said Monday.Aspenmusicfestival.com.
Theatre Aspen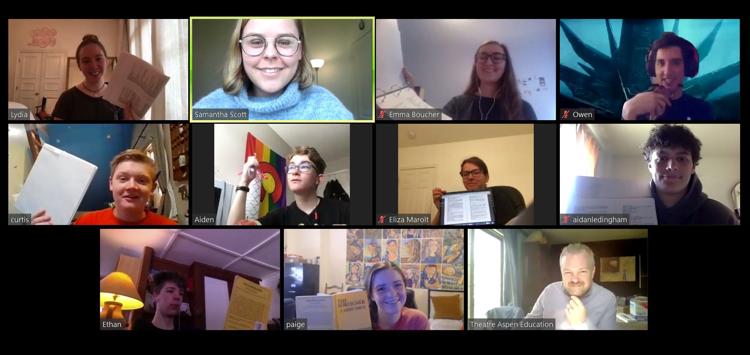 Theatre Aspen is offering two classes online (drop-ins available) over the next three weeks: A biweekly Broadway Dance class with local Luke Ryan and a weekly auditions technique course, the nonprofit's recently hired marketing and events manager, Cailin Doran, said Monday. The organization is also conducting rehearsals for its springtime 7-12 grade show, The Foreigner, virtually via Zoom.
"These are wild times, but I'm incredibly inspired by the hustle that Theatre Aspen has put into creating and getting programming accessible," Doran noted. Theatreaspen.org.
The think-tank's weekly podcast, "Aspen Ideas To Go," features compelling conversations from a diverse range of leaders. With its signature Aspen Ideas Festival and Ideas: Health being canceled this year due to the novel coronavirus, organizers will announce plans to virtually share its programming at a later date. Aspenideas.org. 
Aspen Words
The Institute's literary branch is curating a weekly list of books, articles, literary podcasts and videos that can be found in its newsletter or at aspenwords.org.
Anderson Ranch
Anderson Ranch releases a custom mandala, created in-house by the senior creative manager to be used as a soothing coloring exercise, via its newsletter every Monday. The ranch, home to studios and workshops in Snowmass Village, also recently launched its #andersonranchchallenge on Instagram, encouraging followers to share their memories and photos of the ranch. "We've had a pretty awesome response so far, with dozens of people sharing content since we launched it Friday," Anderson Ranch director of marketing and communications Katherine Roberts said Monday. She added that the ranch is also working on "a number of other virtual initiatives to be rolled out over the coming weeks, which will likely include more video content, interactive contests on social media and more mandalas." Andersonranch.org. 
The Red Brick Center for the Arts, the Wheeler Opera House and Aspen Recreation Center 
The Red Brick (redbrickaspen.com), the Wheeler (wheeleroperahouse.com) and the ARC (aspenrecreation.com) are working with the city of Aspen "to create new ways to support and engage our community through wellness, recreation, arts and culture," Red Brick director Sarah Roy said Monday. Each entity is posting activities on their respective website and social media, including body pump classes, art classes, magic trick tutorials, book recommendations, music playlists and more. 
Art galleries
Skye Gallery (skyegalleryaspen.com) is offering virtual tours of its Tales of Water exhibition; Harvey Preston Gallery (harveypreston.com)created an online viewing room for its exhibition;Galerie Maximillian (galeriemax.com) curated a digital catalog of their show; and Aspen Art Tours (aspenarttours.com) is helping artists promote their work via a free online workshop.
Aspen Center for Environmental Studies 
Beginning Wednesday, ACES will release short videos on its social media produced by the center's education team. In each video, an ACES educator will present a different #ACESNatureChallenge. The challenges can be completed in one's backyard and are particularly geared toward students and families. "We're encouraging the community to engage with us on social media by posting about their experience with each challenge," ACES marketing manager Bowman Leigh said Monday.
In lieu of the organization's monthly Morning Birding outings, ACES bird guide Rebecca Weiss is launching a virtual birding mini-lesson that will start April 7. Aspennature.org.
Colorado Ski Country
Check out Colorado Ski Country's blog post, "Can't Ski? Watch it on a Screen" for suggestions on classic ski films to watch. First on the list? Aspen Extreme, of course. Scroll all the way to the end to find links to free films by Warren Miller Entertainment and Matchstick Productions. Coloradoski.com.