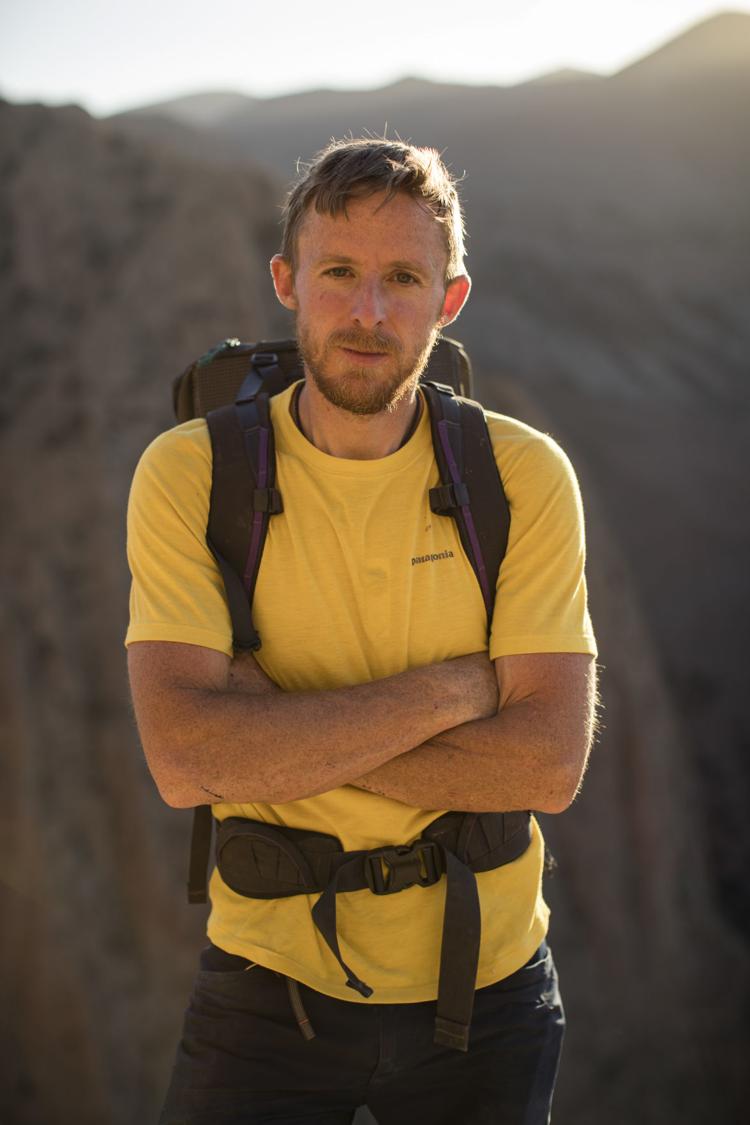 Rock climber Tommy Caldwell opens Aspen Words' popular Winter Words author series on Tuesday, Jan. 8, discussing his memoir "The Push: A Climber's Search for the Path" with Penn Newhard, founder of outdoor brand PR and marketing agency Backbone Media. But while the choice of speakers seems a perfect fit for an adventurous Aspen audience (as the kickoff to the series is supposed to be), don't expect just another recounting of epic outdoor adventures.
"You don't have to know a thing about rock climbing to come to this event," says Aspen Words program coordinator Elizabeth Nix, who cited Caldwell's "compelling life story," which includes being captured and held hostage while on a climbing trip in Kyrgystan, accidentally cutting off his finger and some complex, life-changing relationships.
Caldwell's memoir, written after his 2015 history-making free climb of Yosemite's Dawn Wall, became a New York Times bestseller. Reviewers have praised it for its honesty, humility, authenticity and, in particular, its focus on how Caldwell's relationships influenced his life's path, good, bad, ugly and otherwise.
And that speaks to the point of the Winter Words series, which in its 22nd year is expected to draw at least a couple of sellout crowds.
"We want a thoughtful discussion that people will walk away from feeling inspired, or having learned something, or feeling generally excited about storytelling," says Nix. "More than ever in this divided country, when it's so hard for people to have conversations about important topics, writers are doing that. And I hope, through these events, we can foster a greater understanding in our community of each other."
A lot of thought (and, admittedly, a little luck) goes into seeking out the featured authors, who are often at the top of their literary games — and whose works touch on timely themes — during their Aspen appearances.
Caldwell's talk, for example, comes at a time of public fascination with rock climbing. "Free Solo," an acclaimed documentary by Jimmy Chin about another historic climb of El Capitan, showed at Aspen Film's Academy Screenings recently. It was released within months of "Dawn Wall," also well-received, about Caldwell's career-defining climb.
Next up is bestselling author Curtis Sittenfeld, speaking with novelist and journalist Emily Jeanne Miller on Jan. 29. Sittenfeld, known for her insightful exploration of character, has penned five novels and a collection of short stories and has written about a few political women. She and Miller, a past Aspen Words writer in residence, are friends and each other's first readers, which should make for interesting conversation.
Not much needs to be said about the draw of Colson Whitehead (Feb. 12), whose sixth novel, "The Underground Railroad," won the 2017 Pulitzer Prize for Fiction, the 2016 National Book Award and other accolades. The book's brutal depiction of the ugliness of American society during slavery is sure to generate some poignant discussion about race and racism today.
Feb. 26 features two professors who share an academic focus on religion as well as seemingly insurmountable personal challenges. Duke Divinity School professor Kate Bowler (who spoke at the 2018 Aspen Ideas Festival) wrote her bestselling memoir, "Everything Happens for a Reason: And Other Lies I've Loved," after finding out she had stage IV cancer. Elaine Pagels, recipient of a MacArthur genius grant and National Book Award, among others, lost her husband and son within a year of each other. The goal of their conversation, says Nix, is not to delve into these depressing events but to tackle questions of the relevance of religion today and hope and survival in the face of tragedy.
New Yorker chief Washington correspondent Jane Mayer wraps up the series on March 26. Mayer has reported extensively on such topics as sexual misconduct in the Me Too era and Russia's disinformation campaign. Her most recent book is "Dark Money: The Hidden History of the Billionaires Behind the Rise of the Radical Right."