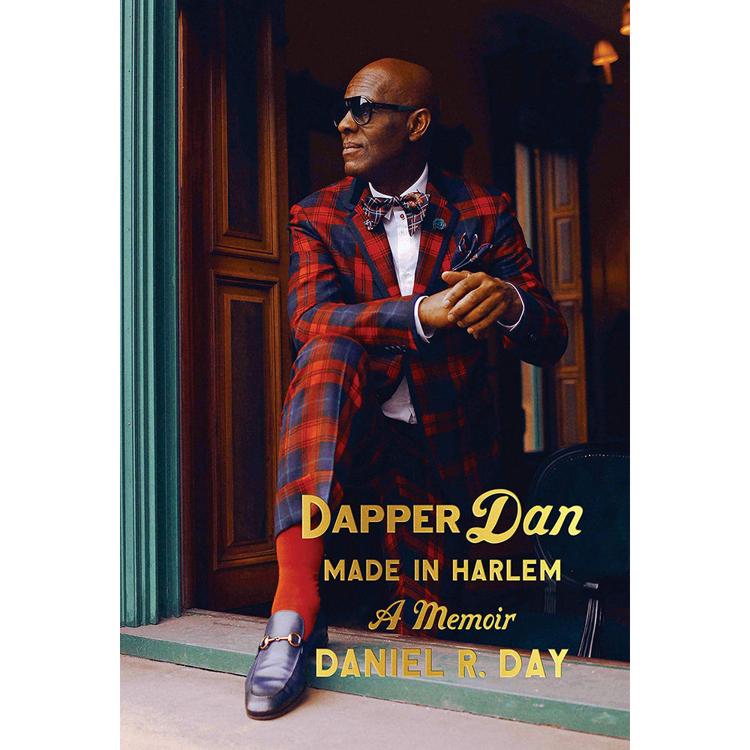 Dapper Dan is one cool-ass haberdasher. This memoir tells Dapper's story from street hustler to becoming one of the top and most innovative clothing designers and manufacturers in the business. Dapper Dan was the go-to clothier in Harlem in the late '90s, and after a rough period, has re-ascended to the top of the ladder. Who is this complex hot shot?
Made in the USA. Made in China. And now we have "Made in Harlem." It is a perfect title for this unique memoir. Dapper Dan, aka Daniel R. Day, was born in Harlem in 1944, and has lived virtually every second of his life there. He chose this title because he was made in Harlem, and so are his clothes. He quotes James Baldwin in the beginning of the book, "Anyone who has ever struggled with poverty knows how extremely expensive it is to be poor." The cost to the psyche, the toll on the body from always feeling hungry and the crushing blows on life's expectations are overwhelming, when you are black and grow up in Harlem.
In the '60s, the admired role models in Harlem were street hustlers composed of gamblers, drug dealers and drug kingpins. By the time Dapper was 15, he was earning more than pocket change hustling dice games. His older brothers were pushing drugs, and already testing the product too frequently. As Dapper says, "selling and snorting your own supply was an accepted part of the hustler's lifestyle."
He was not only street smart, but loved to read and write. He had won citywide poetry and essay contests, but the power of the streets was too strong a magnet in these early days. When his parents separated, the streets became even more alluring. Dapper became strung out on heroin in high school. This lasted into his 20s, when he was finally arrested for breaking and entering. The jail experience in a NYC wretched detention facility, the Tombs, was life changing, as he went through drug withdrawal.
Almost as important, it put him in touch with the jailhouse Muslim ministers, and other jailhouse philosophers, which opened him up to other ways of viewing the world. He never used drugs again. He became a voracious reader, a vegetarian and dedicated to staying in shape. Yet he was still infused by the lawless culture of Harlem and virtually every one of his new schemes was built around dice, buying and selling stolen clothes, and credit card scams.
He dabbled in fashion after an African trip to Liberia, where he designed a few suits and returned to Harlem. This early Dapper Dan fashion design inspired him to dedicate the rest of his life "to making people look fly."
Dapper and his collaborator are brilliant in his memoir by mixing perfect King's English with Harlem street language and then back to the King's English. The prose is sharp, descriptive and colorful. He knew all the power brokers in Harlem, which gave him a ready-made clientele for his exotic coats and fur garments. He began to hire Senegalese tailors, and started designing and making his own apparel.
He sold his one-of-a-kind garments in his Dapper Dan Boutique on 125th Street, Harlem's main drag. His store began to take off; first he was dressing top street hustlers then athletes and hip-hop singers, who he made look like the powerful street bosses. His shop virtually never closed, as it became a hangout. He ripped off haute couture labels, and co-opted their logos. Again, Dapper Dan was pushing the envelope, just as if he was still running a lucrative dice game in the alleys of his neighborhood in his youth.
As they say, the chickens will come home to roost. Soon word was out and the fashion bosses — Louis Vuitton, Gucci, MCM and Fendi — sent lawyers to raid his store, because Dapper Dan was allegeldy designing and sewing knockoffs. Fendi sent in Sonia Sotomayor, later to become Supreme Court judge, on her first big fashion case.
He was called to the court house as the fashion houses had gotten an injunction. The Feds took all his merchandise, all his sewing machines and other equipment. He closed the shop around the turn of the century. However, Dapper Dan never gives up and was finally recognized for the fashion genius he is. Soon bootleggers started mimicking Dapper. The Hilfiger Company even tried to hire him. As always Dapper stuck to his guns, and sealed a partnership in 2018, called Dapper Dan/ Gucci, made in Harlem. Now he is in league with one of the most famous design companies in the world.
Now, in his 70s, this self-made designer has brought his unique fashion statements into the mainstream. There is a steady stream of customers calling and coming to make appointments with Dapper Dan at the Harlem Brownstone Studio, he purchased with his wife, June, some 40 years ago.
The New Yorker profiled Dapper Dan in 2013, and reading that profile put me in touch with him again after an almost 50-year hiatus. In that profile he mentions the 1968 African Summer, that I had co-founded and led, when I was teaching in the Urban League Street Schools in Harlem. Danny had been a part of it with 25 other Afro-American students.
We had a small African Summer reunion in 2018 at Dapper Dan's brownstone studio and home. When we walked three blocks from the brownstone across 125th Street to have supper that evening, it took us over an hour, as everyone on the street had to say hello, shake his hand, or have a little piece of Dapper Dan. He commands a respect that goes beyond the respect of the earlier-time street hustlers, because he is so talented, has such a giant personality and a positive reputation. He is a true celebrity. He says in the memoir that the African Summer "really changed me and my whole concept of fashion. It went deeper than I'd ever realized." Don't miss this memoir, as it is an unforgettable read. It will transport you into a new world.