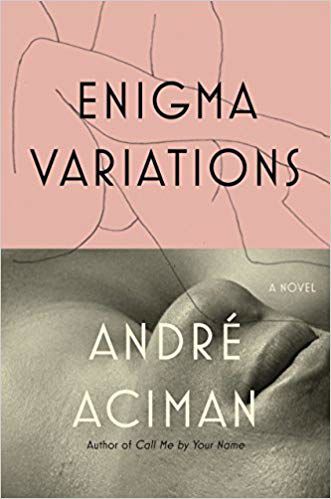 I often find that I purposefully avoid reading the same author twice in fear that their second book will not be as captivating as their first. I'm not sure if it is because I tend to read the author's most popular books first or because I psych myself into believing this will always be the case, but it happens without fail outside of logic and reason. 
While the following novel was not one that I found equal to the first book I read by its author, I found myself enchanted by it all the same. "Enigma Variations" by André Aciman was originally published in 2017 and completely exceeded my expectations when I read it this past summer. While I would still say with the utmost confidence that the book does not compare to its predecessor, "Call Me By Your Name," that is not a testament to the latter but rather a testament to how rare it is to find a novel with such resonance like "Call Me By Your Name."
The novel maintains Aciman's phenomenal tone and elevated prose style that sets his work apart from, in my opinion, most modern prose. He has a way of working with grandiose sentences that defy all grammatical limitations in structure and length and then juxtaposing them with curt and potent expressions that are just as, if not more, affecting. Each story draws in the reader with similes and historical analogies in names and phrases that serve the thematic undercurrents of his stories. 
"Enigma Variations" is told in a series of stories that reflect romantic relations of the protagonist and narrator, Paul, throughout his life. The story spans from adolescence to adulthood, charting each of his significant relationships over the course of several decades. 
Each story leading up to and then occurring after the second-to-last story, "Star Love," was incomparable. The evocative dialogue and arc of this story were perfect. It was simple yet poignant and best exercised Aciman's ability to manipulate the reader's feelings of regret and acknowledgement of how clear and heartbreaking hindsight can be.
While Aciman's prose excels in sensuality and visceral descriptive language, I feel his best work is that which addresses the weight of nostalgia and weight of choice. I find there is something almost primal about the way he can tap into this frequency of human nature; this sense and hyper awareness humans have in hindsight is universal. 
Aciman's work acts as a reminder, almost, or a reality check as you read the contemplation and regret his protagonists exude in their confessionals. Aciman is next to none, and his ability to encapsulate nostalgia demands acknowledgement: "This doesn't end, whatever happens, never, never ends. Star love, my love, star love. It may not live but it never dies. It's the only thing I'm taking with me, and you will too, when the time comes."