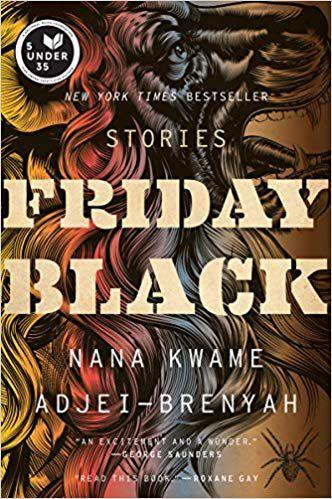 Aana Kwame Adjei-Brenyah, named a "5 Under 35" honoree by the National Book Foundation, has debuted with a fierce collection of 12 unnerving and unpredictable short stories, tackling racism, hyper-consumerism and the glorification of violence.
"Friday Black" opens with "The Finkelstein 5," a tale of five black children who are decapitated with a chainsaw outside a public library. Emmanuel, a young black man who has learned to "dial down his blackness," prepares for a job interview against the backdrop of the controversial acquittal of the child slayer and the protests it sparks as black people commit violent acts against whites in revenge for the killings. This fire and brimstone reckoning reveals the brutal prejudices still at work within our justice system and our culture
The parallels to recent events, particularly the 2012 fatal shooting of 17-year-old Trayvon Martin by George Zimmerman, who was also acquitted, are unmistakable. One tale depicts a theme park, "Zimmer Land," in which white people play out simulations of violent racist fantasies where young black men clad in protective armor appear to die from the high-velocity impact of faux bullets.
Adjei-Brenyah's grim stories are like small nightmares that draw on real-life events. "Lark Street" is about a man haunted by the aborted fetuses of his girlfriend, as they snuggle up on his pillow, competing for his affection and pleading for their lives. And in the Orwellian love story of "The Era," some children require injections of "Good." Another tale realizes a purgatory afterlife occupied by the spirits of a school shooter and one of his victims. And a nuclear-apocalypse Groundhog Day recurs in "Through the Flash."
A trio of stories,"Friday Black," "In Retail" and "How to Sell a Jacket as Told by IceKing," unfold within a mall, which is filled with a predictable daily monotony, save the regularly occurring Black Fridays. These are the days when shopper deaths are expected as the inevitable consequence of bargain hunters stabbing competitors with stiletto heels.
Friday Black may be the publishing world's addition to the vibrant pop-culture trend of new black surrealism. Films such as "Get Out" and "Sorry to Bother You," or Donald Glover projects like "Atlanta" and "This Is America," gain impact from a kind of absurdist framing, which this book shares.
The surrealism "allows us to address the absurdity head-on," Ytasha Womack writes in her book, "Afrofuturism: The World of Black Sci-Fi and Fantasy Culture."
"Sometimes you have to be irreverent. Sometimes the situation is so absurd that the only way to address it is to be absurd." This at once searing and witty social critique is significantly worth the read.