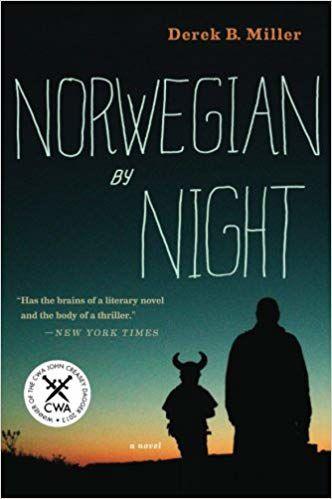 My favorite genre is mystery. There is nothing like a great plot with lots of twists, great character development and a surprising yet satisfying end. I picked "Norwegian by Night," a thriller set in Norway, a country I visited two summers ago. It proved to be a good choice.
The author, Derek B. Miller, is American, but he now lives in Oslo. Nothing was to be lost in translation! And like the author, the central character is not Norwegian but American. Sheldon Horowitz is an 82-year-old transplant from New York whose last remaining family member married a Norwegian. His granddaughter, Rhea, fears Sheldon is in the throes of Alzheimer's; why on earth would he believe he is chased by Koreans otherwise? Why does Sheldon claim he received a medal for his service in the Korean War when he only had a desk job?
Rhea was 2 when she came to live with her grandparents. Her father, their son, was killed during his second tour in Vietnam, and her mom could not cope on her own. When her grandmother dies, Rhea asks Sheldon to move to Oslo. She holds the promise of another generation, and Sheldon agrees to move to Norway, "a country of blue and ice and one thousand Jews."
When the body of a brutally killed Serbian woman is found in her apartment and Sheldon disappears along with the victim's young son, her worries for his sanity skyrocket. Even if he is not Norwegian nor police, even if his sanity is in question, the hero of this story is Sheldon, not only because it revolves around him but, foremost, because he fits the definition of the word. He is cunning, ingenious and a fine strategist, he has the strength of a Hellenic warrior while on his quest for justice.
"Norwegian by Night" is not your classical Nordic noir, set in a bleak landscape with a dark and morally complex mood. It is not about solving a mystery or "getting" the bad guys. It is set in summer, with its endlessly light and warm days. While Sheldon is trying to save the boy, it is his past and his relationship with his son that take center stage. Yet, under the bland social surface of the present, there is an undertone of unrest, unease. In that, this book qualifies for its genre.
I enjoyed the humanity of the characters and the richness of their bonds. I liked the questions and issues that the author brings to the narrative. This novel is not so much about crime as it is a reflection on the Norwegian lifestyle, faith, grief, war, parenthood, family bonds, guilt, the refugee/migrant crisis, loyalty and patriotism.