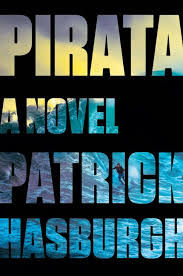 Patrick Hasburgh's latest novel, "Pirata," is the newest testament to his skills as a storyteller. From "Aspen Extreme" and "21 Jump Street" (TV series) to his first novel, "Aspen Pulp," the arc of successful projects created, written and directed by Hasburgh has been nothing short of impressive. But in this story, in addition to the on-point sense of humor and simultaneously quirky yet relatable characters that his past projects are known for, we feel the impact of Hasburgh's own role as a father reflected on the page.
We meet Nick Lutz after he's lost his wife, his son and his eye and has settled himself as far removed from his former reality as he could muster the energy and the means to get. His community of small-town Mexican locals and expats nickname him "Pirata," a loving jab for rocking the pirate-esque eye patch. In this sleepy beach town, Nick lulls himself back to a semblance of self-awareness and safety. Daily buzzes and trips to the surf breaks all slide from one into the next as we get to know Nick, how he came to be where he is, and how it feels to recover from his traumatic brain injury that cost him his eye and entire former life. 
As escapes from reality often do, this one comes to a crashing halt. His friend Meagan kills her not-so-loving lover, Winsor, and suddenly Nick's soft spot for Meagan and her two sons catalyzes his reemergence as a man with purpose and intention. Nick dives into his new family of sorts, and their bond deepens beyond their mutual conspiracy to cover up Winsor's death. These bonds become as perilous as they are inspiring for him as the FBI and local policia come looking for Nick and find a body washed up on the beach. What starts as a story of rebirth through escape and new beginnings deftly pivots into a thriller of a novel.
Hasburgh's stories are such enjoyable reads because his characters are so authentic. You can feel his compassion for them even as he exposes their extensive flaws. Only a writer who has lived his stories and befriended his characters can achieve such perfect representations of such imperfect situations and people. Having been a ski patroller in the '70's in Aspen, and later moving his family to raise his children, surf and write in the once-sleepy Mexican beach town of Sayulita, this man really has lived the lives he writes; he has met and loved and lost the characters he creates.
His passion for family and for living life to its fullest anchors his cast of castoffs and gives the necessary gravity to a story that quickly unravels into a gripping page turner. It's always a pleasure to support a fellow Aspenite in their artistic endeavors, but Hasburgh makes it so easy when what he invites us to read and enjoy is just so damn good. A perfect gift for the holidays, "Pirata" is available at Explore Booksellers today.