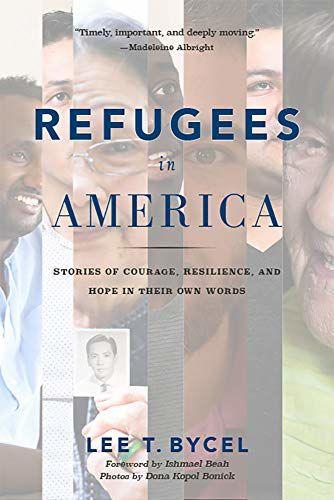 This past week I had the pleasure and privilege of attending the presentation and reading of Lee T. Bycel's beautiful and heart-rending "Refugees In America." It was a poignant and edifying experience to say the least. Lee's book tells the stories of 11 people, their stories chosen from hundreds of interviews and conversations with survivors of all ages and from around the world. These are people who have come to America seeking refuge from political, social, and ethnic persecution. They are people who have suffered imprisonment and torture, the destruction of their homes and livelihoods, the murder of their neighbors, friends, and family.
During his talk Lee shared his view, which he explicates in his book, that this is not a partisan issue, nor is it an argument for "open borders" or any of the other political "hot-button" issues we as Americans are currently struggling with. Instead it is an appeal for compassion and a rational global response to a global catastrophe that is only going to get worse as we add environmental degradation due to global climate change to the reasons that people are forced to flee their homelands.
As Lee's book makes abundantly clear, and their stories elucidate, these folks do not come to take from us, as many seem to fear, but to share the bounty of freedom and self-determination that we are so privileged to enjoy. "My hope is that one day I will not be viewed as a refugee but simply another human being making positive contributions to American society." (Meron Semedar, formerly of Eritrea)
As one of my favorite authors, and a former refugee in his own right, Ishmael Beah writes in the foreword, "People leave their homes, and their countries behind because they can no longer find life there — life as in the possibility to exist. They drag their wounded, but not broken, spirits, looking to start over again, often anywhere, really. How can anyone fear such people?"
I think that one of the main points of Lee's book is that one does not have to be a humanitarian activist to either be concerned about this issue or engaged in searching for a solution to the global crisis that displaced peoples and refugees will continue to be. Lee's hope "...is that this book will move readers not only to care deeply about the plight of refugees and their resettlement but also deepen their resolve to help." That sounds reasonable to me.