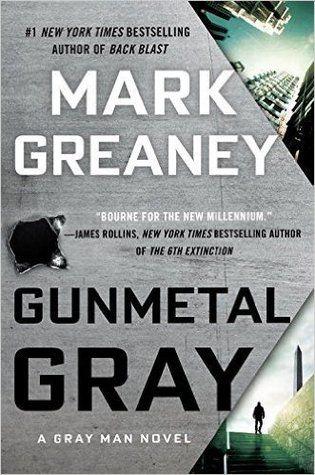 I recently finished books six and seven of Mark Greaney's thrilling "Gray Man" series, and, as usual, it is a bit of a letdown because I now have to wait a year (and hopefully only one) until the next book in the series is released.
"The Gray Man" series follows the exploits and adventures of Courtland Gentry, once the top agent and assassin for the CIA. Gentry was on the run for several years from a worldwide shoot-on-sight order issued by the CIA for no apparent reason. Even after escaping from the first kill attempt ordered against him by his own agency, Gentry tries to hang on to his basic goodness and his soul, killing only to survive another day, taking only the jobs that suit his own tortured morality, liquidating only those that savage, torture and murder the helpless and defenseless.
Practically every law enforcement agency in the world is looking to terminate Gentry and earn the multimillion-dollar price on his head offered by the Agency – not to mention a hodgepodge of bounty hunters, drug cartels and multinational corporations. All of them have a reason to hate, and hunt, the Gray Man. However, there are reasons that Gentry was the best operator the CIA ever had; those reasons are summed up by quick, smart and incredibly resourceful. Seriously, you will need to suspend your incredulity to follow a lot of the action, but it is so exciting and well written you will be glad to.
As over-the-top as some of the action might seem, the books themselves are grounded in extensive and serious research in the tactics, weapons and operating procedures used both by the Gentry and the agencies on his trail. According to his bio, Greaney "has traveled to more than 15 countries and trained alongside military and law enforcement in the use of firearms, battlefield medicine and close-range combative tactics," and he demonstrates an amazing understanding of tradecraft and situational requirements in his work. (Greaney has also contributed to the legacy of the late, great Tom Clancy by taking over much of the "Jack Ryan" franchise.)
In the sixth installment, "Gunmetal Gray", Gentry is working against time and agents of the Chinese government to find one of their computer-warfare specialists who has gone underground, a hacker who is responsible for testing China's own security systems. The Chinese government wants him dead, and the CIA wants him captured. If Gentry fails to do either one his old boss and friend will be killed. He has to figure out how to do both.
"Mission Critical" is book number seven in the series. In "Mission Critical" Gentry continues his love/hate relationship with the CIA. Working as a "free agent" he is tasked with uncovering a mole in deep cover at the CIA and stopping a plot that will decimate the world's top intelligence agencies. This is his biggest mission yet, and it is spectacular!
Read the "Gray Man" series. You'll be glad you did.