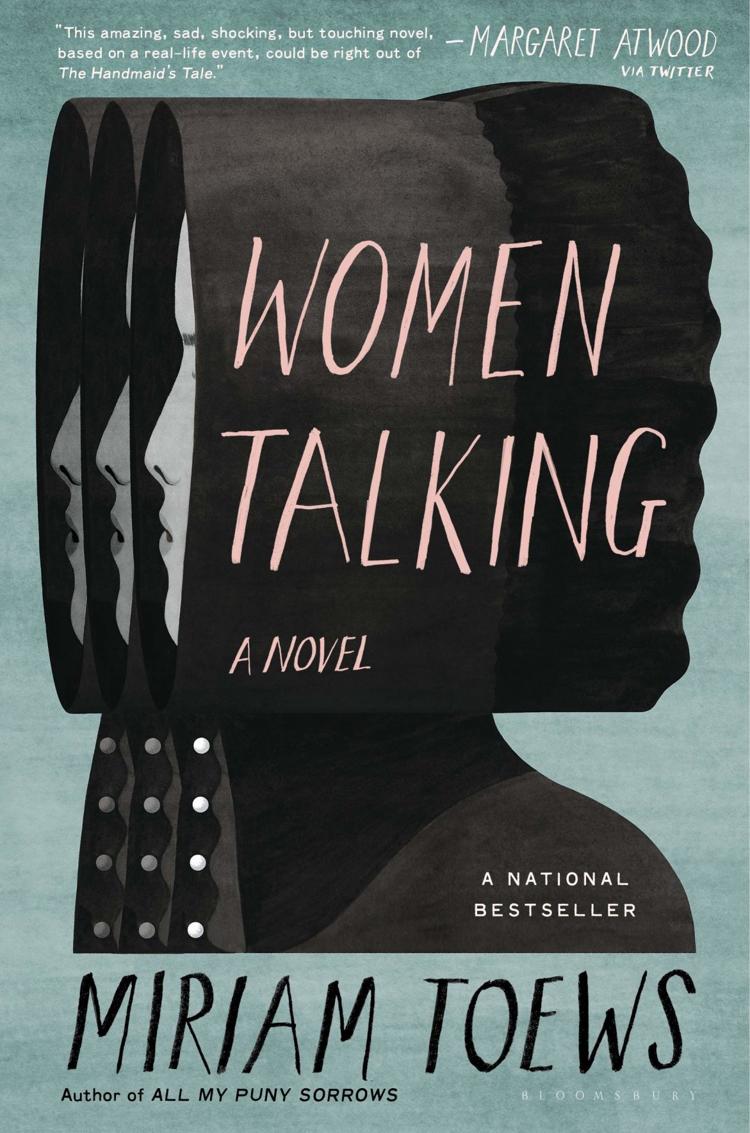 Between 2005 and 2009, girls and women belonging to a Mennonite colony in Bolivia repeatedly awakened bruised and bloody after being attacked in the night. Leaders of the colony attributed the attacks to demons and claimed that the women were being punished for their sins. Eight men from the colony were eventually imprisoned for drugging and raping the women. It is reported that similar attacks continued to take place at the colony while the convicted men were still in prison.
Women Talking is author Miriam Toews' response to these real events. The novel takes place in the fictional Molotschna Colony, where most of the women and girls have been raped by a group of eight men over the course of several years. While the men of the colony are away in town attempting to bail the rapists out of jail, a group of women take advantage of this opportunity to congregate and form a plan of action.
The women discuss three options: do nothing, stay and fight, or leave. The conversation is documented by August Epp, a schoolteacher who was raised in Molotschna but spent many years living away from the colony after his family was excommunicated. The women, who are illiterate, have recruited August to take minutes of their meeting. The women agree that they must reach a decision before the men return in two days.
Their discourse revolves around how to best protect themselves and their families following the attacks. They raise many questions that remain unanswered. Can they survive in the world outside the colony where they do not know the language, geography, or customs? Can any of the men in the colony be trusted, or do they need to leave the men and boys they love behind to protect themselves and their daughters? Must they choose between forgiving an unforgivable crime and eternal life in heaven? (The women have been told that they must forgive their rapists in order to avoid eternal damnation and excommunication.)
Throughout the conversation, the women keep returning to three ideas that they formulate into a manifesto that they will use to guide their decisions. Mariche, a woman participating in the talks who has long suffered abuse at the hands of her husband, summarizes these guiding principles. "As I understand it, what we women have determined is that we want, and believe we are entitled to, three things." Mariche says: "We want our children to be safe." She has begun to cry softly and is finding it difficult to speak, but she continues. "We want to be steadfast in our faith. We want to think."
Women Talking is a quietly empowering novel in which Toews imagines a group of oppressed women attempting to take control of their circumstances. The concept of the novel consisting of minutes of the women's conversation becomes tiresome and constraining, and the author's choice to tell the story through a male narrator is disappointing. While it makes sense that the minute-taker needs to be male and August is a sympathetic character, the reader is only able to glimpse the women through a male perspective, and this seems at odds with the female empowerment that this novel strives for. Despite these shortcomings, Toews writes about feminine resilience with moments of breathtaking prose and poses difficult questions that are especially relevant in light of the #MeToo movement. Namely: How do we overcome systematic oppression and rebuild a culture that ensures safety and freedom for all?