David Yarrow's powerful wildlife photos have taken him to some of the most rugged and remote areas of the world, but his photographic journey started at a ritzy ski resort like Aspen.
While on vacation with his family in Davos, Switzerland, a 14-year-old Yarrow took it upon himself to document "a day in the life" of the people around him.
"I guess my behavior was quite unusual in that to go and get a shot, even then, I would probably go out of my way — to the irritation of everyone else in my family because I'd be holding them up — but I would go a long way to try and get something different," said Yarrow, whose striking wildlife shots are on display at Casterline Goodman Gallery. The collection, which altogether features 26 pieces, will be up through April 15.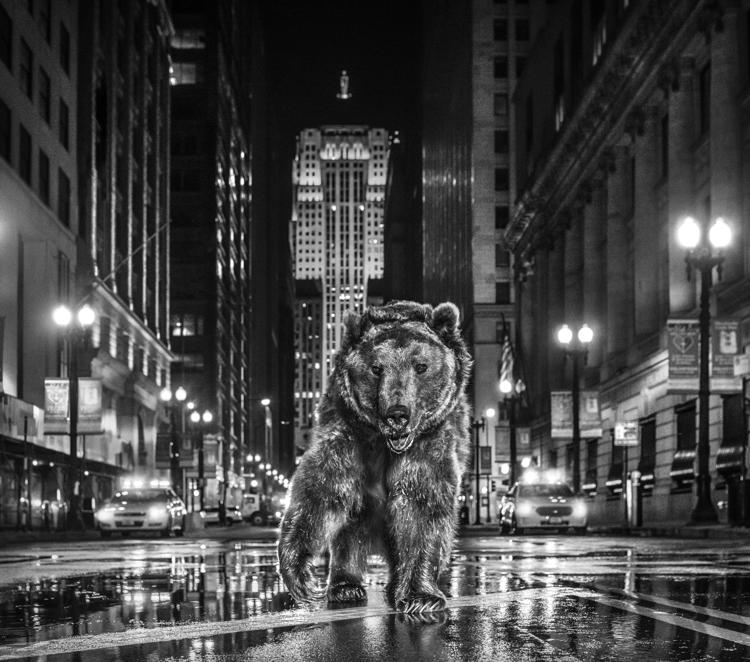 Yarrow's artistic approach as a teenager still rings true today, nearly 40 years later. The renowned fine art photographer seldom uses a telephoto lens and documents his subjects as close as possible.
"It's all about the eyes, as you can see with a lot of my animal work," Yarrow said on Monday at the gallery while pointing to a photo of a polar bear. "Eyes are the window to the soul. It makes it more emotional [and] it allows it to transcend a little bit. And in order to capture those eyes, you've got to be close."
By the age of 16, Yarrow was shooting ski races, which led to the opportunity to photograph the World Cup Final in Mexico City. His iconic shot of Diego Maradona holding the World Cup was syndicated internationally and further prompted his career in sports photography, which included covering the Olympics.
Yarrow acknowledged that his transition from sports to fine art is a bit unorthodox. But as a storyteller, he saw an opportunity to capture — and also create — a more unique narrative.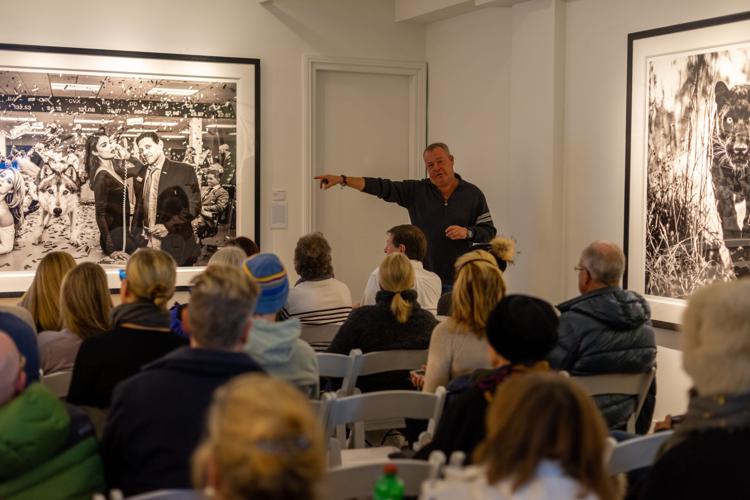 "Even if you get a picture of [the winner], there's a lot of other people who can get that picture," Yarrow said. Whereas without exception, [in] every one of these pictures here, I'm the only one there, whether it's by design or accident, but mostly by design."
As seen in his local display, Yarrow's black-and-white-printed collection is a mix of animals in their natural habitat, as well as in staged, sometimes metropolis, scenes. In one image, a herd of elephants move together in Kenya; in another, a wolf and a furry bucket-hat wearing model ride together in a convertible with snowcapped peaks and vast land pictured in the background.
"If that was all I did, I'd be bored, and if that was all I did, I'd be bored," Yarrow said, pointing to each type of image. "I know that the [staged photo] is a far harder picture to take than that [portrait]. It's not been done before."
Yarrow believes that wildlife photography can sometimes be a little dull because it is too literal. "What you see is what you get," he said. "I want to tell stories."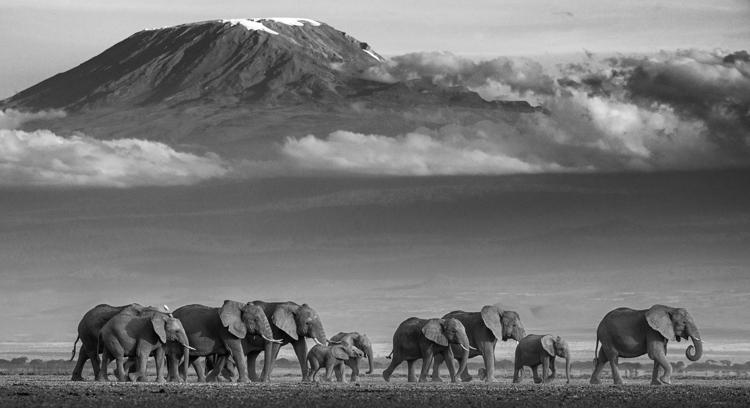 Despite his proximity to wild animals, the father of two said he avoids dangerous situations by doing his homework. "Good research allows for you to get much closer because you know the rules," he said. "My scary moments have all been accidents rather than an animal charging me or something like that." The Scotland native said he's had two near-death experiences: One involving a plane crash in the Sahara Desert many years ago, and "the big one" occurring merely five weeks ago in the High Arctic. While shooting killer whales (as close as possible, of course), Yarrow's raft flipped, submerging him into freezing waters without a wetsuit.
"But I wanted to come to Aspen, so I survived," Yarrow quipped.
Also a conservationist, Yarrow serves as a board member to a number of conservation groups and donates a portion of his proceeds to wildlife efforts globally. In 2019, this amounted to about $3 million.