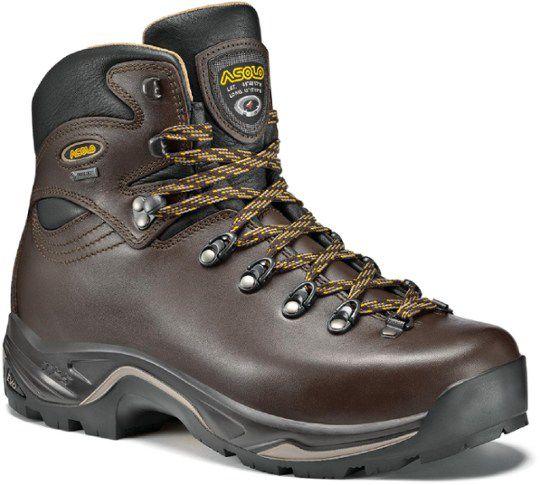 Shortly after Christmas, I found myself chatting footwear in a local outdoor gear shop.
The person with whom I was engaged in this chitchat, who was standing behind a navel-high counter and who therefore could not eyeball my feet, asked what manner of footwear I was disposed to don. I raised my leg as much as my ancient physiology would allow and revealed to her, and several others standing close by, a pair of heavy leather Asolo TPS 520 GV Eco hiking boots. Those gathered there gasped. I could not have elicited a more stunned reaction had I displayed a pair of buckled shoes like those worn by the Pilgrims.
I am old enough that, as I cut my hiking teeth, everyone wore heavy leather boots. That was all there was.
In the mid-1980s, Nike introduced the very first pair of light hiking boots, which were essentially high-top running shoes. Being a sucker in those days for all things new and shiny, I was one of the first people to purchase a pair. They were light, comfortable, required no breaking-in period, and, well, they blew out at a very inopportune time at the very bottom of Mexico's Copper Canyon.
Over the course of the next two decades, I went through uncountable pairs of light hikers. Some did not work out because they simply did not fit right. Others were defective. Still others simply wore out. I tried getting a few pairs re-soled — a process that required heating the sole till the glue adhering it to the boot softened, then re-gluing a new sole to the boot. Every time I did that, the fit was altered in such a way as to render the footwear unusable.
But there was little choice, as the leather clunkers of my youth were no longer available. Now, a few companies are going modern/retro. Several new lines of leather boots are on the market. I jumped headlong back into the past, procuring first a pair of Scarpas that did not work out because I rushed the break-in period and they developed a kink in the toe box that no amount of manipulation could overcome.
Then I bought a pair of Asolo TPS 520 GV Evos, and, no, I have no idea why they need such a complicated name. They required about 50 miles of break-in time. They are heavy — four pounds per pair. But they are bomber. My feet never come back from even arduous multiday backpacking trips as bruised and battered as they do when I'm wearing light hikers.
I'm about to order a backup pair. Not cheap. $330. But they will last for years and years, unlike most light boots on the market.