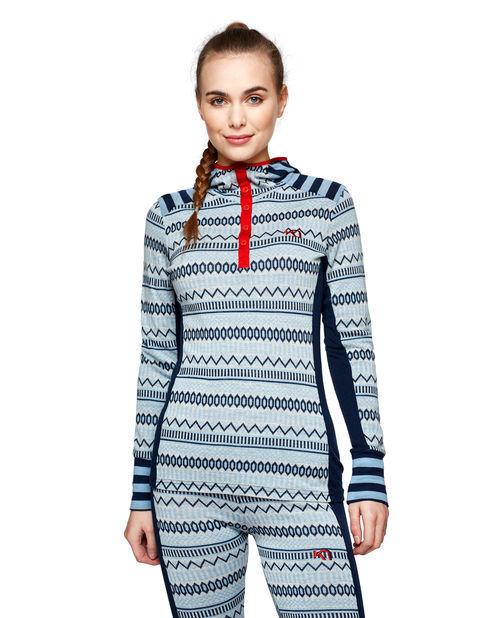 There's something about ski gear from Scandinavia that feels more legit. Maybe it's the fact that skiing has its origin in Scandinavia or the fact that Norway has the record for the most medals won at a single Winter Olympics (39 in 2018). Any way you look at it, this region of the world has some serious skiing street cred, and the Kari Traa women's brand of skiwear fits into the mix like a perfectly nestled town on a Norwegian fjord.
A three-time Olympic medalist herself, Traa started her brand in the downtime between training and skiing competitions. She would hand-knit colorfully designed beanies for friends and fellow skiers around the world. After her retirement from the sport, Traa started designing everything from underwear to outerwear with a strong color palette and inspiration from the rugged Scandinavian tradition she grew up in.
After her retirement, and in the midst of starting her skiwear brand, Traa has also entered into the endeavor to recruit more young women to mogul and freestyle skiing. Her "For girls, by girls" mantra for the brand makes its way into her 14-person ski team.
This is my first try with the Kari Traa brand. It was only recently introduced into the U.S. market in 2015, so it's a bit of a newcomer. With the patterns and colors appealing to the girliness in me, I had a hard time choosing my first item to test. I eventually narrowed it down to the Åkle set.
If the sisters from "Frozen" needed a base layer, this set would be it. The pattern is designed with old Norwegian heritage and knitting traditions in mind, but it adds a modern twist to keep it fun. Made from 100 percent superfine merino wool, the set is incredibly soft, breathable, warm and comfortable, and the naturally odor-resistant property of wool keeps your friends happy too. Designed with a slim fit, the clean lines make movement easy without adding unnecessary bulk.
There's not a single time that I haven't gotten a compliment when wearing these. Along with several color options, there are different styles of tops and bottoms available in the Åkle line. There's even a onesie version if you're into the full-suit base layer.
Just because base layers are worn underneath all the other layers doesn't mean they have to be boring. Kari Traa will be my go-to for some Scandinavian pizazz on top of the underneath.