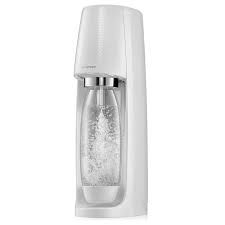 So I was channel-flipping the other night trying to find something mundane to offset the political BS, when I fell upon a nice, unthreatening home shopping network preview for equally nice quilted blankets, on sale pre-holiday. 
Great diversion tactic, you may think, but before you scoff about me geeking out to a home shopping network, I should let it be known that I have appeared on air – a bunch of times pre-holiday, in fact – flogging stuff like pocket books, make-up mirrors, garbage cans (yes, really chic ones!) on a home shopping network. Settling in to the presentation only served to remind me that gift-giving season is right upon us and that I should review all gear items with gifting in mind. 
Cut to the present, and the brand new and really sleek SodaStream Fizzi One Touch Sparkling Water Maker arrives on my doorstep, shipped from a PR agency I worked with back in New York. This is a terrific gift, I thought! (But I'm not regifting this; I love it!) 
After some nonchalant internet browsing I learned that bubbled water is just as healthy as still. I also read that SodaStream owners consume 43 percent more water than non-owners. 
Sleek but unobtrusive, my white one plugs in and slots in the kitchen perfectly. It's also available in black. As impressive is the instructions card that comes with it for direction of use. Just like with Ikea and all well-designed new gizmos, there are illustrations and diagrams only. A few pretty pictures illustrate the three levels of carbonation offered, with one-touch button action, for total customizing. 
I'd never owned a SodaStream before, but it literally took 10 seconds to figure out how to open the 60L carbonator and insert the stainless steel SodaStream bottle. Another 10 seconds and I had a beverage ready for drinking. 
I slid open my freezer drawer, plunked a frozen lime wedge in a glass (kept just for this purpose) and poured a home-made seltzer water created fresh from Aspen Tap.  I like French-style carbonation, just like the Badoit brand (semi-fizzy). It's up to you, though, to mix in soda-stream flavors and syrups for kiddos or yourself for home-cooked fruit concoctions. 
Online, SodaStream clearly listed Ace Hardware as the local retailer for replacement 60L carbonators, and since this is a gear review, I did the due diligence and called to find out if this was current, true and representative. Yes on all three. Ace is the place to replace.
Environmentally, you'll skip a whole step of recycling cans, and it's neat to be able to make a drink from our terrific tap water. Oh, and none of that rat poison reportedly in the trendy, flavored, zero-cal soda exposed last week. Ooof. 
I can't think this is not a terrific family gift. It cuts down on the purchase of commercial soda, eliminating the cost and schlepp. As an adult-supervised activity (there is a 60L CO2 bottle involved here after all) it paves the road for homemade, less-sugary, colorful, fruit-infused drinks. 
My environmentally minded private chef friend Velvet Valentine, who caters exquisite private dinners and constantly marries innovation, health benefits and planet saving, suggested the possibility of edible essential oils added to sodas created for adult beverage tincturing. 
"It's not just the immense saving of recycling; it opens the door to creativity in the kitchen, especially around the holidays" she added.  
Vodka-soda (with basil), anyone?