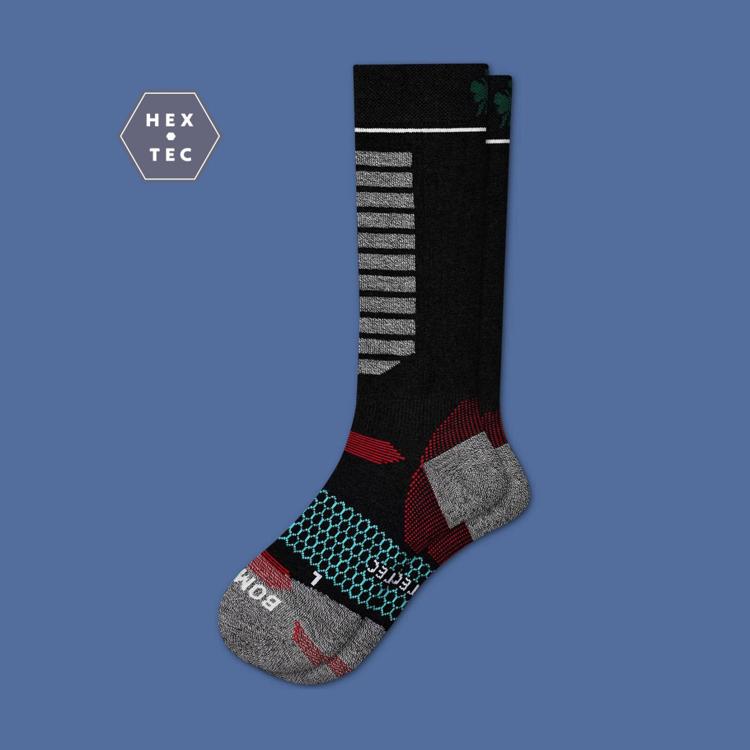 I didn't give much thought to socks before coming to Aspen, but moving to the mountains made me appreciate the importance of quality hosiery. Outdoor sports enthusiasts have long known the importance of a good sock and the difference that a great pair can make in harsh conditions.
It's simple: We are here to have fun outside, and if your feet aren't comfortable, you are going to be sad. Socks are a wardrobe staple and a survival item, and due to a number of hygiene-related donation issues, they are also the No. 1 requested item at homeless shelters.
That fact was an eye-opener and an inspiration for Randy Goldberg and David Heath, co-founders of the sock brand Bombas. Employing a one-to-one business model that donates one pair for every pair purchased, the duo set out not only to do good, but also to disrupt a category that was always underfoot but often overlooked.
There are over 250,000 sweat glands in the feet, so keeping them warm and dry at the same time is a tricky proposition. The Bombas solution incorporates long staple merino and cotton yarns that possess natural antimicrobial and moisture-wicking properties. The team also innovated around the technical aspects of a traditional tube sock, removing the uncomfortable seam across the toes and adding a honeycomb structure through the arch to improve support and reduce slippage.
The company's approach to retail is unique as well, in that they recognize that socks are not typically a singular purchase. When it's time for new socks, I'm not buying just one pair, I am replacing the former guard with fresh recruits. So, whether you are adding a four-pack to replace those beaters form last year or need a complete sock-drawer overhaul to eradicate those threadbare pairs that have been lingering since college, Bombas has an option for you. For me, I make one good sock-related decision a season and my feet thank me throughout the rest of the year.
In addition to their athletic, dress and casual lines, Bombas entered the alpine market this year with the release of ski and snowboard-specific socks featuring performance breathability, left-right contouring and sharp designs for when the boots come off at après. I am also a fan of Bombas' approach to recent collaborations. They've linked up with cultural institutions like Sesame Street and Muhammad Ali to deliver understated tributes to American icons through a uniquely Bombas lens.
Customer service isn't typically associated with purchasing socks, but Bombas has raised the bar in that respect as well. Their "Laundry Back Guarantee" ensures that if one pesky sock decides to have an adventure on its own, it will quickly be replaced. All of this attention to detail and focus on customers amounts to a successful, socially conscious business. To date, the company has donated over 14 million pairs of socks to people in need.