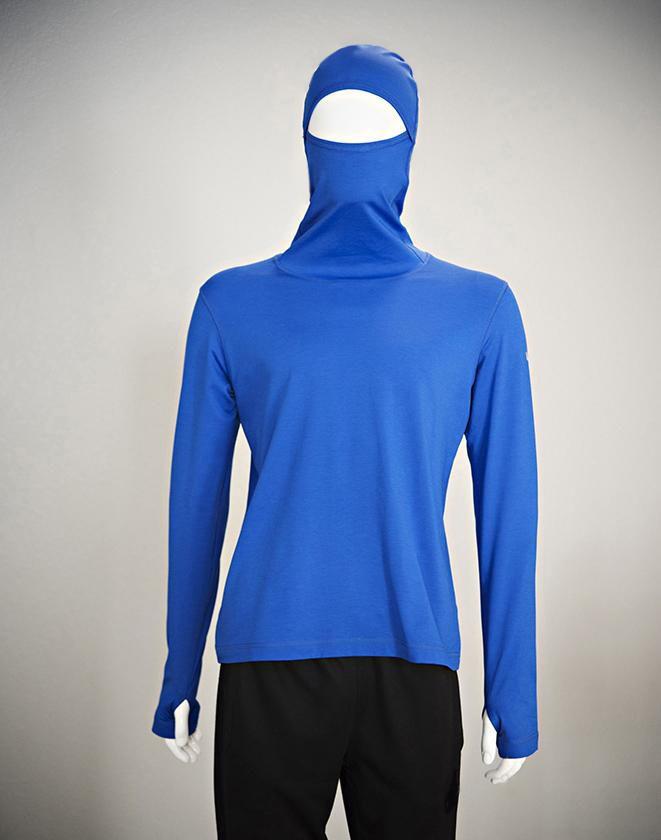 We experienced a couple of good old-fashioned cold days this past week, and it served as a reminder that skiing can get pretty chilly if you don't pay attention to keeping warm. Over my years in the valley, including three stints as a boot packer at Aspen Highlands, I've learned a few things that are essential to staying cozy when the temperatures dip into the single digits and colder.
One of the most important things, in my opinion, is ensuring that the seals at places like your waist, neck, wrists and boot tops don't allow cold air in – or warm air out. At times, this can get a little complicated (and overly snug) around the neck with gaiters, hoods, turtlenecks and different layers all jockeying for position.
This is where start-up apparel manufacturer Ushood saw an opportunity. The company's Adult Pinnacle Shirt seeks to eliminate the complications – and provide a nearly impenetrable seal – by incorporating a base-layer top, neck gaiter and hood into one garment.
The results, for the most part, are very good. The fabric, a mix of 86 percent polyester and 14 percent spandex, is thin and thick at the same time. By that I mean it fits snugly under any intermediate or outer layer, but it's dense enough that it feels as if it's sacrificing a little bit of breathability for extra warmth. On cold days, that's great, and it hints that the Pinnacle Shirt will probably not require an intermediate layer come spring.
The seal at the neck, as anticipated, is fantastic, ensuring your neck and chest will stay plenty warm, and the hood, which I haven't had occasion to wear yet, just gathers up at the back of the neck and disappears until it's needed. I never noticed it at all while wearing the shirt. And as a bonus feature, the sleeves come equipped with thumb holes to ensure a perfect seal at the wrists.
With all that attention being paid to the neck and wrists, I found the one drawback to Pinnacle Shirt rather surprising. I purposely get almost all of my clothes in the XL size because I like them loose-fitting and long in the sleeves and elsewhere. The Pinnacle Shirt was no exception, but even in the XL size, it barely made it down to the top of my pants, and when I moved it had a tendency to become untucked, rupturing the seal at my waist.
There's no reason for a base layer not to be longer than it needs to be to tuck into ski pants and maintain a good seal at the waist. In fact, that should be one of its primary purposes. If I could make one suggestion to Ushood, it would be to lengthen the shirt by a couple of inches, and then I think I could give the Pinnacle Shirt my unconditional seal of approval.