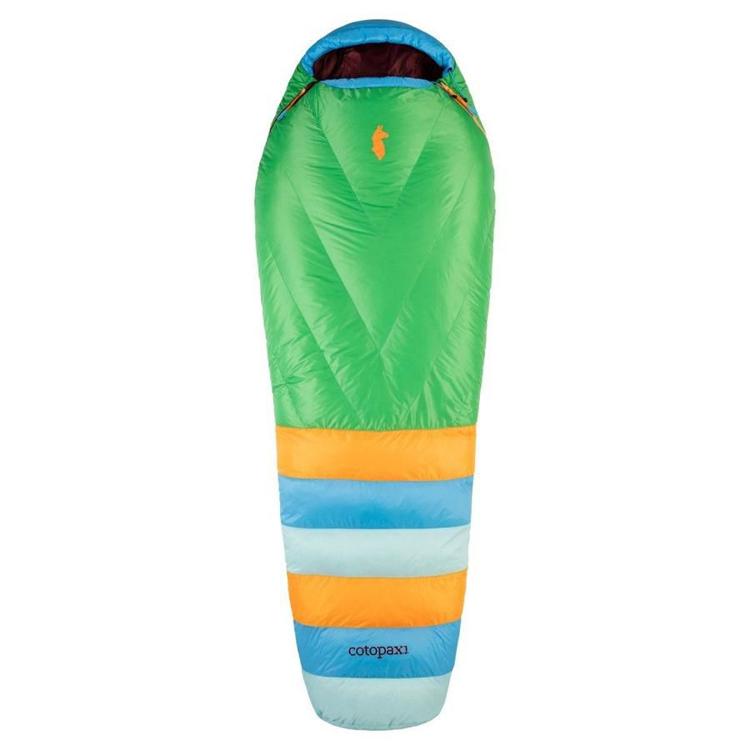 When friends ask me what the key is to having a pleasant camping experience, the first thing I tell them is to fine-tune their sleeping system. From car camping to backpacking, if you don't get a good night's sleep, misery is bound to follow like a pebble in your hiking boot. The system starts with good sleeping bag choices.
Cotopaxi gear has been getting some serious eyeballs lately. Remember those colorful backpacks being doled out at the Aspen Ideas Festival a few weeks ago? Their amazing, Ecuadorian-inspired colors are incorporated all over their products. That's the first thing that attracted me to this sleeping bag, although it's more than just great eye candy.
The Sueño sleeping bag is designed for warmth and comfort on several levels. Made with 800-fill, responsible sourced duck down, the bag keeps you toasty (15 degree rating) without adding bulk. It stuffs down into it's included sack to a size of 9 x 17 inches. Easy for backpacking.
The zipper system includes a far right zipper paired with a half-length zipper on the left. This allows you to fold down just the top section or completely unfold it into a blanket.
One of my favorite features is a pocket in the hood that you can stuff with your down jacket to make a pillow. There's also an insulated media pocket so you can keep your phone handy and warm so the battery won't drain.
The footbox of the mummy-style shape is roomy so your feet can breathe. You can even unzip just the bottom section so you can walk around your campsite cocooned in your bag. I love this feature for drinking my early morning coffee without having to get out of my bag.
Available in four delightful colors, this of a bag is my favorite new addition to my sleep system. Catching those essential backcountry zzzs has never looked so good.