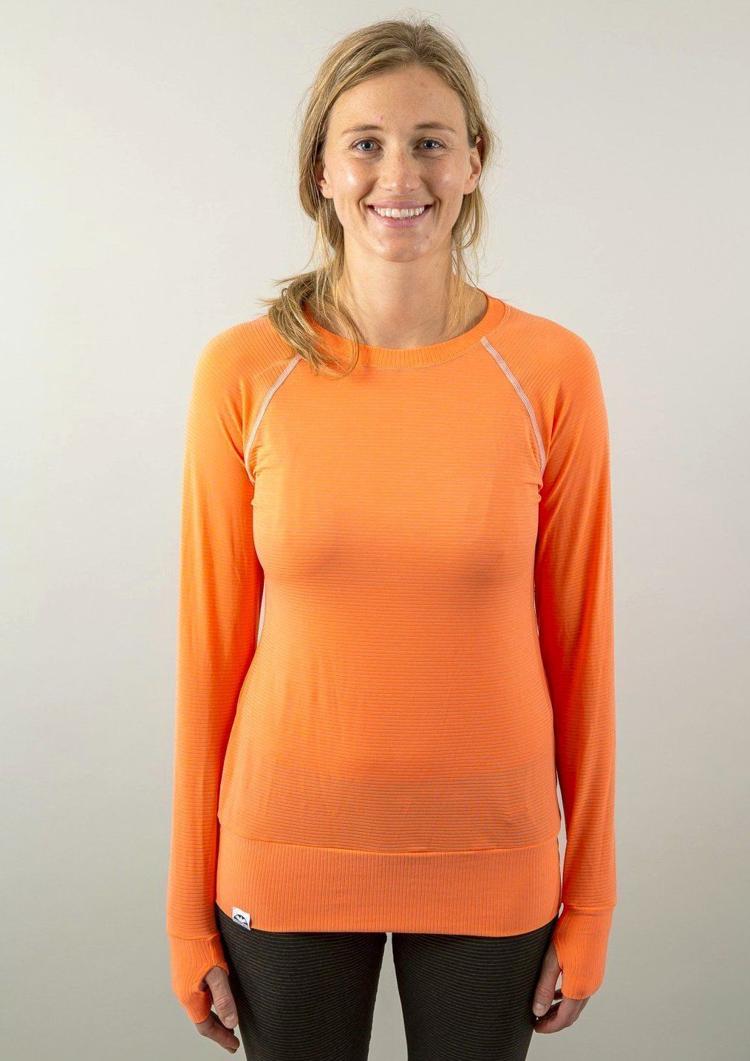 Everyone has their go-to base layers for different times of the year. I wear a simple wicking shirt from Lululemon since I run hot and anything warmer can suffocate once I am moving or step inside. I wear my warmer layers on top where they can easily be removed. I know others who swear by Hot Chilis and the newer popular Kari Traa, although I'd heard those itch sometimes with the wool, but I've never tried them so will suspend judgement until I have.
I was sitting on the chairlift with a younger friend who asked if I'd worn any Corbeaux clothing?
"No," I said, and set about trying it. I knew it was a company with local ties, but I didn't know how local. The word Corbeaux means "ravens" in French, and mountain mythology gives a layer of meaning (excuse the pun) for a creature said to be the reincarnation of adventurers who perish in the mountains, at least in alpine culture.
What I found was that founders Darcy Conover and husband Adam Moszynski live right in my 'hood, and we connected to get me a shirt to try. These two Aspenites, both accomplished, sponsored athletes, formed the idea for the company while climbing Mount Kilimanjaro on their honeymoon in 2012. Having tested lots of gear, their personal tastes were pretty defined.
"Hello, brights!" I thought, as I slipped the "Mimosa"-colored shirt over my head. I felt the cool silk-y slipping down my back. The Silkyway Long Sleeve is currently on sale for $59.99 and seems like a good in-between-season weight for now, transitioning into summer. Though on their website, there's a multitude of everything.
The Silkyway is their most popular base layer, a recycled polyester fabric that keeps things out of landfills. It's super soft, with a reliable warm-to-weight radio, and, the website said, breathable for summer trail running.
The blurb says it's perfect next to skin, which I agree with. Essentially warm, it is a high-activity base layer for cold weather or, in my case, coldest weather. I run really warm, and although the web suggests it's good for hiking, running, skiing, biking, yoga, dog-walking, lounging or traveling, I think for me it would get too warm for some of these. In my case, there would need to be snow on the ground, and the suggestion of it being suitable for chilly nights while camping are brilliant. It's so lightweight, any backcountry or hut trip backpack would be the better for having one added. They are so light, flyweight almost.
Heading out for a lap around the Nordic trails of the Northstar preserve, alert for any moose, I tested it out one damp late afternoon while it was snowing lightly but the temperature hovered around 40 degrees. Here's the report: No chafing; the sizing runs large and generous, and with just a thin puffy and thin beanie on to start it was not long before the layer fueled up with body heat. Nothing unusual here, except that on the turn for home, with wind against my body, the Silkyway kept its heat. No need to replace the puffy, and this is key, as it's not how I experience other base layers.
If you want to go touch, buy or see one, they're at the Ute Mountaineer and Hamilton Sports, but with more selection online. The brand is socially responsible, too, and they collect and send sports apparel donations to guide and porter communities in developing mountain cultures. Look 'em up.