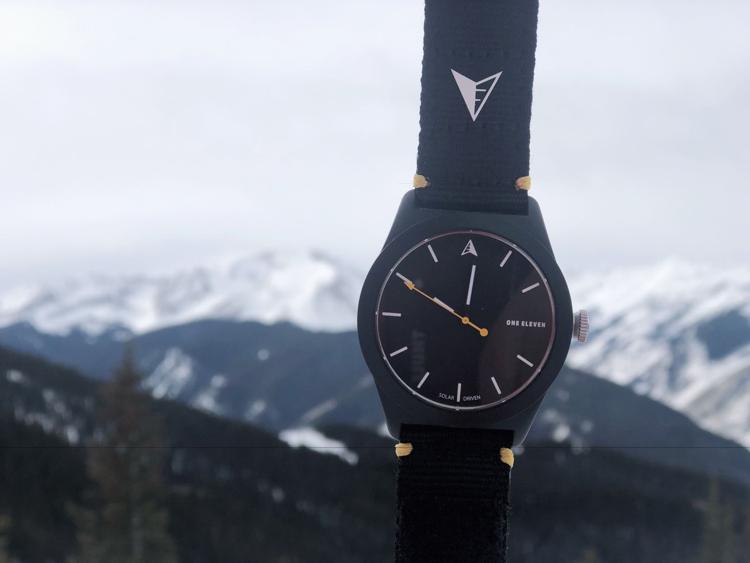 I don't immediately think of needing a watch in the backcountry. It's a time for disconnecting and enjoying nature. But let's be honest, no matter how off the grid we are, it's always crucial to be aware of the time for your own safety. And what if that watch required you to get outside more often to power itself? The entire line from One Eleven watches is completely solar powered, but the SWII takes on sustainability at every aspect.
The face of every One Eleven watch is a solar panel capturing natural light for power; it will also capture artificial light but not as well. The solar-powered movement at the core of the watch continually charges. The SWII battery runs for 10 years, like all One Eleven watch batteries. This watch is meant to stick with you for the long haul and not produce waste by needing to toss out an old battery and replace it.
The watch is also made of 85 percent reclaimed materials. Plastic is one of the worst pollutants on the planet, especially single- or limited-use, but the environmentally friendly plastic case is built of castor bean oil byproduct. The nylon strap is created from recycled plastic water bottles, making it one of the most sustainable watches in the world. And to top it off, the box it comes in is made from recycled materials as well and can be recycled as a paper product.
Despite being made from reused products (i.e. trash), it has a simple aesthetic. The solar face is solid colors but comes in four options and is designed with clean lines and a compass pattern. The same compass, the logo for One Eleven watches, is repeated on the nylon strap.
My first thought of a nylon strap reminds me of '90s watches, but this one is durable, comfortable and elegant. This is a watch you don't need to take off; it is perfect for adventures but still looks great for a casual event or a night on the town.
Personally, my favorite feature is that it is water resistant up to 10 ATM. And while I am not planning on scuba diving with it, this means I can keep it on for all my water sports. On the river I never know what time it is or how fast we are floating. Now, the SWII means I can keep track of the time while recharging the solar component at the same time.
What I like best about this watch, though, is that it is intentionally "low tech." I don't need all my text messages and constant notifications showing up on my wrist. Instead, it's a simple reminder to enjoy what we are outside to do. And at the end of the day, aren't we all solar powered? Getting out into the sunshine and fresh mountain air recharges us too.