When Aaron Behrens and Thomas Ross Turner started playing stages in the early 2000s, the duo's genre-bending approach to music was somewhat out there — even for a place that prides itself on staying weird.
"When we first started, combining electronic and rock was not very common," said Turner, who's better known as one half of Ghostland Observatory, which returns to Belly Up tonight.
"So, we already started off as weirdos," Turner said last week in a phone interview from Austin, Tex., where Ghostland Observatory was born and is still based. "But people really reacted well [to us]."
While Turner suggested that said amalgamation of sounds is considered more mainstream today, Ghostland's blending of electro-dance, rock, soul and funk results in a sound that is super unique.
Turner plays the drums and synthesizer while Behrens provides the vocals and plays the guitar. Both from small towns in Texas, the two met in Austin in 2002 while playing in the band, Walking Helix, before eventually splitting off to form their own group.
The two "really started hitting our stride," Turner said, by 2003 and 2004, and in 2005 released their first album, "delete.delete.i.eat.meat." Only a few years later, on April 20, 2008, Ghostland Observatory made its Belly Up Aspen debut. The pair played at the base of Buttermilk as part of the X Games shows in 2010 and has returned to Belly Up several times since.
"The crowd is just right there, so that's always exciting," Turner said of Belly Up. He also appreciates its production quality and "intimate" vibe.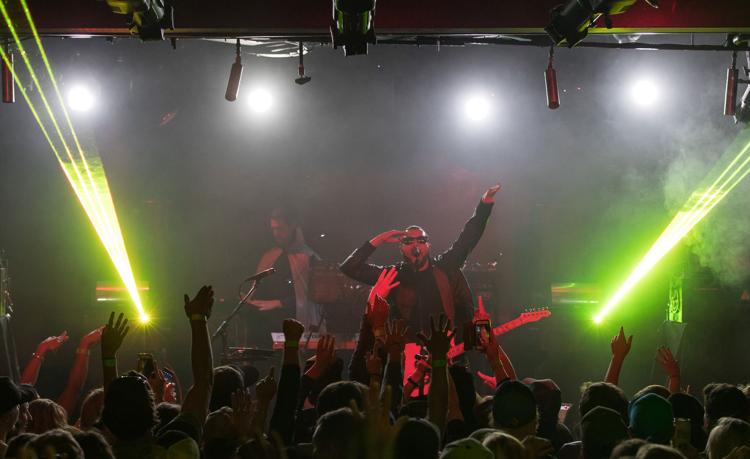 Asked about the challenges of performing as a two-person act, Turner responded: "I hadn't really thought of that."
Although he said, "it wasn't our intention to be a duo," he views it as an advantage rather than a hindrance.
The real struggle, he said, was trying to rely on other musicians — who ultimately would bail on or ghost them altogether — in their early days.
"Bass players, guitarists, people would flake all the time," Turner said. "It got so old that we just weren't that interested [in taking on additional members]."
The two-person arrangement was "kind of by necessity," he said. "That's what worked."
Turner noted that it's also more difficult to make decisions and agree on anything when more players are involved. Being part of a twosome "makes things a little simpler," he said.
Today, after making music together for more than 15 years, Turner and Behrens often let their sounds do the talking (literally).
"When Aaron and I are working together, we're not talking or explaining anything out to each other," Turner said of their creative process. "We're just kind of making music and communicating that way."