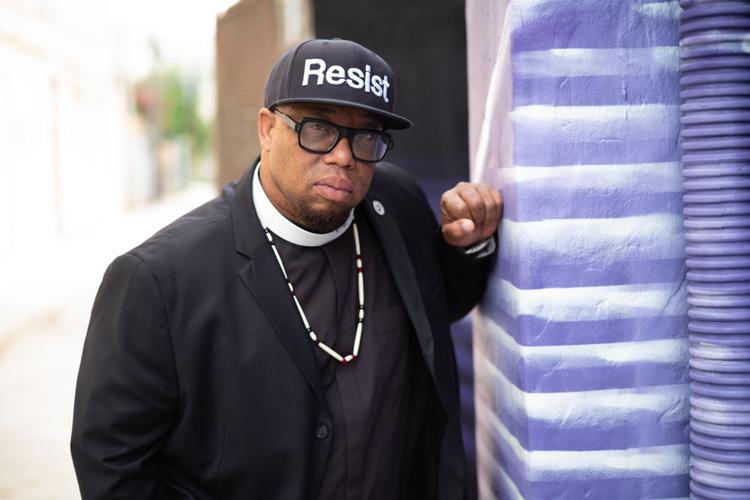 Different worlds with a similar goal will collide somewhat on Thursday at 6 p.m. at Harris Concert Hall when the Aspen Center for Environmental Studies presents a Jessica Catto Dialogues talk with the Reverend Lennox Yearwood Jr., president and CEO of the Hip Hop Caucus, on the subject "Climate Change is a Civil Rights Issue: Mending the Disconnect."
An influential figure in hip-hop politics, having spearheaded numerous efforts to get young people voting and engaged in the electoral process, Yearwood hails from Louisiana and typically finds himself in urban settings such as New Orleans or Washington, D.C. This is his first visit to Aspen, which is not often associated with hip hop, but to Yearwood, there are no cultural or political divides when it comes to the subject of climate change. It's something everyone, from all walks of life, needs to get serious about.
"The first thing is to note that climate change is a civil rights issue," said Yearwood. "People have a right to clean air, a right to clean water. People shouldn't have to live in communities that are affected by pollution and poverty. The civil rights movement was all in because it was literally a matter of their livelihoods, their educational system, their health care system, the moral aspects of having racism in our country. Young people, in particular, were all in to stand up against racism in this country, and it wasn't just people who were black or brown but people who were white and brown and black. Americans came together to move our country forward, and I think that's what we need now. I think we need the same mentality that we're all in."
An ordained minister and U.S. Air Force Reserves veteran, Yearwood launched the Hip Hop Caucus in 2004 after working on grassroots activism campaigns for music-industry heavyweights Russell Simmons, Jay-Z and P. Diddy. Those campaigns, with titles like "Vote or Die" and "Voice Your Choice," were aimed at getting people in the hip-hop community to vote, but after Hurricane Katrina struck in 2005, he changed the focus of his activism a bit.
Seeing the devastation wreaked on his home state by the hurricane and the poor treatment afforded survivors in some of the hardest-hit communities afterward, Yearwood began to see the connection between climate change and basic civil rights.
"Watching family and friends drowning or hurting and being displaced had a huge impact on me," said Yearwood. "Before that, many of us knew about Louisiana being 'Cancer Alley.' It was kind of understood, with all the factories and the pollution that were in the community, so then with Katrina many of us began to connect the dots."
Yearwood made the environment a key component of the Hip Hop Caucus' 2008 and 2012 "Respect My Vote!" campaigns, and in 2018 he launched a weekly radio show and podcast, "Think 100%: The Coolest Show on Climate Change," that he hosts with actress Antonique Smith. It's a show that invites policy makers and others on the front lines of climate change to stop debating about climate change's causes and start talking about the things we can do, right now, in communities and globally, to move to 100 percent renewable energy as soon as possible. To Yearwood and others like him, it's the only logical goal, but that doesn't mean everyone is on board with it.
"There's probably a fossil-fuel industry that's not too happy," he said, with a laugh. "We're asking people to transition from that form of energy to a cleaner energy system that we feel is much better, not only for people now, with pollution, but definitely for future generations."
It's a message that is sure to find a receptive audience in a town like Aspen, where the environment is a top priority, and though it belies some of the trappings of excess that mark hip-hop music, it's a message that also resonates strongly with Yearwood's more typical listeners for reasons that go back to the culture's roots.
"The origins of hip-hop started because people in the Bronx and throughout New York City felt oppressed and that their voices weren't being heard," said Yearwood. "This was a way to get their voices out and to talk about the hardships of their community, so the language and the music of hip-hop really starts from people who want a vehicle to share what's going on, and that still continues."
Yearwood may move in different circles and sport a look that's not particularly common in Aspen, and many of tonight's attendees will probably have never heard of some of the musicians who've been involved with the Hip Hop Caucus, but that doesn't matter. When it comes to going green, they'll still hear what Yearwood is saying loud and clear.