John Pizzarelli wants to take you on an adventure tonight.
The American jazz guitarist and vocalist credits his desire to connect with his audiences and inspiration as an entertainer to three of the biggest musical acts of our time: Billy Joel, Bruce Springsteen and Frank Sinatra.
Pizzarelli, who will perform twice tonight at the Aspen Museum as part of Jazz Aspen Snowmass' Café series, recalled seeing each of these artists at the now defunct Brendan Byrne Arena in New Jersey from 1983-85.
"The thing that I took away from those three concerts was the idea that there was an adventure that all these three guys were taking on. And it didn't matter if you knew the music or not," Pizzarelli said on Thursday in a phone interview from Vail, where he also performed this week. "But the way that those guys presented the music was always something that captivated me. There was some kind of way that if I didn't know where I was at, the artist made me feel like, 'I got you. Here is where we're going, so don't worry about the fact that you might not have the record or anything like that.'"
An up-and-coming jazz musician in his early 20s at the time, Pizzarelli was forever impacted by each performers' ability to engage and interact with the crowd of thousands.
"I always felt like if I ever had the opportunity to do that in whatever kind of music I was going to play, I felt that would be necessary. I always felt it was necessary to let the audience in on what it is we're doing," he said. "I realize in the audience, there's the John Pizzarelli fan and then the person [who] came with them."
Pizzarelli knows Aspen, having performed at the Wheeler Opera House and around town via JAS' café series several times.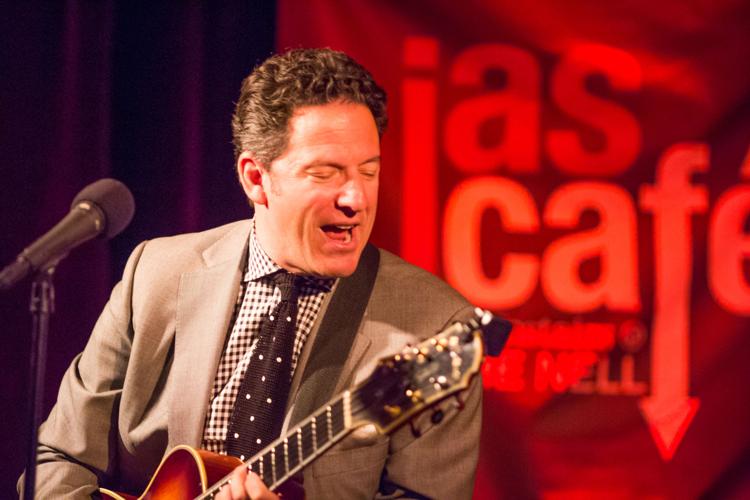 JAS president and founder Jim Horowitz called Pizzarelli a "sly and witty vocalist, and an irresistible entertainer who connects with audiences everywhere."
Horowitz added: "John Pizzarelli is a world-class jazz guitarist who leads a swinging trio through standards old and new from the great American songbook."
A native of New Jersey, Pizzarelli comes from a family of musical talent, including his brother, Martin Pizzarelli (who's also performed in Aspen), and his father, Bucky Pizzarelli.
His father's uncles were also banjo players, which explains why the first instrument he ever played, at age 6, was the tenor banjo. Growing up in "a house full of guitars" — Bucky is also a jazz guitarist — Pizzarelli eventually picked up guitar as well.
As a child, Pizzarelli would tag along with his father to "jazz things" in New York City and meet other bright and talented jazz musicians. He also would ride in the car with Bucky to gigs in the city and around the North East, often picking his brain.
"We spent a lot of time traveling and that's where I took advantage of [his knowledge]," Pizzarelli said.
By the time Pizzarelli was 15, he started working with his father and making money as a performer. Throughout his nearly 40 year career, he's recorded about 25 albums as a leader, and collaborated on an additional 25 or so.
Pizzarelli released his latest album, "For Centennial Reasons: 100 Year Salute to Nat King Cole" in February. It is among a few of his tribute albums, which also includes the likes of Frank Sinatra and The Beatles.
Locally, Pizzarelli continues to be "one of the most requested artists" according to JAS' annual survey of café attendees, Horowitz said. Perhaps this is evidenced by Pizzarelli's sold out 7 p.m. show tonight. As of Time Out's press time on Thursday, tickets were still available to his later showing at 9:15 p.m.
"I'm very excited to be coming back to Aspen," Pizzarelli said, "and I'm even pretty close to being acclimated to the altitude."