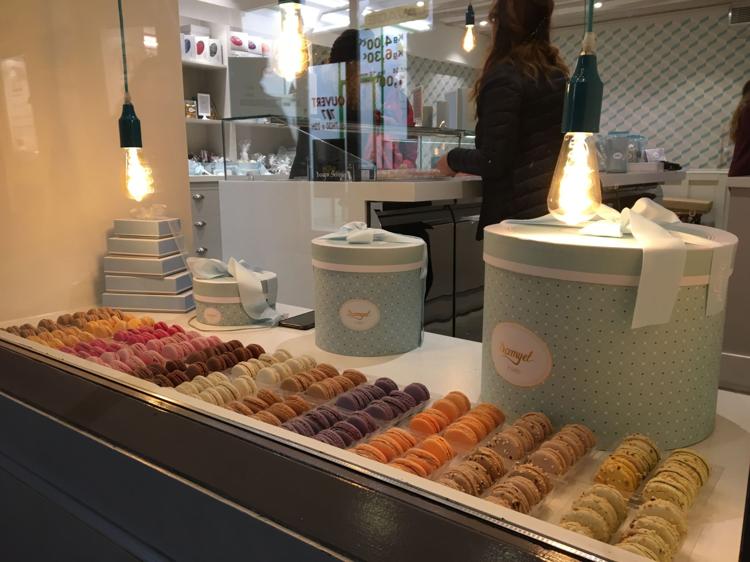 Sometimes when I'm playing fantasy travel with myself (usually when working on deadline and daydreaming in search of cheap airline tickets) I see the new Denver-London direct flight that I wrote about earlier this spring come up really affordable.
For anyone who is a Francophile, with so many options to transfer in London after a night of sleep (or just rest or movie binging), it's easy to visit both countries in a two-for-one trip. It's a quick transfer and easy 30-minute flight from Heathrow to the French capital, if you're visiting there first. And there's always the Eurostar train option from St Pancras Station in London that whisks you through the Chunnel (the tunnel under the English Channel) in three hours.
This trip to Paris was different from any before, as I went to see an old and dear high school friend from London who'd taken a four-month sabbatical from her life in Australia to expose her already bilingual 7-year-old Sydney-based daughter Minnie to some European culture to balance out an antipodean beach lifestyle.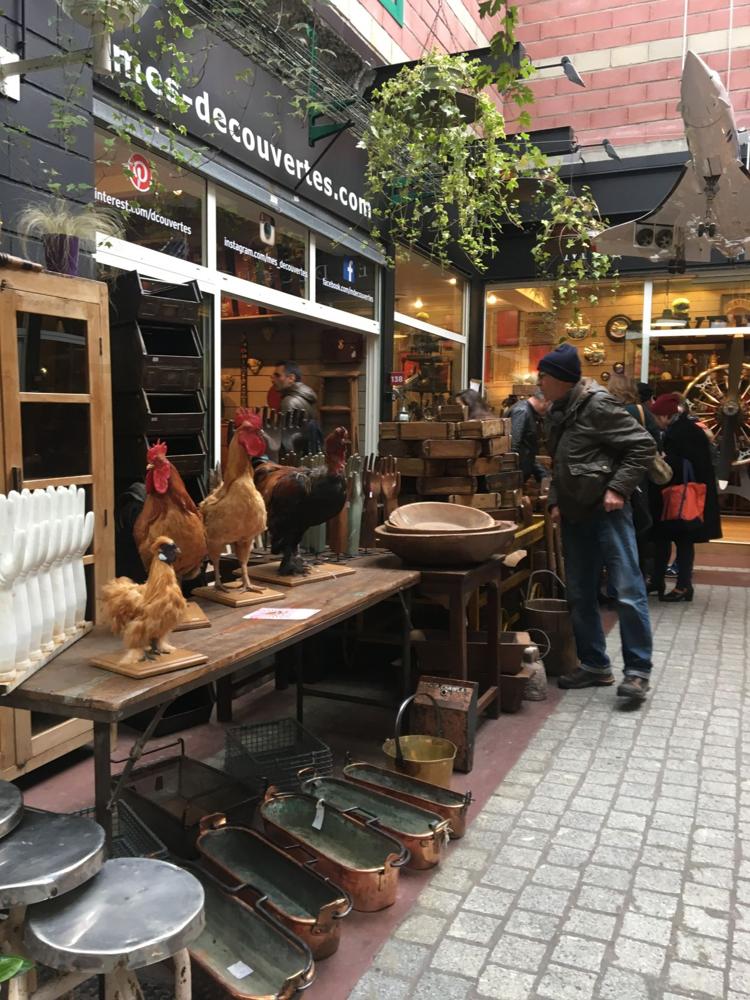 So instead of cruising around sipping champagne at the Georges V or attending Paris fashion week, we three girls had a blast living like locals, staying in a super-small but central six-flight walk-up Airbnb apartment rented for the duration of Minnie's semester. It was bang smack in the middle of the fashionable Marais, which really is command central for Old Paris cool, with the arched Place des Vosges architecture being my favorite, along with the many teeny, tiny fashion boutiques it's known for. With visits to my favorite Damyel macaroons shop and Diptique candles, I was in heaven.
I can report that the freedom of an apartment instead of a hotel in Paris was a terrific idea. Especially for the ease of light meals for the kiddo and breakfasting like a local, on local fare, brought home from the patisserie. Also for sitting up later in the evening, sipping wine with the balcony windows open, for adult conversation time, impossible to do in a shared hotel room with a child sleeping.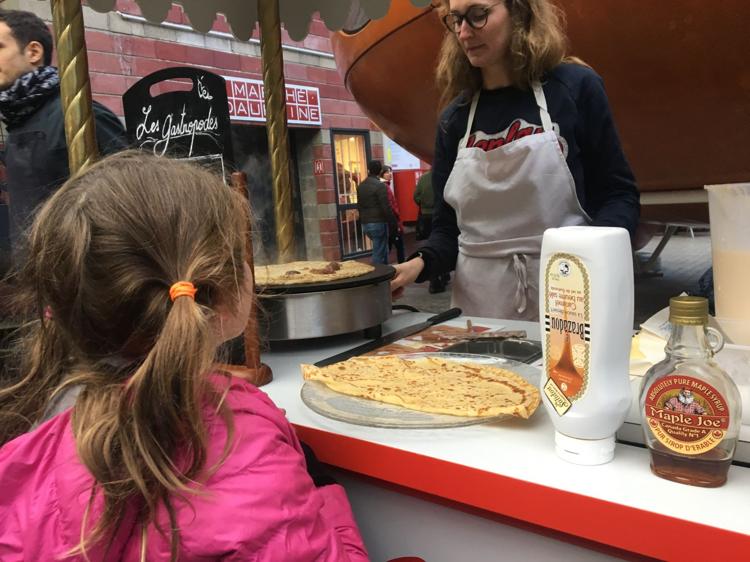 Dropping Minnie promptly at school at 8 a.m., the medieval door slammed shut behind her after the superintendent ushered her in. Armed gendarmes stand guard. Yes, that's how they deal with school security in France. They lock 'em in safely; no one comes in or goes out through that door without serious discussion with the super until school is out. And so we had the whole day to walk, discover, photograph architecture, shop bargains, embrace culture, eat lunches sidewalk-style and walk and walk some more.
I didn't get to the Louvre this trip, though if you're planning to go, they are currently offering a 90-minute guided tour or "thematic trail" through the museum, based on Beyonce and Jay-Z's music video "Everything Is Love," filmed and released earlier this year. It's a brilliant marketing grab to show visitors the 17 pieces of art seen in the power couple's visual, fusing art culture with pop music culture – just another future-thinking French thing akin to the country's stance on global warming. Since the earnest, thoughtful and sauve President Macron and cougar-cool wife Brigitte hit the scene, I've never liked the French more.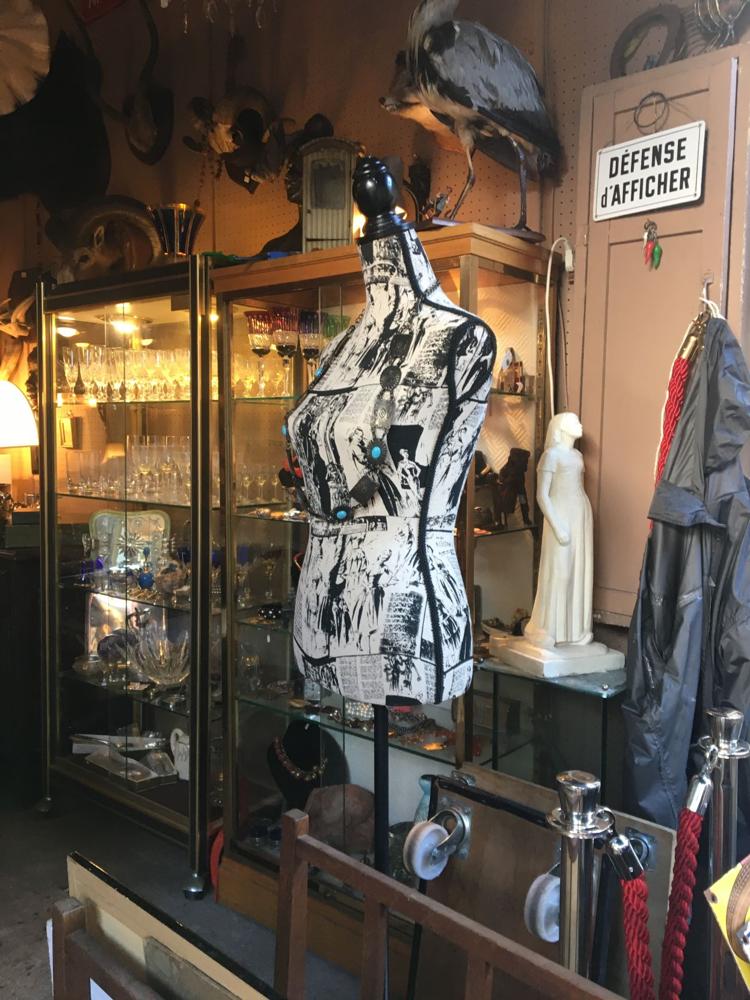 Needing to break out of the 4th and 11th districts – in other words, our hood – I was intent to get to the Clignancourt flea market before I left, something I'd never done. It's the world's largest and a bit out of the way, so I'd downloaded directions from a blog I'd been reading called parisperfect.com. I'd known the market was huge but definitely the place to be.
We hopped and switched subways wearing flats as we made our way from the Marais. Afterwards I reviewed the notes and found they'd been spot-on. And I'd have been very grateful for them if I'd been alone. Leaving the Metro line 4 at Porte de Clignancourt you ignore the cheap junky imports on the fringe stalls you pass, not slowing to start until the Marche Vernaison, or any of the multitude of other markets.
Once in the maze, something magical happens and you get lost in the vendors with ever-narrowing artistic fields. The artful curating by French merchants is why this culture creates such exquisite goods. The attention to detail – from a vintage button to the thinness of the crepes on sale at the food stalls – is a true wonder. The food stalls are terrific in the markets. Piping hot fresh fried fish in parchment paper, washed down with robust red wine in tumblers, hit the spot for lunch the day we visited, as it was cool out.
My high school French was never technically correct, but in a former job in London I'd used it for basic business. Once I get there, though, I flail a little with stage fright! My friend was so fluent, but eventually mine came out. I joined in, with odd words, odd phrases, and it sounded flowery, just like a romance language should. Vive la France.