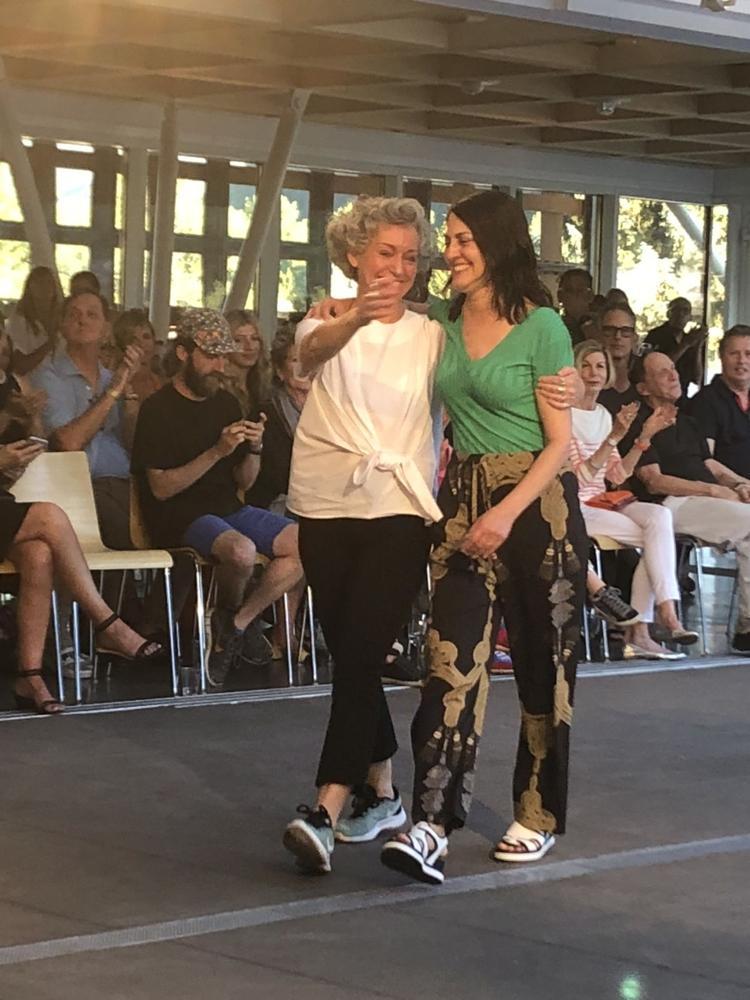 It's not often you go up tot he roof of the Aspen Art Museum and find the seating arranged as if spectators will be viewing a performance. But last week, on Monday evening, it was like, "Wait? What? Fashion show?" Well, yes, but delivered by way of performance art.
More to the point, as I stood there and pondered the seating setup, the crowd swelled fast and every spectator chair was filled. It was standing room only for that big open space up there. There was big interest. I was impressed.
The event was to present the opening of an installation of works by contemporary conceptual artist Cheryl Donegan. Her solo exhibition, GRLZ + VEILS, was introduced by a presentation named GODZ Grlz to highlight the fashion line that Donegan developed during her time as the Aspen Art Museum's 2017-18 Gabriela and Ramiro Garza Distinguished Artist in Residence.
The show was choreographed by Alix Pearlstein, who works in video, installation and performance and who said she'd taken inspiration from the late great Alexander McQueen's 2004 fashion show that in turn referenced the movie "They Shoot Horses, Don't They?" Pearlstein and Donegan are long-time buddies and said their creative collaboration seemed natural.
Inspired by graffiti on air conditioners, designs emanating from Donegan were reworked onto couture pieces and, handily, some ready-to-wear pieces available through the AAM shop.
So, the performance starts: The models walk the same path multiple times, assuming different poses each time, in sync with each other but wearing different de-constructed frayed or fringe-cut tops and tees and dresses from Donegan's line. This left one or two members of the audience scratching their heads.
One gallery owner muttered, "Aren't they going to change outfits?"
"I guess not," I whispered back. "It's more a performance."
Suddenly I stopped watching the clothes and the graffiti etchings, and the OCD in me queried whether the performers had actually switched outfits with each other? Did I miss that?
There were no costume or fashion changes. Was it a test of awareness? Alas, no, the performers wore the same thing for the multiple passes they made around the rooftop. It was simply their physical postures that changed.
At the risk of not pleasing some, I have to say this kind of ballet was slightly missed on me, as were the clothes, but maybe I'm jaded as I have sat through hundreds of fashion shows in my time.
However as much as I did not feel connected to it, it was not forgettable. "So, it was memorable?" asked a friend.
"It stuck," I said. "Even though I wasn't moved by it."
As with any artistic endeavor, it's always up to the individual as far as meaning and interpretation.
For her part, Donegan has been focused on the notion of surface for the latest part of her career, and this extends to the surfaces of canvas, screen, fabric and even her own body. So I see the evolution and development of the graffiti idea, even if it is not for me.
Whether you're interested or not in what's going on at the Aspen Art Museum, it won't ever cost you anything except a small chunk of time and a large dollop of curiosity. So go see Donegan's pieces and make up your own mind.