Music, the mountains, a glass of wine and maybe a blanket — the recipe to relish a Thursday night concert in Snowmass is simple.
Producing such an event — despite how seamless it may appear — is, however, an entirely different picture that involves countless players and moving parts.
"There's a lot of pieces that come together to make this work," said Snowmass Tourism groups and events manager Kiesha Techau, who's been in charge of the concert series for the past three years.
The town of Snowmass starts to plan for the upcoming summer series more than six months in advance, while the snow is flying in January, Techau said. This is also when she begins to call bands, seeking to book acts.
While the tourism branch plays one of the more significant roles in keeping alive the 28-year-old Snowmass tradition, Techau pointed to the many sectors of the town that provide services to hosting the free concert, including the police, fire, transportation and public works departments, as well as the clerk and recorder's office.
Outside the town government, a number of other local entities are equally vital to ensuring that the show goes on, from the production crew that sets up the stage and sound system and lodging partners who put up the artists, to the vendors serving food and bartenders pouring drinks. There's also the Deaf Camp and Jazz Aspen Snowmass nonprofits, which hold the event's liquor license and help book talent, respectively.
In mid-May, Aspen Skiing Co. snowcat drivers removed snow from Fanny Hill so the foundation would be "dry and stable" enough to build the venue. In her time running the show, Techau said the late spring snow-removal was a first.
All told, the town of Snowmass Village spends about $20,000 per Thursday concert, she said. With 13 shows on the bill this summer – Snowmass Tourism recently added one final show on Aug. 22 — the total cost for the 2019 free concert series is $260,000 (as reflected in the town's special events budget).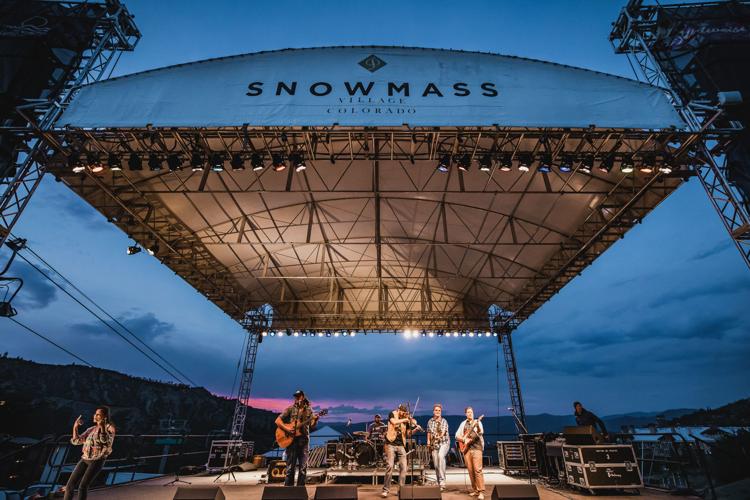 The town plans for an additional 2,500 to 3,500 bodies in the village on Thursday evenings. From a transportation standpoint, this means offering a minimum of five additional buses, and upwards of seven or eight for bigger acts.
"The challenges are, with 2,500 to 3,500 people, it gets a little hard to staff for that," said Snowmass transportation director David Peckler. "You're either bringing in people or working [employees] overtime."
Fortunately, Peckler said, "I'm blessed to have a very experienced senior staff … We pretty much have a good handle on what to expect."
Techau echoed this sentiment, noting the benefit of working with an experienced staff that knows the routine — even when Mama Nature demonstrates other plans.
"I always feel like we'll find a way to make it work," Techau said. "It takes a village, but between all of us working together, we will find a way to make it work."
Of course, there is also the production itself. Ralph Pitt is a sound engineer who's helped produced the Snowmass concert series for a number of years.
"A typical day for us is about 11 hours out there," said Pitt, a contractor with Alchemy Concert Services.
On any given Thursday, a crew of five — three professionals and two interns — will set up and assemble the "several tons" worth of equipment.
"This whole thing comes together because the folks that are there, the folks behind it all, everybody knows what they're doing and they do it well," Pitt said. "It's a really good thing that Snowmass is doing for the community."