Although Aspen is the silver mining town that managed to survive and thrive once folks figured out you can slide down the mountain on slabs of wood, there are several other towns in the surrounding hills that can't say the same.
The Aspen Historical Society will be showing off some of these now ghost towns over the next few weekends as part of its History Hikes series. The hikes are guided tours of the old mining towns just outside of Aspen. The first of four hikes was last weekend, with a tour of Aspen Mountain, but the series continues this Saturday with the old mining town of Ashcroft.
"We have interns doing history tours in the towns, so this is more of a guided tour of the area," said Nina Gabianelli, VP of Education and Programs for the historical society. "There's a little more interpretation, and we dig a little deeper."
Gabianelli, who leads three of the four hikes, said that they all have different levels of difficulty. Aspen Mountain is tougher, as is Green Mountain in two weeks. The tour of Independence on Aug. 17 will be moderate and this Saturday's tour of Ashcroft is the easiest of the bunch. The hike this Saturday starts at 9 a.m. in the Ashcroft parking lot.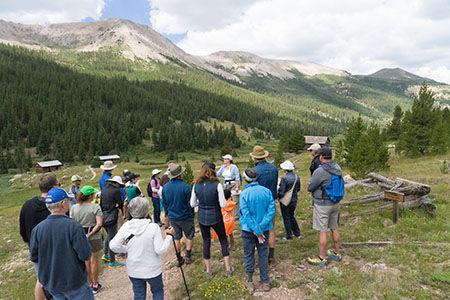 The reason that much of the hikes focus on ghost towns and abandoned areas is that those are the historical resources that the area has to offer, said Gabianelli. She explained that they've been doing the hikes for about four years and although they've tried other areas, such as Old Snowmass and the Rio Grande Trail, these four have cemented themselves as both viable and interesting to both locals and visitors.
Plenty of people who live in Aspen have no idea about the old towns in the hills around Independence Pass, said Gabianelli. She added that even she was shocked the first time that she saw the old mining area on Green Mountain, which has more buildings than the old ghost town that was once known as Independence. She also added that they have historians doing research in Ashcroft and that they're always learning new things about the town.
The hikes are ticketed, although they only cost $10 and are free to Lixiviator Members. Gabianelli said that she's had anywhere from 8 to 30 people on the hikes and she likes people to reserve a spot in advance so that she knows what to expect. The hikes can also be canceled in advance due to weather in the mountains.
So, whether you know the history of the area well or are learning through this story that there are ghost towns near Aspen, take one of these Saturdays to get out and learn more about the history of settlements in the area.
For more information and to buy tickets, head to aspenhistory.org/programs-events/summer-2019.