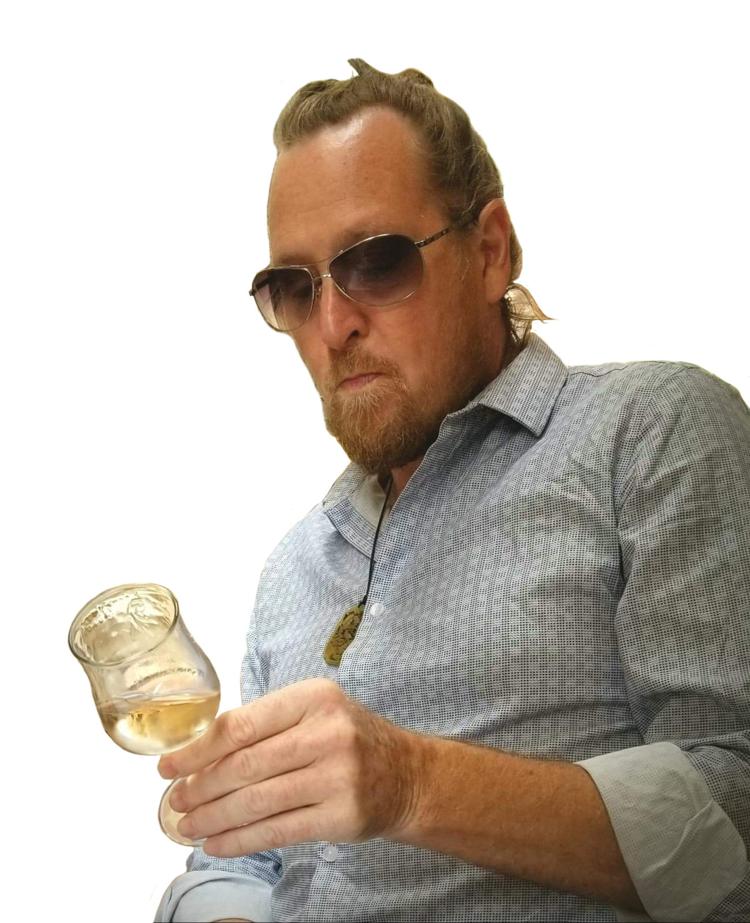 Inspector Trousseau awoke from a foggy haze, knocking his smudged spectacles to the floor. They had been laying in front of him, on top of a tall stack of files, note-filled folders and tattered, blurry photographs. Though it was still dark, he did not know if it was early or late. Had he merely nodded off or dozed through it all?
In the quickly flickering moment between sleep and waking – when, and only when, one realizes the fullness of a dream sequence – his mind flashed to two images of a wine glass.
Was it the one with the same faint oily fingerprint as on the eyeglasses, which now lay on the dark, wooden floor of the writing study? Or was it the one in which that same glass lies on that same floor in an abstract pile of shards, floating in a pool of wine, red like blood? And why two?
Steamy Afternoons
The next afternoon, waiting for the arrival of the latest storm and enjoying a mid-afternoon bath, he thought it came to him. Through the steam, scents of medicated shampoo and floral bath gel rose to his nose, causing his nasal gaze to glance immediately back to last night. The smoky, tarry psoriasis shampoo was an instant marker. (Yah, he had a bad case of dry-climate, mid-winter hat-head, plus he'd been spending a fair amount of time "under-helmet" lately, sweating up grunt climbs and shredding all of that island pow.) And after a rinse of rose-petal bath gel, the two together reminded him of his favorite wine.
Funny enough, It was as though he was bathing in a 2001 Giacomo Fenocchio Barolo Bussia, Barolo DOCG – all smoky, rocky, rosey and nebbiolo-y – or the biodynamic 2017 Benziger Sonoma Pinot Noir, which was born of the prehistoric caldera, much like the hot bath he was soaking in. Those were the same wines he had enjoyed putting his nose into last night while looking at those two photos. What did it all mean? Not the wines, the photos. How were they connected?
He later returned to his study to set his mind to his typing fingers. Before commencing his evening's work of endlessly pouring over the two photos – in an attempt to answer the seemingly inexplicable – he partook from his stash of home-grown medical cannabis kif. He prepared for himself a small pipe load, spooned out of a two-ounce jar of perfectly cured green and ruby crystalline delight, which smelled of tropical flowers, fruit, sandalwood and myrrh. The flavor of this medicine is out–of–this–world juicy, oily, deep cherry candy and smooth; no coughing. But beyond these sensual intoxications, this Blue Dream from Mendocino has incredible super powers for writers and people like him. It no doubt contributed to the nights spent endlessly pouring over these notes and these two photos. Sometimes the words don't come. Other times, the stories write themself. The Blue Dream unlocks the mystery.
About Last Night
He had hoped that the words would flow forth – like the blood that spilled as wine – and that those words might spell out "What are the clues?" and "How are they connected?" Not the wines. The images. Why were there two?
His mind strained and danced with images of peaceful vineyards and picturesque wineries set with various and sundry characters: jealous jilted lovers, Hollywood newbies, shipping tycoons, gilded mafia dons, senators, NBA stars, eager ambitious legal clerks, buff male escorts, traumatized war vets and humble gardeners.
Who was the first to arrive? The last to leave? And how helpful, he thought, a group photo would be. But there was no such luxury.
Who did it? Who dunnit? Who killed the wine?
You can bet that as the story unfolds like an 82 Lafite; there will be more twists than the corkscrew that opened it. And being on the cusp of the coming spring season, before it's all said and done, you can bet that Rosé will have had something to do with it. In fact, I believe someone saw her with a glass in hand, appearing not too dissimilar to the one in the images. It was believed to be poured from a brown-bagged bottle sitting on the café table set in the walking mall, during the dreary noon of a snowy March day. Or was it in the kitchen, with the butler (with the "butler's friend" wine opener in his hand)?
Then again, Trousseau thought, maybe he had been watching too much Agatha Christie.    
Cheers! Remember: Wine (and murder mystery) reveals truth.
Drew Stofflet lives in Carbondale. Correspond with him at drew.stofflet@gmail.com