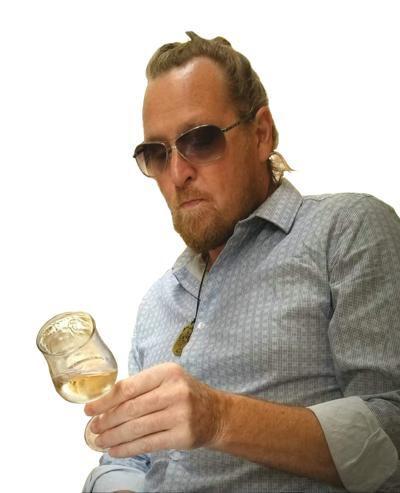 I'm staying on French time this week. In honoring the greatest bike race on the planet, I'm taking a look at a French-born grape that made a rigorous yet graceful journey of its own.
Cabernet franc was born in the southwestern part of France in the 17th century, then brought to the Loire River Valley by Cardinal Richelieu. The grape found its roots in the central part of that valley, near the village of Chinon. Cabernet franc represents the (mostly) "red wine only" AOCs of Chinon, Bourgueil (next door and just down river), and Saumur-Champigny, just beyond the Loire district.
Domaine Alliet is father-son Philippe and Pierre Alliet (a small domaine in Cravant-les-Côteaux), home to some of the best cabernet franc vineyards in the Loire Valley. Considered by many to be the finest producers in Chinon, the Alliets are part of a new generation of Loire winemakers dedicated to sustainably farming low yields. Philippe is considered "the Pope" of Chinon, and brings to harvest some of the finest grapes grown in the Loire.
The Philippe Alliet Chinon "Coteau de Noire" 2015 is an organic benchmark of old world cabernet franc made from 20-old vines grown on a steep, south-facing grand cru vineyard. It is deep, powerful, earthy, herbal and acidic, with flavors of purple and green throughout. Expect to spend about $36 for this bottle.
Beyond the Loire Valley, cabernet franc also found a home in Bordeaux, where the famous "Right Bank" region uses it as a vital component to blend with merlot. These blends include wines from venerable Saint-Emilion estates like Chateau-Figeac and Château Pavie, which use about twenty percent cabernet franc to balance merlot and/or cabernet sauvignon. And, lets not forget Cheval Blanc, one of the world's most famous (and most expensive) red wines, which uses 40 percent cabernet franc for its bold, dark and ripe expression of cassis, currants and warm plums. Wines of the "Left Bank" communes — like Saint-Estephe, Pauillac and St Julien — use smaller amounts to temper their cabernet sauvignons and merlots.
Beyond (the obvious in) France, over the years I have savored exquisite cabernet franc grown in the distant Collio region of northeastern Italy; a region where I followed my nose to the more common minerally, acidic whites at Marco Felluga/Russiz Superiore. Here at the foot of the Alps, the vines grow in sandstone and loam (old limestone and clay) that was once the ocean floor. Out of this proximity to both mountains and sea grows complex, highly structured and age-worthy cabernet franc, which I both tasted and witnessed aging deep in their underground cellar. The Russiz Superiore Collio Cabernet Franc 2016 is intense, dark and compact, with aromas of black cherries, blackberries and hints of green pepper, plus all kinds of dusty old wood and cellar funk. These pull to the palate with a silken persistence and long, lingering finish. It retails for $35.
Like the Tour de France riders rolling across flats, toward distant hills, dales and summit climbs, the lean and gritty cabernet franc found its way to the new world. This mainly means Napa, where it is known as the "other cabernet" and grows diminutively next to all that endless cabernet sauvignon. It is used as a blending element to many of the valley's most distinguished wines, as well as a virtuous stand-alone varietal.
American Canyon, which encompasses the rolling hills above the east bank of the Napa River — above Highway 29 at the southern entrance to the greater Napa Valley — is home to extraordinary cabernet franc vineyards. John Skupny has been making cabernet franc for his Lang & Reed label for several decades, and sees cabernet franc as inhabiting the sacred ground of the "everyday meal." It sits somewhere between the "gnarly" tannins of a young, not quite yet drinkable cabernet sauvignon and the "tabooed" aged one that you might be afraid to crack open just any old time. Cabernet franc is drinkable from the get-go. It has played a major supporting role in the development of both Bordeaux's most famous wines, as well those from Napa — kind of like the domestique who pulls his rider to general classification glory in the Tour de France.
Cabernet franc has an almost cult-like following of winemakers, chefs, sommeliers and basic wine geeks alike. The green flavors of the compounds — known as pyrazine — strut their stuff and range from capsicum (chili pepper) to a vegetal green bell pepper. While pyrazines can often render a white wine like sauvignon blanc or a red like carmenere quirky and off-balance, cabernet franc delivers with a mid-palate of gorgeous red-to-purple fruits, savory herbs and a silken finish of rich chocolate, acidity and bracing minerality that brings gasps and applause from wine lovers.
Skupny's Lang & Reed Two-Fourteen Napa Cabernet Franc 2013 is a master's sophisticated display of complexity, balance, freshness, cherry-cassis fruit and silken earthiness. It sells for $48 a bottle and clearly ranks among the best domestic cabernet francs produced.
Further upvalley, in the heart of the St. Helena appellation, Ehlers Estate organically farms cabernet franc alongside the other Bordeaux varietals on 42 acres of pure, contiguous estate property — the only such "estate" property in Napa. Here amazing terroir is on full display. New winemaker Laura Díaz Muñoz states that the persnickety "Cabernet franc requires more attention when farming than cabernet sauvignon, but the results can be stunning. It shows dark fruit, dried herbs, floral notes like violet and roses, crushed rocks, lots of spice and a great aging potential." The Ehlers Estate Cabernet Franc 2016 is deep opaque purple, well-bodied and firmly tannic, with bright red and dark fruit, cedar and minerality. This gem sells for $65 a bottle.
Time to get the grill going and grab the corkscrew. Cheers! Remember, wine reveals truth.
Drew Stofflet lives in Carbondale. Correspond with him at drew.stofflet@gmail.com