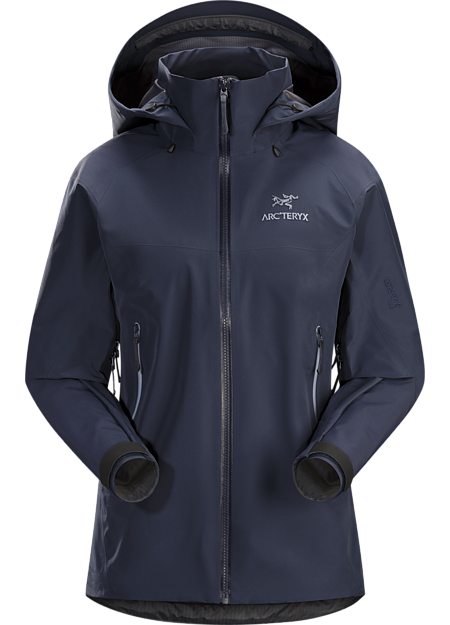 During the ski-swap season back in October, I intentionally sold a too-small apple green Arc'teryx shell jacket that I totally loved but frankly found too tight for me. I'm not really an extra-small, except in my dreams, so I couldn't really fit anything comfortably underneath except a T-shirt.
I vowed not to squander the 75 bucks or so retrieved from said sale and to put it toward something new. I needed a waterproof and windproof shell for spring skiing and wet nordic days, plus hiking. I wasn't sure of the color I'd select or the weight, but I knew that the brands had shifted toward thinner, softer tech fabrics away from the hard and crunchy ones I'd had, and I was gearing up to drop a significant wad of cash.
Historically Arc'teryx coats have fit me, but the colors predictably had been too "earthy." There's nothing like finding the exact right thing in a technical and functional sense only for it to end up looking blah. There are enough good tech offerings I figured that the right coat must work great and look fabulous: sporty, sharp, serious, flattering and stylish.
On first approach the vast amount of styles is dizzying. Reading all about the differences, studying which style is good for what and hitting the "compare" button online to see at a glance is work! There are outerwear jacket shapes and multiple category varieties: backcountry skiing, freeride skiing and all alpine conditions. And the Ute Mountaineer carries the brand store-wide.
I homed in on the Beta series AR (all round) Jacket, which boasted it was lightweight and hip-length, with a helmet-compatible drop-hood, packable, waterproof and made with GORE-TEX Pro. I liked the angle of the hand pocket, the internal security pocket, pit zips and hem adjuster toggle-thingys. (These actually have a name and are trademarked as Cohaesive cord lock adjusters.)
All around, the coat seemed really adjustable. The 'Black Sapphire II' color looked bluer and softer than plain black. I must be the only blonde in North America who doesn't look good in classic black, but I don't; it's just too hard against my winter white skin.
I was shocked at how lightweight this jacket was, arriving in a plastic sheath envelope. For $500 and change it seemed like it was so lightweight it couldn't do all that they claimed. Oh, how wrong I was. This established style has been in their offerings since 2000 and is their most versatile waterproof/breathable style. There's even an internal collar that stands tall in storms.
On its first day out, I hiked the five short minutes up to Long Shot in windy conditions, and the hood stayed up over the helmet. No sweating, just wind protection. When I gently bopped down through the trees, getting warmer again, with just a thin quilted puffy coat underneath, the jacket's breathable qualities proved out.
I loved it and have worn it throughout this week's early-spring wet powder on and off the mountain. Style-wise it's tech-sharp but easily paired with some flashes of silver, hot pink and my baby-pink POC helmet for fun and smiles. Moreover, it feels like wearing nothing but does everything. It doesn't have a powder skirt; I'd have needed to spend an extra $150 on a model designed with that, but this jacket performs for my mostly half-day laps around our power of four. And way way beyond, into offseason.