As the Audi Power of Four ski mountaineering race turns 10 tomorrow, skimo's top athletes can look back a decade and remember Aspen Snowmass at the forefront of a once-fledging sport.
"In the U.S. 10 years ago, there really wasn't anyone who was able to or willing to take this sport that seriously and really put in the time and effort," Aspen local and seven-time Power of Four winner John Gaston said Tuesday. "That's changed quite a lot, thankfully, during the time that I've been able to spend in this sport, which coincided well with an explosion of gear, knowledge and access."
The Power of Four, which kicks off at Snowmass Base Village at 6 a.m. tomorrow, is a grueling 25-mile race that spans more than 10,000 vertical feet. Teams of two traverse the four ski areas and end at the base of Aspen Mountain.
"It's one of the more demanding and cooler races out there," Gaston said. "The start line is wild: It's dark, it's nighttime, there's hundreds of people and music and lights. It's just nuts. And then you finish at Ajax, and it's just a full-on party and celebration of the sport for the rest of the afternoon. It's got a really great atmosphere and vibe that I think draws a lot of people."
This year was the first time the Power of Four ever sold out, capping at about 300 competitors as of the registration deadline Wednesday, according to Aspen Skiing Co. event marketing manager Daragh Kneeshaw.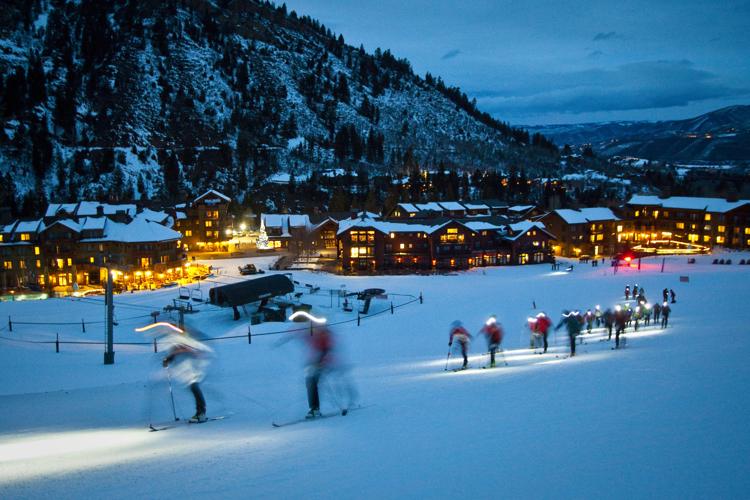 Gaston and his longtime race partner, Max Taam, who has won the Power of Four six times, signed up only days before. Taam had considered taking a break from the race this year, or as Gaston quipped, "pretended to be retired."
"My intention was to not [compete] … but I was convinced otherwise," Taam said, with a laugh.
As a team, Gaston and Taam are undefeated. In 2018, the two broke their own course record—and simultaneously set a new course record—at 4 hours, 37 minutes and 36 seconds. Unsurprisingly, Gaston struggled to find a partner this year to fill Taam's Scarpa boots.
Jessie Young, one of the fastest female skimo athletes in the U.S. (and also Taam's wife), was also on the fence about competing this year and registered less than 24 hours of the deadline. Young and her partner, Nikki LaRochelle of Breckenridge, won the race last year with a time of 5 hours, 42 minutes and 38 seconds.
To outsiders, casually committing—mentally and physically—to a spectacle like the Power of Four three days before may seem astounding and even comical. But in Aspen, as Taam said humbly, "training never stops."
"Sometimes it's more focused than others," he offered. But local athletes like Gaston, Taam and Young take full advantage of enjoying Aspen Snowmass as their backyard year-round, whether a race is on the books or not.
"I think part of why Aspen Snowmass has gained a lot of recognition is because they embraced the uphill movement before skimo was ever even remotely a thing. For decades, people have been hiking up these mountains, whether it was the morning Tiehack or Ajax lap or hiking Highland Bowl," Gaston said. "Skico, in particular, decided, 'This is something we dig, and we're going to embrace it and develop policies for our mountains to allow people to train for it,' and I think that has really contributed massively to the sport's growth.
"And, for us living in Aspen, it's helped us improve exponentially every day, compared to if we'd [lived] elsewhere."
The skimo surge is also infiltrating the next generation of athletes, Gaston pointed out, noting a strong youth program in the U.S.
The youngest competitor in this year's Power of Two—a 16.5-mi race that covers the second half of the Power of Four course—is 14 years old. In the Power of Four, a 16-year-old is slated to race.
The 2020 Power of Four, like last year, will also serve as the U.S. Ski Mountaineering Association national championship.
"As the sport grows, so does our field of competitors. When the race first started, the pool of athletes was small and mainly from the Rockies region," said Kneeshaw. "Now, we see teams coming in from all over. This race is incredibly tough to conquer when you live here, so to see teams coming in from places like Iowa, Arizona, or the East Coast, really shows us how far this event has come."