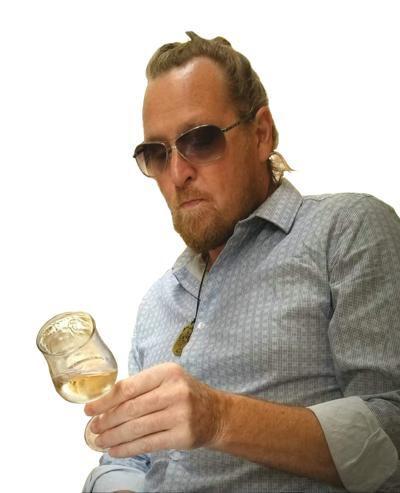 Beginning this week with a follow-up on last week's timely topic of humor, life, death and wine. I received a nice note from the staff at Toad Hollow Vineyards, on behalf of Frankie Williams, widow of the winery's founder Todd Williams, sister-in-law to the late comedian Robin Williams. They report that the winery is very much alive and thriving, and offer and extend an invite to Healdsburg to any and all.
I found a simple Thanksgiving; the wines I chose reflected the diversity that the dearly departed holiday can inspire. Whether the flavors of the table tended towards traditional styles like turkey, gravy, potatoes and butter; or you threw in salmon or maybe an Asian-fusion twist (like I did), Thanksgiving wine is "anything goes."
I got into the spirit on T-Eve with a charming blend of old world syrah, grenache, carignane and mourvèdre from the wilds of Corbières, the largest A.O.C. within the red-dominated Languedoc-Roussillon wine region in southern France. I went gaily with Blason D'Aussières Corbières 2016, a wine from the portfolio of Les Domaines Barons de Rothschild (Lafite). Aussières is a timeless spot of wild, natural beauty with a long and prolific historical resume. Wine has been made here since the time of the Roman empire. At one point the vines were uprooted to protect the Roman industry. After the empire fell vines were planted and tended throughout the middle ages by the Catholic Church — their caretaker for centuries. In the late 1700s the property was acquired at auction by Napoleon's private collection and again vines were planted as the estate ramped its production toward an increasing European population. Throughout the mid-1900s the Languedoc-Roussillon lost cachet on the world-wide wine market, and Aussières fell to fallow. In 1999 Les Domaines Barons de Rothschild (Lafite) recognized its value and saw merit in the potential of the grapes of this region. This new ownership and revitalization of the vineyards was part of the resurgent credibility of the region's Mediterranean wines: The region and its wines began to regain their status; while a young and visionary group of growers were leading a sustainable/organic/biodynamic renaissance.
The Blason D'Aussières Corbières 2016 ($18.99) is the second label of Château D'Aussières. It offers up hibiscus, garrigue and elderflower bitters, hints of chalky limestone and deep, earthy aromas. Robust well-toned fruit leads to a pine-resin finish. A structured, pure and reflective wine for a night of pre-Thanksgiving blackberry pie-baking.
The entree was to be Asian grilled crispy-skin chicken; mashed yellow "solar" potatoes, shitake and roasted shallot gravy; buttery, savory roasted acorn squash. I chose a venerable chardonnay from down under. I'm referring to the other down under: Argentina. While I could have grabbed a different pedigree or price-point, I thought the Catena Alta "Historic Rows" Chardonnay Mendoza ($34.99) would cover the chardonnay bases and then some. Born of Stanford Business School alum Nicolás Catena's Argentinean dream, this wine stands on its starry brightness and freshness; lemon spritz growing to lush, tropical maturity, flecked and flinted with minerals. Warming in the glass the depth and richness surrounds, and a jubilant back-and-forth with the flavors and textures of the day enacts. In fact, I had to put this singular bottle back in the fridge soon after opening it, to ensure it would actually still be around for this intended course.
In the meantime, the Tramin Lagrein Alto Adige 2017 ($16.99) shifted the focus and slowed down the pace, as the eager and astringent attack met a delicate, light-bodied black raspberry floral affair. While some lagrein can be overly dirty, earthy, smokey or funky, the Tramin is fresh short of well-worn, juicy/acidic, restrained, refined, refreshing, full of layers and with an uncommon sense of balance. I broke out a little of that blackberry pie for the first course, spontaneously and completely inspired by this wine. The lagrein hung around for the grilled poultry and offered a second great pairing along with the chardonnay.
After the pairings — and another sliver of pie — I reached for a young but approachable boutique Napa cabernet: a late-night sipper. The Mathew Bruno Cabernet Sauvignon Napa Valley 2013 ($118.99) was a natural extension of the lingering pie flavors. It was earthy, dark and purple, with a sachet of white spice, mint, lavender and violet. Black currant, blackberry, cinnamon, clove and graphite moved between tack and silk, between Thanksgiving and Christmas. The flavors built a silent crescendo to a peaceful day. With most of its fruit sourced from the pricier environs of Rutherford, there's a Davenport-steep price point: enjoyable but maybe not for everyday drinking. 'Twas a nice ending to my Thanksgiving savors.
Onward and upward, to the Christmas season we go.
Cheers! Remember, wine reveals truth.
Drew Stofflet lives in Carbondale. Correspond with him at drew.stofflet@gmail.com