It's after midnight, and we're four hours and 8 to 10 courses into our "alchemist" tasting menu prepared by chef Mads Refslund as part of his pop-up residency at Hotel Jerome's Prospect. The New York City-based Danish chef co-founded "Noma," the Michelin-starred Copenhagen pilgrimage ranked best restaurant in the world from 2010-2014 by Restaurant Magazine that still holds the No. 2 slot.
Refslund, and three of his own chefs working alongside Hotel Jerome executive chef Rob Zack and his staff through March, kicked off our tasting menu with a whole kohlrabi bursting with fresh herbs. Hiding inside its cavity was a pureed vegetable soup accessed via a biodegradable straw. The crudo platter's highlights included some exquisite and unembellished diver scallops and razor clams. With a vegetarian at our table, we tried the delicate and delicious piñon nut tofu with lemon, elevated by a trio of pinecones and included in the six-course "herbivorous" tasting menu. A favorite course of smoked sunchokes arrived in a burlap sack topped with juniper tree needles, awaiting a dunk into a ramekin of crème fraiche and caviar. We devoured the sourdough waffles topped with salmon roe and the king crab grilled in kelp and tarragon. Memorable entrances included the grilled bone marrow enveloped in a cloud of black garlic smoke under a glass lid. I won't soon forget the individual sunflower petals circling the winter squash that served as a vessel for the raw sea urchin. No detail was overlooked, from edible cutlery crafted from herbs, trees and plants, to bowls and platters sculpted from ice.
An advocate for "New Nordic" cuisine and terroir-based kitchen, Refslund's menus emphasize his sustainable and zero-waste cooking philosophy, and highlight produce from local farms and proteins from Colorado ranches.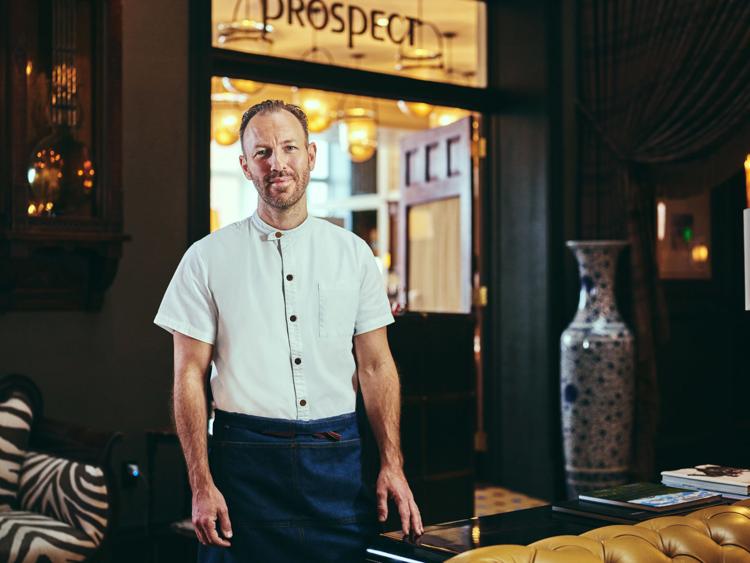 Refslund says he feels a connection with Aspen: "I come from a culture where snow and winter are vital, and Aspen reminds me of home. It is the place where life is happening in the wintertime, and I am able to continue my passion [for] cooking with a great audience."
His new cookbook, "Scraps, Wilt & Weeds: Turning Wasted Food into Plenty" features 100 recipes using local ingredients in sustainable, no-waste fashion. This fall, Refslund will open his first New York-based restaurant with his fire and ice concept. Guests at the Hotel Jerome can experience the model through the tasting menus "on ice" and "on fire" snacks, some raw and untouched by heat, some brought to life through live fire. In Aspen, you have until the end of March to experience Refslund's coveted dishes before he embarks on a six-property tour this year to other Auberge Resorts in Mexico, California, Maine and Connecticut.
Our advice? Gather a table of people you want to spend three or more hours with. Come hungry, but not too hungry. Grab a cocktail prior at one of the three fantastic watering holes at the Jerome: The Living Room, J-Bar or Bad Harriet. And settle in for a world-class dining experience right here at home.