I've retired from planning hut trips. That is to say, the kind planned months in advance with a group email chain longer than the approach to the hut; the trip that requires filling and refilling spots, adjusting Venmo requests, assigning ingredients and answering questions about slippers and coffee and sleeping bags. But, text me about an open spot on a hut trip two days from now with a meeting time at the trailhead, and I'm there with hot toddy ingredients (Breckenridge Spiced Whiskey mulled with whole spices and ginger, raw honey, lemons).
If a friend is coming to town on short notice, I'll check huts.org and search availability at Aspen's 10th Mountain Division Huts and its beloved Braun Huts, and nine times out of 10, I'll find a Tuesday or Wednesday opening. The last couple of Thanksgivings, my family has booked a hut less than two weeks out and enjoyed turkey and pumpkin pie at treeline. Living among the best networks of backcountry huts in the country, even 9-5 Aspenites can ski to a hut at the end of a workday and be back to their desks the following morning before most of their co-workers.
"I like feeling like I had a mini-adventure in the middle of the week," says Caroline Tory, associate director for Aspen Words and a frequent hut visitor (she's at one tonight). "It never feels easy when you're food shopping and packing and leaving work in a flurry, but once you're out there, enjoying a night by the fire without service, it makes the mid-week effort worth it."
Of the eight huts that make up Aspen's Alfred A. Braun Hut System, Markley, Lindley, Tagert and Green-Wilson are best suited for mid-week stays, with approaches that take between one and three hours. Markley Hut sits only 2.3 miles from the Ashcroft parking lot. (Don't mistake proximity to civilization for safety—every backcountry hut route demands navigation skills, avalanche gear and the ability to use them.)
The 10th Mountain Huts near Aspen require a few more miles to reach, but McNamara, Benedict (Fritz Hut and Fabi Hut) and Margy's aren't beyond mid-week reach for the hut-trip savvy. Tory skinned the six miles to Margy's from the Lenado trailhead after work one Thursday this winter and arrived just as we were prepping dinner. She departed at 6:30 a.m. after coffee and was at work by 9 a.m. When I joined a group of women at Fabi's Hut on a Wednesday a couple of weeks ago, one trip member skinned from her home in the Smuggler Trailer Park to Smuggler Mountain Road to start the trip. Everyone had to be back in town before 10 a.m. the next morning. And last week, a friend who needed a night away from her emails booked the Green-Wilson hut for a Monday. We left in the afternoon and still had time for a sunset ski tour before dinner.
Save overpacking for the weekend. "For a mid-week hut trip that doesn't involve skiing beyond the approach and exit, you don't need much more than your outfit to skin in, a puffy, food, a sleeping bag and a toothbrush," says Tory. The key to keeping these trips easy and stress-free lies in a sort of permanent preparedness. Tory keeps a stuff sack ready with a small toothbrush, toothpaste, face wipes and a few other bare-bones toiletries. I keep my down booties, earplugs, tea and a headlamp in my hut-trip pack. Invest in a lightweight sleeping bag that compacts smaller than your down jacket. It's all you need at a hut with a hot fire. And leave your book at home—most huts are stocked with a mini-library.
Let's talk food. Spontaneous hut trips demand simplicity, but the meal is also the main event of the night—it should feel special. Have a couple of hut-trip meal plans in your back pocket. My go-to is tacos. I marinate flank steak in Tupperware in my pack, then sear it and slice it at the hut. You can delegate tortillas, sides and toppings to friends.
Ann Driggers, photographer and Pitkin County finance director, introduced me to a new favorite hut meal: Ramen in spicy miso broth with tofu and soft-boiled egg (recipe below!). I bring homemade, sturdy treats for dessert, layered between parchment paper in 1-quart plastic containers. Every woman on her own for wine (Barbara in a Vapur collapsible water bottle) and coffee (Backporch Pour Over Packs—backporchcoffeeroasters.com—and powdered coconut milk). Minimizing morning dishes is key for a speedy workday exit. Breakfast is usually leftover cookies or a disposable oatmeal cup (fancy toppings optional).
Weekends are busy. Commitments, kids, lucrative work shifts, parties, dinners… it can be a challenge to leave it all behind and ski to a hut in the middle of the woods. Especially when it's been reserved every Friday through Sunday since Fall. Many attempt to fill a week's worth of fun into the 60 hours between 6 p.m. Friday and 6 a.m. But what about the random Wednesday night? A micro-adventure awaits.
Hut Ramen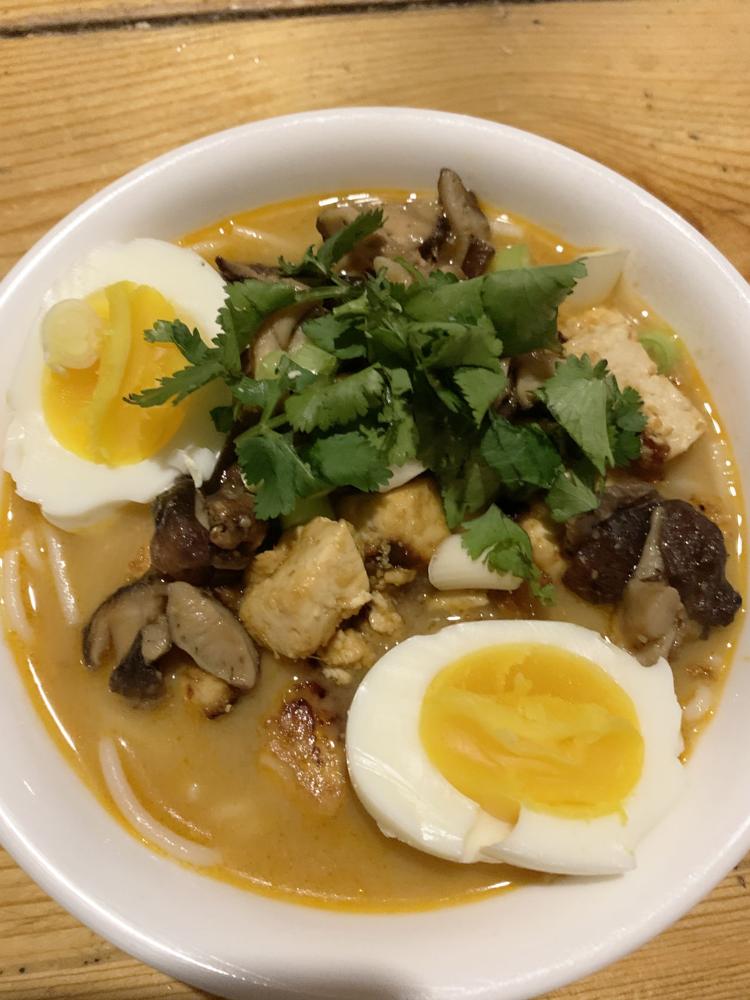 Recipe courtesy Ann Driggers (inspired by the food blog, "Pinch of Yum")
Tip from Ann: Prep the broth at home, and bring it in a small tub. Marinate and cook tofu at home. Pack eggs in a backpacker's 6-egg holder
INGREDIENTS
Spicy miso paste:
1 small yellow onion
1/2 cup red miso
1/2 cup white miso
3 tablespoons sambal oelek
6 cloves garlic
2 inch piece fresh ginger
3 tablespoons mirin
2 tablespoons vegetable oil
1 tablespoon toasted sesame oil
Ramen:
12-15 ounces extra firm tofu
1 tablespoon oil
4 eggs
5 ounces fresh shiitake mushrooms, chopped
3-4 cups chicken or veggie stock
2 cups plain unsweetened coconut milk
6 ounces ramen noodles
scallions, roasted seaweed, sesame oil for serving
INSTRUCTIONS
SPICY MISO PASTE: Pulse all miso paste ingredients together in a food processor until a smooth, thick paste forms.
TOFU: Cut into cubes. In a large pot, heat the oil on medium-high heat and start frying the tofu. Once the tofu has browned, add 1/4 cup of the spicy miso paste and cook for another minute or two.
BROTH: To the same pan, add the chopped shiitake and small amount of miso paste and stir fry until golden brown. Add the stock and coconut milk and bring to a simmer. Place 1/2 cup spicy miso paste on top of a very fine sieve. Lower the sieve half-way into the simmering soup and use a spoon to slowly dissolve the paste into the soup. Discard the "solids" remaining in the sieve and let the soup simmer for another 5 minutes. Taste and add salt or soy sauce.
EGGS and RAMEN: Cook the ramen noodles according to package instructions and drain well. While the ramen is cooking, soft boil eggs.
SERVING: Divide the noodles into bowls and ladle the soup over. Top with the tofu, one egg halved and scallions.
Tess Weaver Strokes is a freelance writer, editor, mom and lover of all things outdoors in the Elks. You can follow her adventures @tesswstrokes.