The shipment arrived on an unseasonably warm winter's day. The midpoint mark of winter mixed with a dose of sunshine and balmy temperatures already had me in a summer state of mind, dreaming of the long days and fewer layers that lay ahead. The prospect of ditching socks and swimming in the seas was still months away, so this delivery—three bushels of Katama Bay bivalves—would have to suffice as a dose of coastal nostalgia.
The delivery wasn't illegal, per se, but it did feel illicit, which we all know makes everything taste better. The oysters, which had been filtering the brackish currents of the Atlantic just 24 hours ago, were packed tightly into a Yeti cooler and looked like contraband. Forbidden fruits of the sea flown in privately for an Aspen extravaganza. There is also something about the ritual of shucking an oyster, slipping a blade between the halves of its shell and coaxing it gently to reveal its hidden bounty, that has a sense of larceny about it.
The Captain, world-renowned for his fishing prowess, has long been my supplier. A former Aspenite and now full-time resident of Martha's Vineyard, he is feared equally by the brown trout of the Frying Pan and the giant bluefin of Georges Bank. A true islander, he's also become adept at producing oysters, but mollusks are admittedly slower moving and easier to trick, so it's more farming than sport.
Snows Point Oyster Farm, located in Katama Bay on Martha's Vineyard, is one of 12 one-acre plots leased by the Edgartown Shellfish Department. The department is staffed by shellfish constables, seafaring lawmen who double as herring wardens and add to the mystique of Vineyard aquaculture.
The Captain has been operating his lease for nearly three years and raised the batch of brackish beauties he brought from seed. Snows Point Oysters are notable for their round shape and deep cups, traits that are achieved by tumbling the oysters periodically to promote symmetrical shell growth. They are ruggedly beautiful and each one is utterly unique, like a calcified snowflake.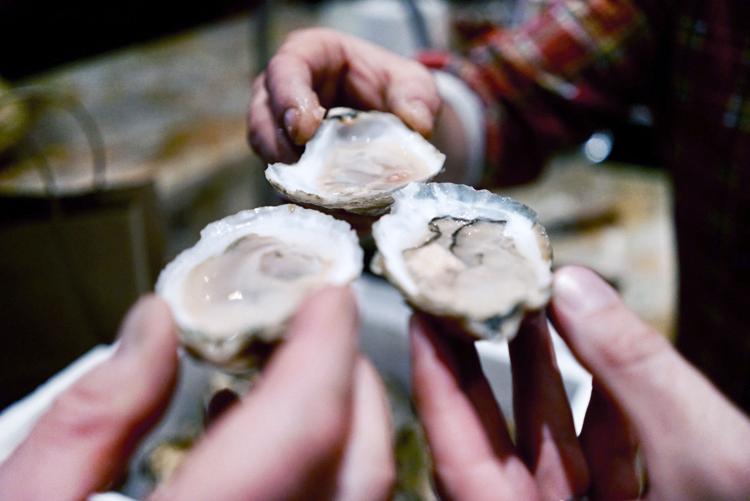 Just as climate, soil composition and other factors impart unique characteristics on grapes that ultimately lend a wine its terroir, oysters very much differ by region and the environment in which they were raised. The salinity of the sea, the motion of the ocean and the proximity to the seafloor all play a part in an oyster's flavor and consistency—deemed "merroir" by aficionados. The water where it lives flavors an oysters' liquor, the liquid in its shell, while what it eats flavors the meat. Like the '90s rap game, much has been made about the primacy of East Coast versus West Coast in the oyster world. Luckily, it's just seafood, and both sides boast their benefits, so nobody has gotten hurt. Yet.
Four dozen oysters constitutes a party; 40 dozen makes the gathering a festival—regardless of the number of attendees. The thing about serving 480 oysters at a gathering of eight people, as we did at the Inaugural Festival of Aspen Oyster Freaks, is that it demands a multitude of preparations. And copious amounts of wine. Luckily, Aspen in the winter is perfect for recently harvested oysters. You can pack them right into a snowbank, along with a few cases of Sancerre and White Burgundy, and they will last for weeks. Or at least for a few hours.
The first sample we slurped straight, savoring the briny blast of Atlantic from the unadulterated liquor. The following rounds were accompanied by squeezes of lemon or mignonette, both of which provided acidity to balance the natural saltiness of the oysters. The Mayor, a bit of an old salt himself, turned up the heat in the kitchen with two cooked preparations. The oysters became more of a meal when topped with spinach and Romano cheese and then baked for Oysters Rockefeller. The standout was a version that was soaked in buttermilk, dredged in flour and pan-fried. When placed back in the shell and garnished with spicy aioli and cilantro, it produced my favorite flavors of the night.
Summer is still a ways off, but if you need a shot of seaside bliss, shuck yourself an oyster and let the taste of ocean wash over you. Snows Point will be available in Aspen commercially in June. For a fix before then, we'll have to call the Captain.
Oliver Sharpe will eat your snacks. He can be invited to things at oliver@wheresoliver.com and @wheresoliver.