The steel husk nestled in a grove of trees next to out-of-the-way volleyball courts and an unkempt parking lot is no less than one of the world's most intact and significant artifacts from the birth of recreational skiing as a passion and economic driver, a movement that would remake a sleepy old mining town into the Aspen of today. 
Lift One in its time — its heralded grand opening celebration took place on Jan. 11, 1947 — was the world's longest and fastest chairlift, spanning 32 towers, 2,560 vertical feet and 8,500 feet in length. It was one of fewer than 30 aerial chairlifts believed to be in existence across North America, 10 years after the first one debuted in Sun Valley, Idaho. With its endpoint near the top of the existing Ruthie's chair, Lift One was the beginning of a two-stage ride that ended at the recently designed Sundeck at an elevation of 11,211 feet at the top of Aspen Mountain. 
Lift One's conception and construction was an accomplishment more than a decade in the making whose credit falls on the shoulders of a wide cast of characters. Its origin story relies on a convergence of advancement in industrial mechanics, good-old-fashioned frontier resourcefulness, a brewing worldwide awakening to the joys of skiing and an early realization on the part of many that Aspen, Colorado, specifically, and the steep syncline ridges just above town, were to become the grand capital of this new way of life.
It's also a war story, as set out in a recently released report on the historic significance of Lift One commissioned by the city of Aspen that was researched and written by Suzannah Reid, an Aspen architect and historic preservation expert. The white paper-style report was released earlier this month in conjunction with an announcement that two hotel developers with property in between the old lift site and the 1970s-era Lift 1A had come to a preliminary agreement, along with the Aspen Skiing Co., to move the next iteration of the chairlift as far back down the hill as the reach of the original machine.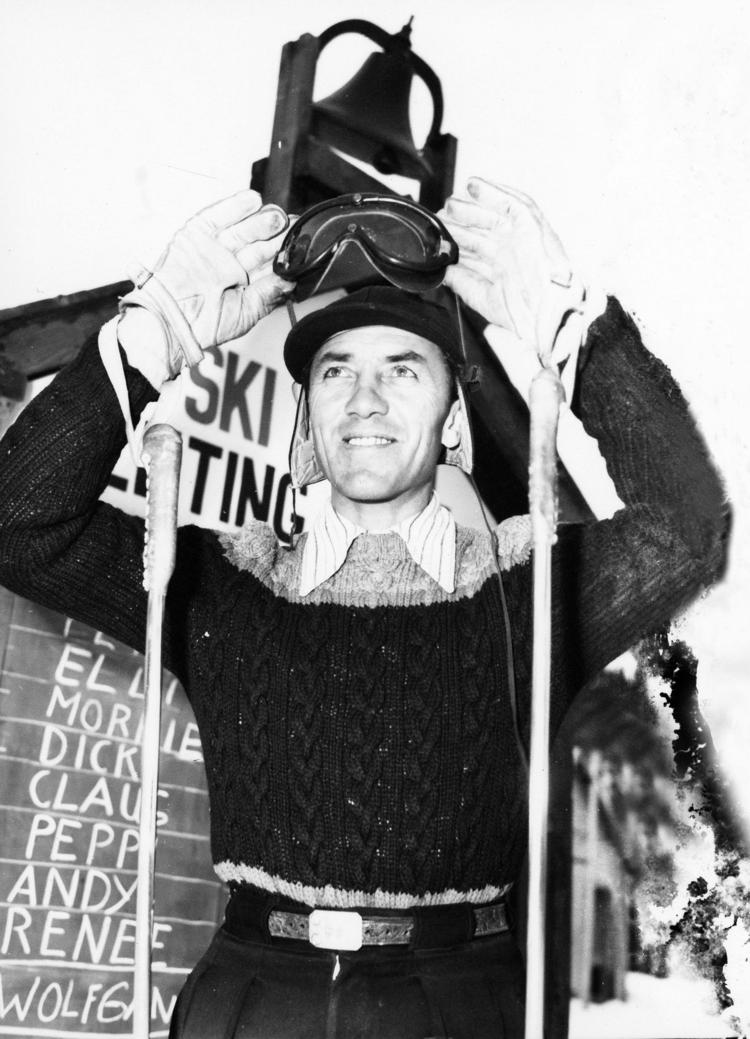 Friedl Pfeifer, perhaps the patron saint of Lift One who envisioned the project and willed it to life along with a dedicated band of contemporaries, may never have found his way to Aspen if Adolf Hitler hadn't constructed a fascist state hungry to consume its neighbors in Nazi Germany. Pfeifer was born in St. Anton, Austria, a village in the country's mountainous western region near the German, Italian and Swiss borders, in 1911. He grew up skiing under the tutelage of Johann "Hannes" Schneider, who is recognized as one of the founding fathers of the modern ski turn and formalized ski instruction. Pfeifer worked in Schneider's ski school by the time he was a teenager and through the 1930s, becoming one of Europe's elite skiing professionals, growing his career at a time when both techniques and equipment were quickly evolving.
Then the Anschluss — Germany's annexing of Austria — happened in early 1938. Reid, who studied academic skiing histories and Pfeifer's 1993 autobiography to produce the report, said last week that Pfeifer was "appalled" by Nazi policies, which led to the jailing of his mentor Schneider. He secured a visa and left for Italy, eventually making his way to the U.S. By the 1939-'40 ski season, he was the director of the ski school in Sun Valley.
The war that Pfeifer fled from in Europe eventually followed him across the ocean, when he was rounded up in a wave of U.S. internment of German-speaking people residing here, according to Reid. His surest way out of such a situation and to attain U.S. citizenship was to offer his service to his adopted country's war effort, so Pfeifer joined the 10th Mountain Division in 1943. The Army, sure not to waste his talents as an expert ski mountaineer, stationed Pfeifer at Camp Hale, near Leadville and the Continental Divide, where troops trained for Alpine warfare.
Pfeifer saw Aspen for his first time during a training mission, which left him enthralled, Reid's report says.
"The mountain peaks looming over town made me feel like I was returning to St. Anton," Pfeifer wrote in his autobiography, "Nice Going: My Life on Skis," as quoted in Reid's study. "Even the meadow sloping into town reminded me of home. I felt at that moment, an overwhelming sense of my future before me." 
With his brothers in arms, many of whom were Colorado natives who would later help build up skiing in Aspen and around the West, Pfeifer returned to Aspen as much as he could during training, before the 10th Mountain Division was deployed to Europe in 1944. 
By February 1945 the division was in combat in the Italian Apennine Mountains, where Pfeifer was wounded, losing part of a lung. He was transferred to Colorado Springs to recover, where he met Walter Paepcke, a Chicago industrialist who by that time already had his own designs on Aspen's rebirth. Paepcke believed it would become an intellectual oasis where global influencers could replenish the mind, body and spirit. He was not at first ready to invest money in Pfeifer's dream of building a ski resort, but their contact remains one of the most consequential meetings in Aspen's history.
Skiing was already well established in Aspen at that time. Nationally, excitement for winter sports began spreading with the 1932 Lake Placid Olympics. Ski clubs and ski hills sprung up in Colorado, mostly around the Front Range, in the 1920s and '30s. In Aspen, miners had long used handmade skis to get around and for recreation, and a cadre of locals foresaw that skiing and tourism could supplant mineral extraction as the source of the community's identity and wealth. Investors took their first stab at a developed ski area in 1936, with the construction of the Highland Bavarian Lodge in the Castle Creek Valley, which offered guests access to slopes including Little Annie Basin on the backside of Aspen Mountain. The war, which claimed the life of William Fiske, one of the initial investors of the project, also thwarted plans for a 4,000-vertical-foot aerial tramway that would have run above American Lake to the 13,000-foot ridge of Mount Hayden.
Reid's report cites the account of Fred Willoughby, whose family owned the Midnight Mine on Aspen Mountain, who described how local boys at the time would hike Aspen Street and slide down using one pole between their legs as a break. 
"My brother and I and a few others would climb from the Midnight Mine to Buckhorn Saddle and ski down to town over the same general area as the existing Aspen Mountain courses, using this same unsightly means for control and turning," Willoughby said, according to report attached to a 1989 National Register of Historic Places nomination from Roxanne Eflin. 
Andre Roch, another European ski elite who came to Aspen and knew that Aspen Mountain would be perfect for a ski resort, marked the first ski trail there in the winter 1936-'37. By next season, the locals had installed a boat tow lift using a Model A car engine and a cable. This was Aspen's first mechanized ski conveyance.With the war behind him in October 1945, Pfeifer returned to Aspen and took up the work of executing his vision. He started out by fixing up the boat tow and establishing the Roch Cup ski race. Next up was establishing a ski school along with fellow 10th Mountain veterans Percy Rideout and Johnny Litchfield. 
Expanding the capacity of Aspen Mountain as a ski area also required acquisition of mining claims and investor funds. Pfeifer reached out to any contact who might help, including G.H. Bannerman from American Steel & Wire, who built the Sun Valley chairlifts, and Bob Heron, a civil engineer in Denver who designed temporary lift systems for the U.S. Army. Bannerman agreed to begin sourcing the steel on little more than Pfeifer's word that he would eventually be paid and Heron helped plot the lift route and tower placements.
With the winter of 1946 drawing to a close, Pfeifer reconnected with Paepcke, who agreed to back the Aspen Skiing Corporation, which would feature Pfeifer as its ski school director. Shares were sold to raise $150,000, or roughly $2 million in today's dollars, to build Lift One and Lift Two.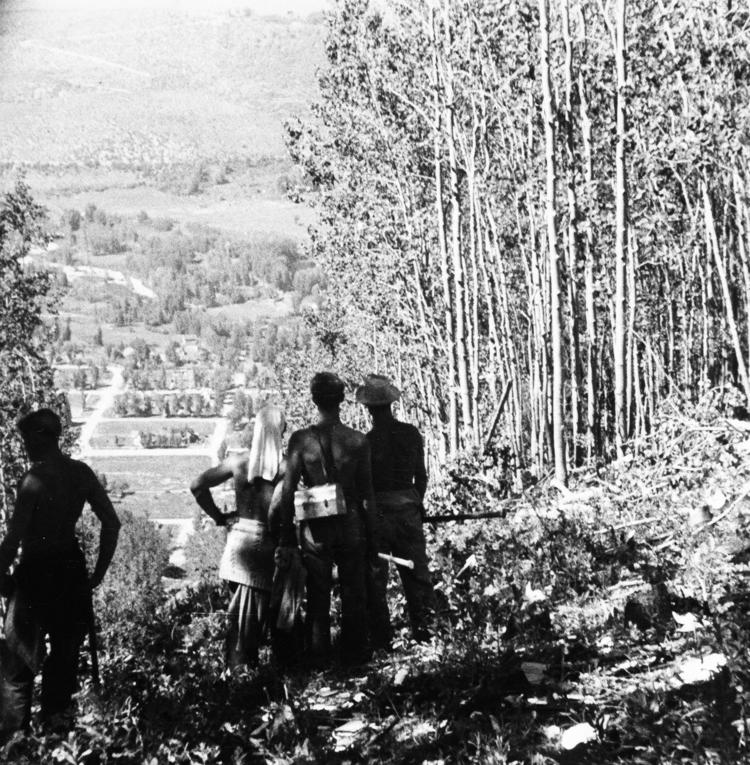 Trail crews working that summer took only four days to clear the 30-foot-wide Lift One lift line that climbed a mile and a half up the hill, Reid's study says. A trail crew, averaging 18 men per day, worked six days a week from 6:30 a.m. to 5:30 p.m., using mostly hand tools. A rock crusher, one of the only mechanized tools on site, was used to make aggregate for the upper terminal, bottom terminal and tower foundations, which were in place by Sept. 12, 1946. That day's Aspen Times included a plea for more men, who needed only to show up at Mike Magnifico's ski shop in town to join the job.
"With the first freezing nights already at hand, we would like to have it everyone's interest that the construction continue on schedule. A larger crew on the mountain would naturally be of great help, so if you have your haying and potatoes out of the way, why not look Friedl up?" a reporter wrote.
By Halloween, each of Lift One's 32 towers, prefabricated by American Steel and Wire and hauled up the mountain by truck, was hoisted into place by hand and bolted to its concrete foundation.  
The lift, with a relatively simple mechanical design that was remarkable for its scale, was featured on the cover of the January 1948 edition of Popular Mechanics. At its base is a 10-foot diameter bullwheel as well as a counterweight tower that applied tension to the line with a large concrete block. 
"The entire effort is a testament to the sheer force of will involved in bringing Aspen to the forefront of the ski industry," Reid's report says. She added in an interview last week that the people involved in building the lift were involved in a project that ignited their passions.
"It was a thing that skiers made for skiers," she said. "It was not a cynical approach" that was solely about making money for the town.
"They were doing something they were passionate about," she said.
The lift first carried skiers on Dec. 14, 1946. Aspen threw a grand opening celebration on Jan. 11, 1947, attended by the governor-elect and a host of business leaders. Skiers from around the country flocked to town, which hosted 2,000 guests when the year-round population was still only 800. The "quiet years" in Aspen that had marked the time following the 1893 silver mining crash were officially over.
"In town, crowds of visitors strolled the streets looking at restored homes, reminders of the silver boom, and newly opened stores," Pfeifer wrote in his autobiography, as quoted in Reid's report. "The bars that were once filled with miners talking about silver and gold, were now filled with skiers eager for Aspen's future. .... The celebration was a glimpse into the future of what was to become Aspen. People walking the streets window shopping, music and parties, lights, the mountain open for skiing from top to bottom. …Aspen was alive."
Many of the men who built the chairlift went on to long careers operating the ski area. In 1950, Aspen and Lift One hosted the International Ski Federation World Championships, the biggest winter-sports event yet to come to town. Pfeifer, seeking more appropriate terrain for beginning skiers, later founded Buttermilk Ski Area west of town.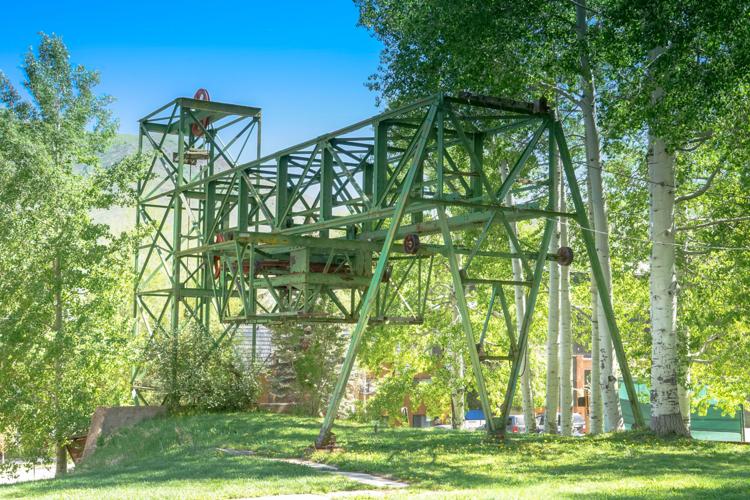 The lift served its last passenger on April 11, 1971 and was replaced the next season by Lift 1A. Ski area officials at the time found it too difficult to replace the lift in its original location, thanks to complicated property ownership and development circumstances in the neighborhood and concern about maintaining ski terrain passing by homes and businesses. The new lift began three blocks higher up the hill, effectively removed from the downtown core. When the Silver Queen Gondola debuted in 1986, Lift 1A became Aspen Mountain's side door loved by locals for its steep terrain, convenient parking and quiet vibe.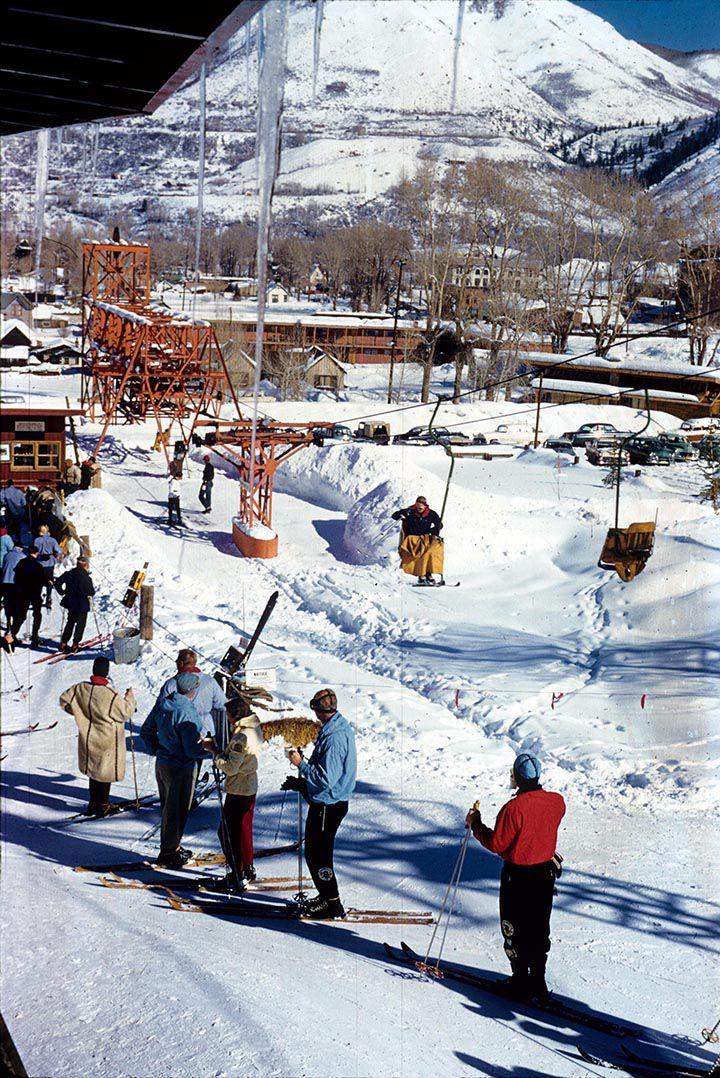 Very few skiers start their day there anymore and the aging nature of the lift and the facilities around it have prompted the International Skiing Federation to suspend Aspen's annual women's World Cup race that took place on the venue pending a plan to upgrade the chairlift. The March 2017 World Cup Finals, while a resounding success for the town, were also bittersweet in that they are likely to be the last top-tier ski race to take place on the hill until changes to the infrastructure are made.
The last 10 years of land use negotiations involving multiple developers with plans for hotel and residential construction have been nagged by a lingering desire to see a new chairlift brought back to town. In 2008, a plan came forward for a platter-pull lift beginning next to the old Lift One, which would take skiers up to a new high-speed quad that would begin where the existing lift starts. That plan died on a 2-2 council vote. 
With new developers acquiring the land at the top of the hill, with plans to build a new hotel called the Gorsuch Haus and a new chairlift, Aspen City Council mandated that serious consideration be given to bringing the new lift down the hill. This would require the cooperation of another set of developers who are planning the Lift One Lodge, just below the Gorsuch Haus, and the Dolinsek family, whose brothers Frank and John worked to clear the original ski trails and build the lift at midcentury. The Dolinsek property, just east of the Lift One Lodge site, was donated to the city in 2015 on the promise that it become a public park.
A year of behind-the-scenes study and negotiation, with much effort given to getting all the parties on the same page, has produced an agreement that at one time seemed impossible. As of this writing, the hotel developers are working on tweaks to their plans to accommodate a chairlift running up the hill in a similar alignment to the original Lift One. Aspen City Council is planning to review those changes this summer and voters are likely to be asked to approve the plan this fall or winter, since it will involve changes to Willoughby and Lift One parks, which are city owned and encompass the original lift alignment and base area.
One of the thorniest challenges that must be addressed for the new plan to become a reality involves what to do with the remaining historic infrastructure from Lift One. The bullwheel support, counterweight tower and three lift towers are still there, in their original placement, and are in relatively good condition. 
One idea would have the loading area for a new lift just uphill of the historic bullwheel, which would necessitate the movement of at least two of the historic lift towers. Another notion would remove the historic infrastructure completely. 
For Reid, who holds a master's degree in architecture from the University of Pennsylvania, has been practicing in town for more than 30 years and currently serves as Pitkin County's historic preservation officer, the desire for a new chairlift must not steamroll the preservation of one of Aspen's most historic sites.
"I would ask people to take a moment and think about the best way to respect the effort that went into this thing and how it's represented by remaining pieces of the lift and the place they are in," she said.
She added, "It is obviously an incredibly difficult challenge to balance all the interests involved," she said. "But one of the things about the pieces of the lift that remain is that they all speak to each other, they are all part of the story. They don't really work if they are separated from each other."
The weight of history can still be felt in that place today. 
"You can stand there, look up [the original Lift One alignment] and you can imagine yourself back in 1947 getting on that lift — and I think that is powerful," Reid said.
To have it both ways, perhaps by moving the original infrastructure slightly so it sits alongside the new lift in juxtaposition, is an intriguing concept for some, but Reid is skeptical it could be made to work. The scale of the new lift may be simply too massive, she said.
Whatever happens with the original lift, its story, at least, is well preserved through Reid's historic significance report. It concludes by noting that many of the people who conceived of Aspen as ski resort have passed on — Pfeifer died in 1995 — "and the city is losing that direct connection to its origin story." 
"It is easy in an age of modern machinery and modern lifts to take for granted what was achieved by these men," her report says. "Lift One is a powerful reminder of where it all began. To stand at the loading area and let your eye follow the lift line up the mountain engages the imagination and drives the question 'Who did this and how did they do it?' It is critical to preserve these touchstones so that future generations will also be able to look up in wonder and understand what those of the past achieved."