Kim Reichhelm carves her own path.
An industry trailblazer, former racer and two-time World Extreme Skiing Champion, Reichhelm's list of epithets also includes the "Goddess of Freeskiing" and "one of the most influential skiers of all time," by Powder and Skiing Magazine, respectively.
The part-time Aspenite is also funny, down-to-earth and a straight-shooter. This winter, Reichhelm's revered "Ski with Kim" clinic celebrates 30 years. Local editor-in-chief Erica Robbie catches up with
the decorated skier from her off-the-grid home in Baja, California, Mexico—where she decompresses each summer after a rowdy winter—to see what's on her mind.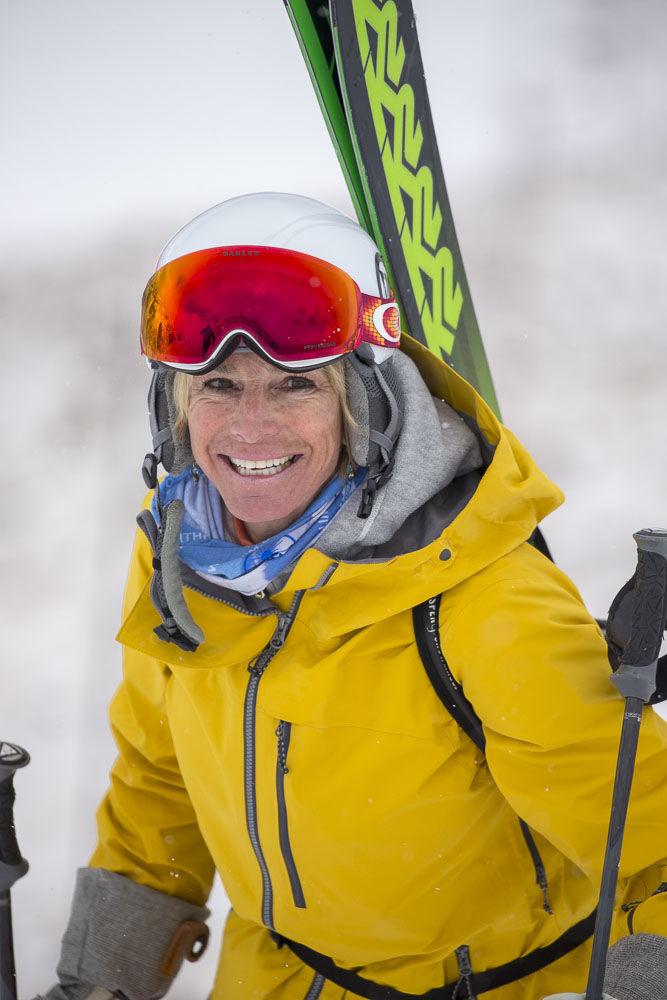 SCHOOLING
I'm teaching big-picture stuff. I'm teaching people how to read terrain. I'm teaching them to maneuver around the mountain better, how to find better snow and look ahead. I teach more tactics and strategy than I teach technique.
THAT LIFE-CHANGING TRIP DOWN THE GRAND CANYON 
Having grown up in Connecticut—where it's super crowded and dog-eat-dog, and my dad was commuting to Wall Street—I just remember at a really young age saying to myself, I will never do something for a living that I don't love. I didn't really realize how difficult that was, because I was 6-years-old when I made that statement. But then when I went on the Grand Canyon [at age 21], I was like, I'm going to be a guide. These are the happiest people I've ever met. They're doing something they love; they're enjoying their environment; they're so engaged; and they're not materialistic. I just really loved their lifestyle, and that was it for me.
I knew I was going to do something like that.
FORESEEING HER FUTURE (AT AGE FIVE)
From my very earliest age, I remember riding up the chairlift [at Stratton Mountain in Vermont], looking down at the ski racers and thinking they were the coolest people on the mountain. They were the best skiers, and they had the best attitudes and the coolest uniforms. I can remember looking at them and thinking, I'm going to be a ski racer someday.
@JERRYOFTHEDAY
I tell all my clients what Jerry of the Day is, and I say, "We don't want to be Jerry of the Day, so I'm going to teach you everything you need to know to not be Jerry of the Day." And if that's a goggle gap, I'm like, "Let's look at this. Let's look in the mirror and see how you got this going." A gap is not only cold and inefficient and makes your eyes water, it's kooky-looking.
A TOWN MISUNDERSTOOD
Aspen is so different than what peoples' perception of it is, which is fine. People want to believe what they want to believe without knowing anything—that's their choice. A lot of the clients I bring to Aspen say to me, "Oh my God, this place is nothing like what I thought it was." They think it's a rich, hoity-toity, pretentious town, and it's not.
SUMMERS SOUTH OF THE BORDER
I'm very isolated. I live by myself; I'm 20 miles away from any store. I'm off the grid, and I live 100 percent on solar power. I surf and kitesurf every day. I love the water and the ocean. Baja is amazing because it allows me to recharge from the insane winter. In the winter, I eat and drink and ski and entertain 24/7. So I come down here, and I'll go days without speaking.
AVOIDING HANGOVERS
Hydrating, of course. One of my latest tricks is to put chia seeds in a bottle of water and [after about 10 minutes] drink it. That's been a huge thing for me. Being healthy and eating well, obviously, is also really important. And I eliminate the sugar in my drinking, so I [mostly] just drink vodka sodas. But you just freaking got to get up early. You got to go. And I think it's important to never complain.
TOUGH LOVE
I tell some of my clients, "Look, I'm your tough-love friend. I am not going to kiss your ass. I am going to look after you and support you and love you to death, and I am going to do everything I can to ensure you have an amazing experience and walk away loving the sport."
Want to "Ski with Kim" this winter?
Reichhelm will host two clinics in Aspen: The Women's Ski Adventure (January 14 to 17) and Coed Steep Skiing Camp (March 18 to 22)