Sometimes the best dining experiences are the ones you create for yourself while enjoying Aspen's spectacular surroundings.
The art of the picnic can range from an elaborate, well-planned gourmet affair to a simple, spontaneous outing, based on your mood, the setting and company. Pack up your grandmother's silver, a vase for wildflowers and imported country pâté, or take a humbler approach with a blanket that's kept in the trunk of your car, a basket from the thrift shop and casual provisions. With a lot or little effort, locally made and sourced picnic essentials can make your next outdoor adventure a memorable culinary (and social) gathering.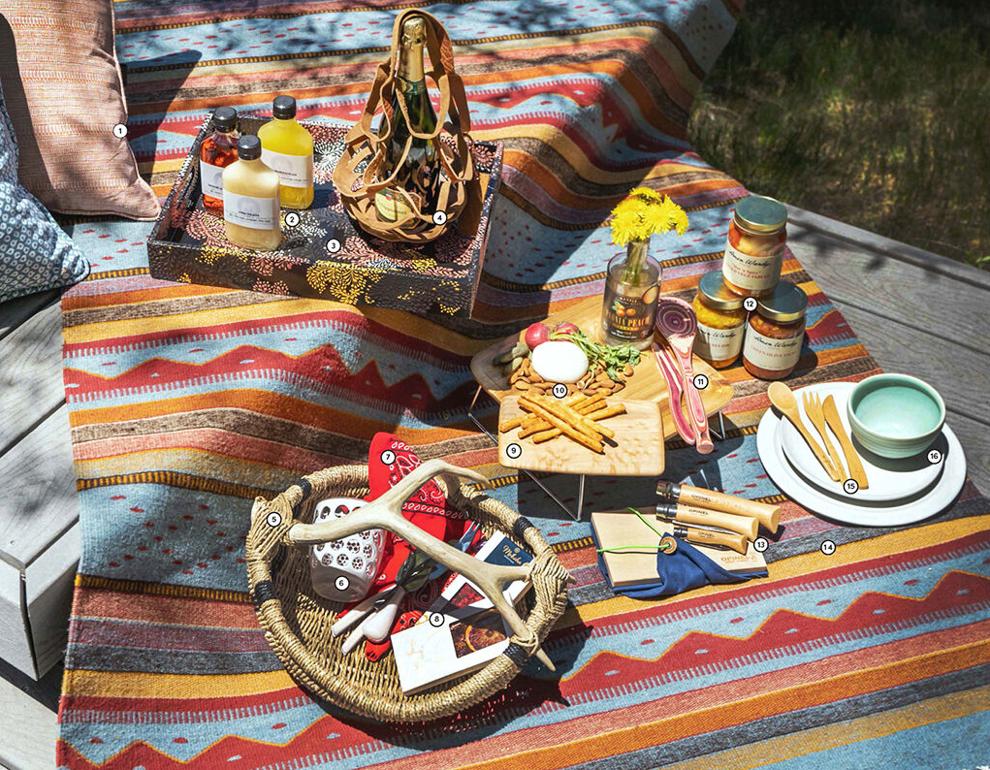 1 | Make your outdoor meal extra comfy via these handmade pillows from Aspen interior designer Kathy Kroger. Pillows start at $90, katherinerally.com.
2 | Nowadays, portable cocktails come in cans or pretty pre-batched bottles, like these locally sourced libations from Marble Distilling Co. Pre-Batched Cocktail for Two, $24, Marble Distilling Co., 150 Main St., Carbondale, marbledistilling.com.
3 | Steady those drinks on this functional piece of art, a one-of-a-kind, hand-painted tray by local artist Jody Guralnick. Trays start at $300, Available at Pitkin Projects, 516 E. Hyman Ave., pitkinprojects.com.
4 | Local leatherworker Trevor Washko designs and crafts these wine slings at his workshop on Castle Creek. Made from a single piece of bison leather, the slinky includes a clip-on wine key and makes toting vino, whiskey or a full-sized growler a breeze. Wine Slinky, $44, Cold Mountain Craft, Available at Catto Center at Toklat, 11247 Castle Creek Rd., coldmountaincraft.com.
5 | This shed-antler basket by Los Angeles-artist Dax Savage can tote your goodies and then double as the centerpiece of your picnic. Driftwood Basket, $800, Available at Pitkin Projects, 516 E. Hyman Ave., pitkinprojects.com.
6 | Reusable plastic glasses and cheese knives bring a splash of color and dash of elegance to your picnic spread. Glasses, $20 each, Mario Luca Giusti; set of three cheese knives, $60, Casa Bugatti, Available at Chequers, 520 E. Cooper Ave., chequersaspen.com.
7 | Vintage bandanas make for a creative (and colorful) alternative to traditional napkins. Assorted Bandanas, $45 each, Available at Res Ipsa, 505 E. Hyman Ave., resipsausa.com.
8 | Satisfy your sweet tooth with these artisanal, dairy-free Moksha chocolates, made in Boulder. Blood Orange Semi-Sweet Belize Bar, $10, Moksha, mokshachocolate.com.
9 | Fill up this Edward Wohl Cheese Board with crackers, an artisanal baguette, cheese (hard and soft), Italian charcuterie and mixed nuts. Pâté Board, $24, Available at Meat & Cheese, 319 E. Hopkins Ave., meatcheese.avalancheaspen.
10 | Meat & Cheese's house-made cheese straws and fresh mozzarella make for great starters. Cheese Straws, $6; Mozzarella, $10, Meat & Cheese, 319 E. Hopkins Ave., meatcheese.avalancheaspen.
11 | Scoop salads or spread cheese with these vibrant, handcrafted wooden utensils. Spreader $8; Spoon $25, Available at Amen Wardy, 625 E. Main St., amenwardy.com.
12 | Jars of comestibles—such as green-olive salsa, spicy mixed vegetables or corn relish—make palatable picnic additions. $12 each, Amen Wardy Home, 625 E. Main St., amenwardy.com.
13 | This handy set includes almost anything one might need for a picnic: a combination corkscrew-knife, bread knife, peeler and cheese board. Bonus: All of the wooden handles are held together by a dish towel. Nomad Cooking Kit, $84, Opinel, Available at Ute Mountaineer, 210 S. Galena St., utemountaineer.com.
14 | The perfect base for your outdoor picnic, these hearty wool blankets are hand-dyed and woven in Oaxaca. Five percent of sales go to ACES' Summer Camp scholarship program. Blankets start at $400, Available at Catto Center at Toklat, 11247 Castle Creek Rd., aspennature.org.
15 | These reusable wooden spoons, forks and knives are super lightweight, making them easy to pack in and out. Wooden Silverware, $2 each, Available at Kitchen Loft at the Miners' Building, 319 E. Main St., minersbuilding.com.
16 | Carbondale-based ceramist Alleghany Meadows sculpts this artful dishware to be enjoyed indoors and out. Plates start at $25, Available at Harvey Preston Gallery, 517 E. Hopkins Ave., harveypreston.com.
_________
So, Where To Go?
It's a well-known fact everything tastes better in fresh air. Here, a few of the best places to picnic in and around Aspen.
WELLER LAKE: Seven miles up Independence Pass you'll find Weller Lake, one of the area's easiest and most scenic hikes. There are several stops along the one-mile trail to spread out, including the rock islands a few feet from the trailhead on the bank of the Roaring Fork River. Try this spot for a full-moon picnic if you're feeling adventurous.
MAROON BELLS: Beat the buses and throngs of tourists by heading to the Bells for a sunrise breakfast picnic. Savor your quiche and locally made granola from Mawa's Kitchen while the twin crimson peaks show off at daybreak.
GOLD BUTTE: Across from Sunnyside Trail on McLain Flats Road you'll see a rock outcropping. Find the short, rocky trail that heads away from the climbing wall and straight up to a plateau. Delight in cocktails and canapés atop Gold Hill as you catch one of the Valley's prettiest sunsets. Plan to head down before dark as this trail can be steep and sketchy.
HALLAM LAKE: Bring your binoculars and a lunch picnic for the "daily air show" at ACES' Hallam Lake. Six decks perfectly positioned on the lakeshore offer prime birding—but also keep your eyes peeled for beaver, deer and other wildlife.
MOLLIE GIBSON PARK (aka Smuggler Park): Set up shop early to snag the one-and-only picnic table and to check out the other spreads at this local, uber-social picnic scene. Don't forget your Frisbee and pup—then cue the sunset.
Other local-park notable mentions: Paepcke, Wagner, Rio Grande, Koch, Triangle, Herron and Glory Hole.