The news hit me like a sack of ski boots. "Après is dead," an unknown gravelly voice said, before an ominous silence overtook the line. It was still summer, but the words sucked the wind out of me like a midwinter knuckle landing. Could it be true? Was après in Aspen really a thing of the past? Who, or what, could possibly have killed the post-ski party mecca? It appeared to be a genuine mountain-town mystery, and like any good whodunit, there were numerous suspects and a multitude of avenues to explore. These days, Aspen has run amok with greedheads, weedheads and fitness freaks, any one of whom could have committed the crime.
What is Après?
The phrase après-ski is French, but the practice of partying after sliding downslope traces its roots to the mid 1800s in Telemark, Norway. As soon as the first enterprising Nordic skiers had mastered the technique of controlled descents on edgeless skis, they began celebrating their survival with plentiful portions of potatoes and aquavit. Camaraderie and conviviality were inherent traits of the early Norwegian ski pioneers, and they promptly formed ski clubs to spread the gospel of gliding on snow. As skiers traversed the Alps, both literally and figuratively, ski clubs and after-ski revelry went with them. Ski Club Glarus, the first ski club in Switzerland, was founded in 1893 by Christoff Iselin. His son, Fred, brought his famous ski teaching method and intrinsic knack for après to Aspen nearly two decades later.
Après-ski and the more colloquial "après" are standard terminology these days, but there was once another term in contention. The German word "Gemütlichkeit," which translates to "the idea of a state or feeling of warmth, friendliness and good cheer," was also in the running to describe those after-ski vibes. Luckily, the French ultimately won out. While it conveys the right sentiment, Gemütlichkeit just doesn't roll off the tongue quite as easily.
Eyeing an opportunity for profit, alpine resort hotels—once only open for the summer season—began staying open through the winter months to accommodate the emerging market of skiing enthusiasts. Après-ski quickly took hold at hotels in Chamonix, St. Moritz and Megève, which were equipped with fine-dining restaurants, full bars and ballrooms, all of which were filled with skiers looking to ride their adrenaline high into the night.
Après arrived slowly to America. Stymied at first by Prohibition and a lack of ski areas, it grew quickly
following the close of the second World War as old mining towns began reimagining themselves as ski resorts in the European vein. Après and Aspen were a natural match. As Mort Lund explained in the Skiing Heritage Journal, "The old silver mining town had saloons and cozy little restaurants like the Red Onion that drew skiers from the East and Europe into a Wild West Scene—just a little spruced up (the prostitutes were gone)—and it had a large group of cohesive ski bums who exuded a genuine congeniality all around during lively après-ski that attracted more skiers every season. The gem of after-ski was the great mahogany stretch of the Hotel Jerome bar, a relic of Aspen's mining days."
Aspen-Snowmass consistently ranks among the top ski resorts in the world and is often crowned king of the ski hills in North America. The town prides itself on being a cosmopolitan community tucked away in a box canyon at 8,000 feet with plenty to offer visitors outside of skiing. Après-ski is a large part of that. Both the Red Onion and the J-Bar still exist. If après is dead, it's a big deal.
The Suspects
The Rent is too D*mn High?
The traditional definition of après requires that the after-ski activity must transpire in close proximity to the mountain, immediately following your last run. Paved roads are a psychological moat for many après hardliners—removing your boots and walking across town nullify the experience.
In recent years, 39 Degrees at the Sky Hotel was Aspen's après headquarters. You could ski to the steps and be poolside in a leopard-print robe holding a cocktail in no time. There were DJs, low-slung banquettes perfect for ski-boot dancing and plenty of pretty people. The hotel's closure in 2017 left a gaping hole in Aspen's après scene, one the newly erected W Hotel hopes to fill. You can't ski to the pool at the W, which opened in late summer, but the "Wet Deck" on the roof—replete with hot tubs, cabanas and fire pits—will be a welcome addition to the winter après scene.
Without the Sky Hotel last year, two spots remained at the bottom of Ajax that fit the bill for base-adjacent revelry: Ajax Tavern and Shlomo's Aspen.
Only one of them (Ajax) survived the winter.
Max Ben-Hamoo was thrilled to return to Aspen in 2018 to work alongside his father, Shlomo Ben-Hamoo, to make his namesake restaurant a success. Born and raised in Aspen, Max relished the après scene he was exposed to growing up. "The thing that made it magical was that you could have famous rockstars next to corporate billionaires, next to a complete and utter ski bum, and they were all sharing the same love and joy of the sport and the community."
After traveling around the world and finding a cool, community vibe at international ski resorts, Max was disappointed when he returned to Aspen to find what he called, a "stagnant, stale après-ski scene." He laments, "It was almost like it was reserved for the rich and famous."
At Shlomo's, he focused on creating an approachable vibe focused on fun, seeking to attract visitors and locals alike. They had a great season and lots of great parties. In spite of Max's best efforts, Shlomo's closed at the end of the season. At press time, no tenant had been secured for the commercial space on the west side of Gondola Plaza, despite numerous rumored offers.
Real estate development is often at odds with the messy vitality that makes ski towns great. This problem is exacerbated in Aspen where space is at a minimum, and luxury brands and real estate brokerages will pay a premium for street-level space. It's difficult to sell pitchers of beer and survive in that kind of retail environment. However, real estate issues are nothing new in Aspen, therefore I don't think this could have been what took down après.
The People Are Too D*mn High?
Colorado was among the first two states in the Union to legalize recreational marijuana in 2014. Within three years, marijuana sales outpaced alcohol sales in the City of Aspen. And in just five years, the state has collected more than one-billion dollars in tax revenue. Many Aspenites have spent years perfecting their portion control and can socialize on a mixture of pot and potables. It is a delicate balance to strike, however, and one that is not achieved quickly. Untrained visitors have been known to be overzealous in their cannabis consumption, often landing themselves in a lethargic heap on the couch of their condo, rather than bellying up to the bar for après. The population is smiling, the coffers are full, and ultimately I think Mary Jane is too mellow to have killed après.
Is It Now Après-Ski(n)?
Skiing is obviously an athletic pursuit, but it has gotten even sportier in recent years with the rise in popularity of uphilling. The practice of earning your turns by forgoing the lifts and walking up the mountain under your own power correlates with a general trend toward wellness. Aspen-Snowmass is one of the leading uphilling destinations in the country, allowing athletes to skin on all four resort mountains for free.
Uphill access is restricted on Ajax and Highlands to non-operating hours, however, which means most people uphill before the lifts start spinning at 8:30 a.m. That is evidently the perfect time for a workout but a tad early for the first tipple of the day. It seems uphilling is great for your V02 max but bad for après—and yet it still doesn't seem to be a violent enough activity to completely take it down.
What is French for "During?"
One surefire way to kill après is to start drinking on the mountain while you are still skiing. Typically, après presupposes that the lifts have stopped running, and the mountain is closed. Or, that you have at least—ya know—skied a few runs. The party at Cloud 9 Bistro on Aspen Highlands begins promptly at 11:30 a.m. every day and carries on through two seatings until the mountain closes and après begins. Technically, you have to ride a lift and ski a few hundred feet to get there, but the principle partying at Cloud 9 takes place before you have to ski down. I think this technically makes it pre-ski—or "avant-ski?" Whatever it's called, it is a primer for après, adding hundreds of well-oiled revelers to the scene each day (if they make it down the mountain), therefore drinking while skiing has arguably only helped après, not hurt it.
Did It Move Past the Roundabout?
There is a distinct possibility that après isn't dead, it's just entered the witness-protection program and is living in Snowmass. Snowmass has a rich heritage of partying. Most notable were the parties on Sam's Nob thrown by restaurateur Al Stromberg, one of which was famously captured by Slim Aarons. There was also the Ski Splash, a Winterskol staple that drew thousands of spectators as scantily clad skiers flung themselves off of a jump and into the El Dorado Pool.
Recently, Snowmass has been enjoying a bit of a renaissance. After nearly two decades of false starts, Base Village is officially open for business. The boards have been removed and there are hotels and bars where the holes used to be! Snowmass may be stealing Aspen's après-thunder, but it's not the sole culprit.
The Conclusion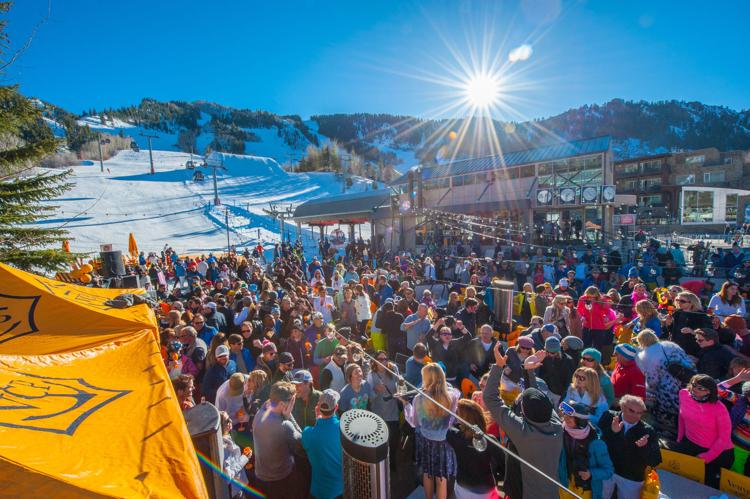 Long Live Après!
Months have passed since the fateful phone call informing me of the death of après. I am relieved to inform you that après is alive and well in Aspen. I understand the cause for concern and bear the caller no ill will. Aspen is a city in flux: Bars close; drugs are legalized; fitness trends come and go. The one constant, however, is après.
Aspen locals lead a lifestyle in pursuit of pleasure both on the mountain, and off.
Visitors come here to live like locals. Once locals are ensconced in skiing and living for the mountain, everything else is après—working, drinking, flirting, all of the things that come after your first love: skiing. The problem arises from imagining après as a time-based phenomenon, which it is not. It is a binary, event-based equation calculated daily. Did you ski today? Yes? Well, then everything else is après.