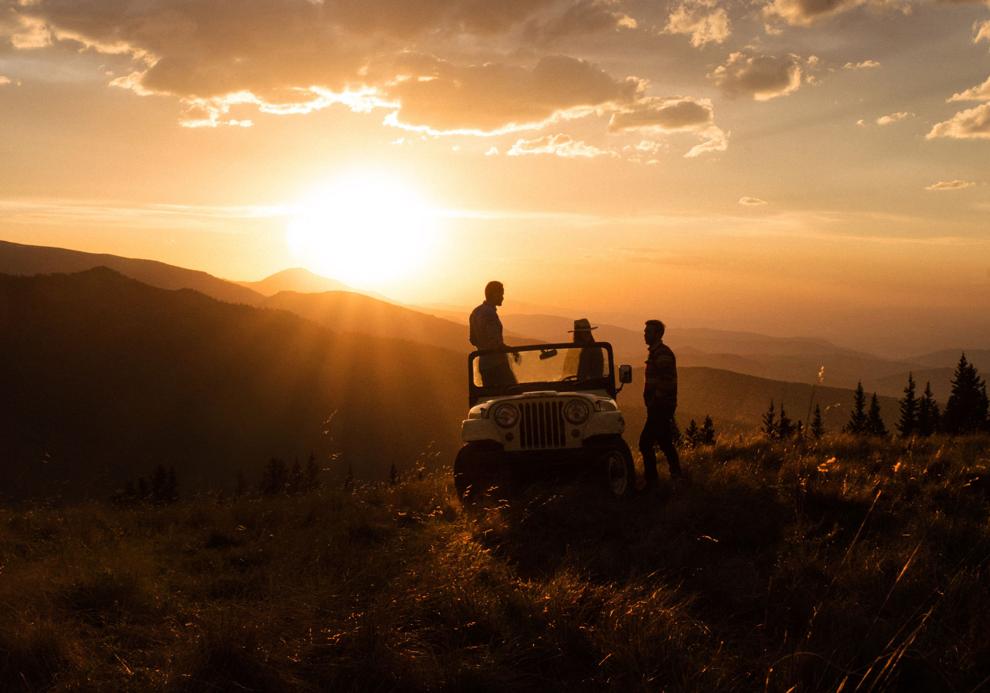 Tasked with capturing the mood of the Roaring Fork Valley amid a global pandemic, three words immediately come to mind: Ups and downs.
Four months into reporting on, keenly observing and living it myself, I've heard sources, strangers, friends and family utter this idiom ad nauseam.
The exchange often sounds something like:
"How are you doing?"
"Oh, you know. I have my ups and downs. You?"
I get it. The context of the world we are living in right now could make even the most secure and even-keeled people feel at least a little crazy from time to time. And sometimes, "I have my ups and downs" is a simpler, more socially acceptable way of saying, "This sucks. Some days, I don't want to get out of bed. But I'm getting through it, and it ain't all bad."
To me, that last part is critical because this pandemic (at least in the U.S.) isn't going away anytime soon.
Our only choice (short of misery) is to find silver linings and to embrace all that we still can do. Fortunately, in this bubble of a Valley, there is still so much to be celebrated. And universally speaking, there are and will continue to be positives that arise.
In contemplating pandemic-positives with other Valley locals, thoughts ranged from irreverent and unfit for print to sincere and heartfelt. 
The following are our 10 favorite positives of the pandemic, and please forgive any flux in tone (we, too, have our ups and downs).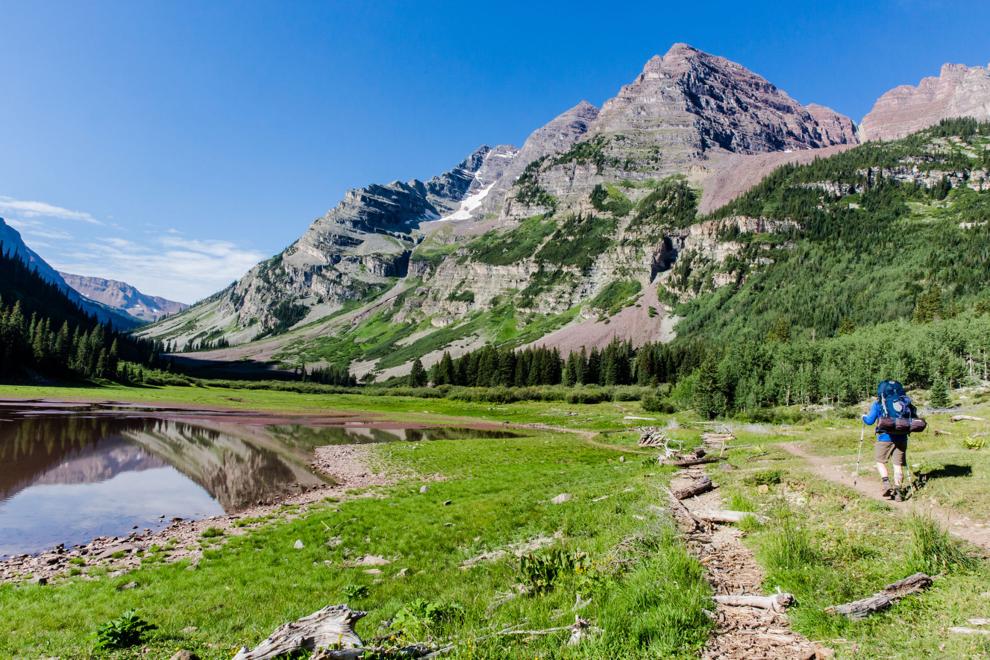 Small Talk in Public: Canceled
I realize this may sound crass to some—but if you can tell me with a straight face that you genuinely miss passing your former coworker's roommate's ex-girlfriend in the toilet paper aisle of City Market, stopping to politely acknowledge this unthinkable coincidence and then playing catch-up out of some misguided moral and social obligation—then this compilation may only feature nine pandemic-positives for you.
For clarity's sake: I love living in a small town; one of my favorite parts is walking into a bar (RIP) and being immediately greeted by familiar faces.
Post-hike, sweaty and on a war-like mission for TP, however, is a different story.
Reset + Reflect
In an overly social resort community where tourists and locals alike pride themselves on squeezing as many activities as possible into any given day, the mere notion of being bound to our homes during peak season—with nothing but our walls, screens and co-habitants to inspire, educate and entertain us—was a shock to our core and to our identity.
Hindsight is 20-20, but I choose to see value and purpose in pulling the plug. So did Aspen Shakti founder Jayne Gottlieb and Olympic gold medalist Gretchen Bleiler, who in April teamed up to offer a 30-day meditation challenge (whereby at least a handful of locals meditated for the first time ever).
"Frankly, I can't think of a worse fate than to come out of this [indefinite] period of quarantine and still feel adrenal fatigue, behind, distracted or disconnected from my dreams, visions and center," Gottlieb said at the time.
Imagine how different our world would be if every person viewed this time as an opportunity to grow and better himself or herself.
More Time Outside 
You know what I learned about myself during quarantine? How much I don't enjoy following a workout video on my phone within the confines of my 400-square-foot home.
When the lifts stopped spinning for the season on March 14, an overwhelming contingent of locals looked to their new favorite sport: Skinning. Due to said struggles with Instagram workouts, I was one of them.
As soon as the snow melted, skinning turned to trail running, and now that summer is in full swing, our backyard enables us to hike, bike, rock climb, raft, SUP, fish, golf, camp, play tennis, ride horses and Jeep to our hearts content.
While time outside was always a local favorite, it also now serves as our greatest semblance of normalcy (and peace).
Al Fresco Dining
Another important lesson of the pandemic is how much better booze tastes en plein air. (Just kidding, we already knew that.)
The evolution of patio dining tops the list of positives globally, and local restaurants are going above and beyond to deliver. Stroll through the walking malls or check out the Creperie du Village, where a newly constructed 400-square-foot patio can seat an additional 25 patrons.
Valley restaurateurs also deserve credit for ramping up their takeout and delivery efforts, allowing us to indulge our al fresco pursuits a la picnics in the park.
Parks have, in fact, become such an essential part of pandemic life in the Valley that we dedicated a story to the sole subject (See You at the Park).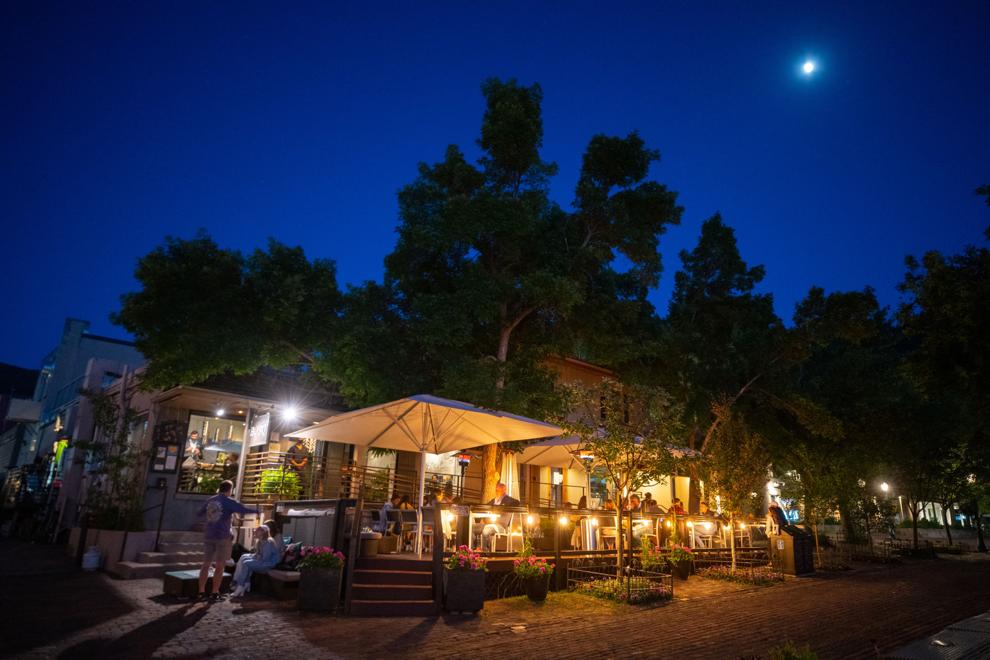 Education on the House
Outside of discovering which beverages travel best in a Jeep (cans are much easier to drink from than bottles or cups), real subjects and skills have been learned during the pandemic thanks to the many organizations that offered free online courses.
From major corporations to community colleges, countless online workshops allowed people to pick up a new hobby or hone their craft, be it the guitar (courtesy Fender), photoshop (Adobe) or virtually anything (MasterClass).
Locally, Colorado Mountain College offered free summer courses to Valley residents (many of whom are taking enrichment and professional development courses they never otherwise would have considered).
Tens of thousands of people also tuned in to this year's virtual Aspen Ideas Festival, which, for the first time ever, was completely free (passes traditionally cost thousands of dollars).
The 2020 festival covered the pandemic, race and American society, economic and diplomacy issues, global and domestic health, leadership and the arts and featured the likes of Madeleine Albright, Dr. Anthony Fauci, David Byrne, Mitt Romney and Stacey Abrams, among other world leaders and luminaries.
A Wave of Creativity and Innovation
Maybe it was the free classes, maybe it was the free time (or most likely a combination of the two), but the pandemic spawned serious creativity.
A 13-year-old Aspenite started an organic bagel company (Bam! Bagels!). Local distilleries batched hand sanitizer (Marble Distilling Co. and Woody Creek Distillers). A ski company manufactured cashier's shields (Folsom Skis). A group of realtors and creatives teamed up to create a cookbook featuring favorite recipes from local restaurants, with proceeds benefiting a hurting food and beverage industry ("The Aspen Cookbook"). And countless Valley residents have sewn face masks and made other PPE.
Hope in Humanity
At points during the pandemic, a number of nonprofits saw more people wanting to volunteer than there were positions to fill.
Just ask Aspen Family Connections director Katherine Sand, who helps organize a weekly food drive in partnership with Food Bank of the Rockies. 
"We had dozens and dozens of people come forward [to volunteer] immediately," says Sand, including not just locals but visitors as well. "There's nothing like the people here. They're amazing."
Folks in the Roaring Fork Valley have certainly stepped up and looked out for their neighbors over the past four months.
And then there are the front-line workers who kept us safe, healthy and fed. See our spotlight on a few local heroes of the pandemic.
Supporting Local
With a collective ­passion to support local suppliers and artisans, three young Aspenites launched a business that partners with area farmers and purveyors to craft custom and pre-curated baskets.
Called The Source, the company also serves as an online platform for people to be able to shop and order locally sourced goods to be delivered.
"We have the power of choice right now to choose to support local, sustainable practices, or to keep supporting the old norms," says The Source co-founder Patrick Sullivan. "We've taken a step back in the sense of realizing that community is so important, and even though we can't connect with each other physically, there are other ways we can connect with and support each other."
Drive-in Makes a Comeback
The return of the drive-in concept takes us back to a simpler time that has never felt further.
In May, Aspen High School held its first-ever drive-in graduation ceremony at the base of Buttermilk ski area. In June, the Arts Campus at Willits and Crown Mountain Park hosted the first of many drive-in movies this summer.
Dozens of other local organizations, from performing arts groups to religious entities, have expressed interest in jumping on the proverbial bandwagon.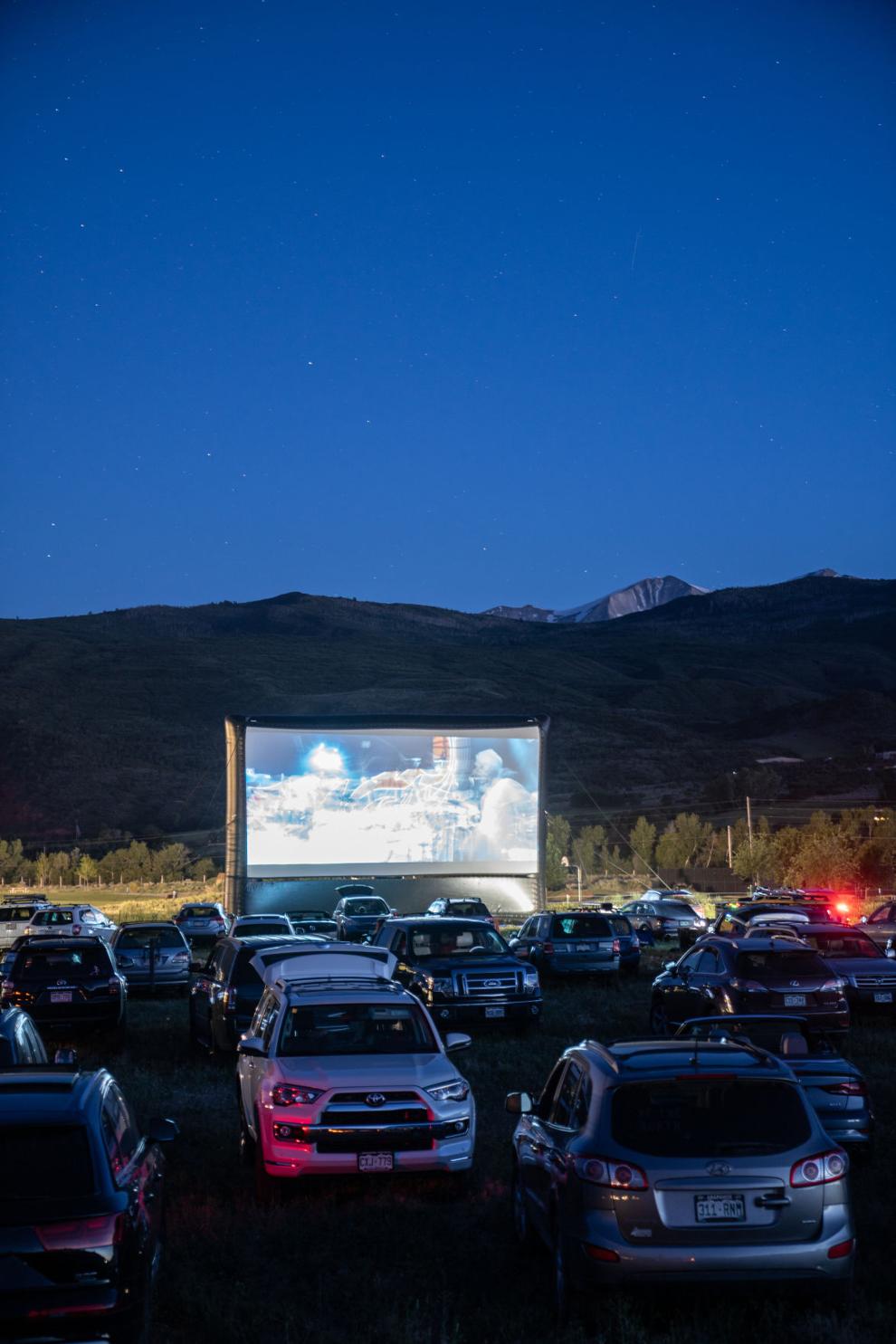 Reconnecting
During the early days of the pandemic, how often did you and your family set aside a specific time to Zoom together?
Yeah, mine didn't do that, either, but according to my social media feed, a lot of other families did.
I did communicate more with my family and friends near and far. As a collective, it seemed people craved connection and checked in on each other more often. Conversations sounded something like:
"How are you doing?"
"Oh, you know, I have my ups and downs. You?"
Spotlight: Local Heroes
Each of these essential workers were chosen by colleagues for their work during the pandemic
Billy Williams
Billy Williams is the assistant store director of Clark's Market. In typical Aspen fashion, he also works as security personnel for Mariah Carey when she visits (but that's another story for another time.)
Williams loves working at Clark's and is passionate about the grocery business, even when it means greeting hundreds—and as of June, more than 1,000—visitors through the market per day.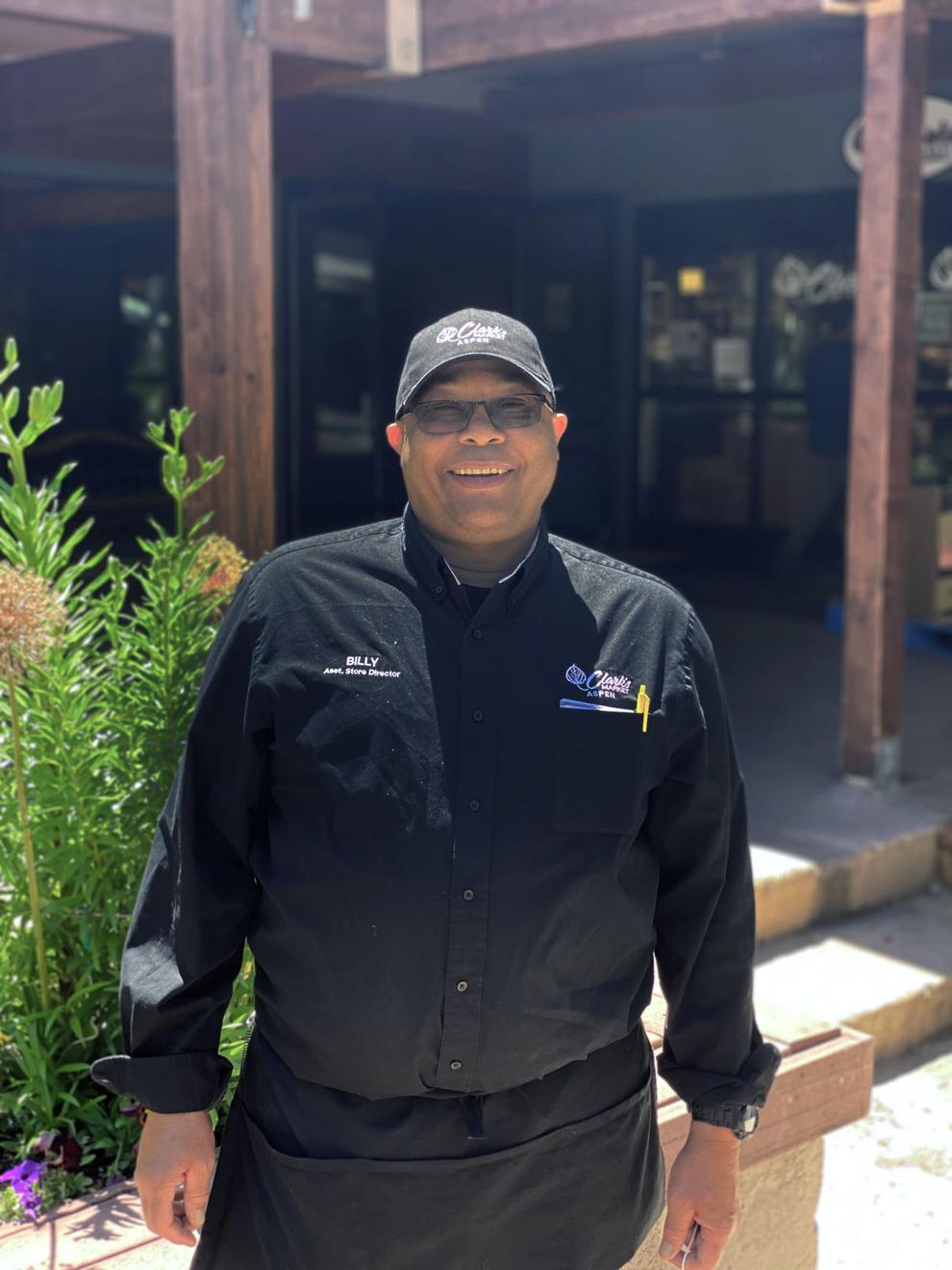 "That's what I like, I like the people. And I like the people at Clark's, just to see people come and get their lunch, and they're happy," says Williams. "It's special here. [Aspen] is a special place."
His main concern facing and working with customers daily is not bringing anything home to his wife and two children. Every day when Williams arrives home after work, he washes his clothes and showers immediately. "I've never used so many [Tide] Pods," he quips.
Williams is grateful to be able to work during the pandemic because he takes immense pride in what he does.
Dr. Catherine Bernard
Dr. Catherine Bernard is an emergency physician at Aspen Valley Hospital who also serves as Chief of Staff.
Working on the frontline of the Covid-19 pandemic "has been many things," Bernard says. "At first, quite frightening to be sure, but then a challenge that could not be ignored, and an opportunity to really learn new things and make a difference—the number one and two reasons I went into medicine—and now an opportunity to teach as well," she says.
Bernard has played an instrumental role in educating the community about the novel coronavirus and testing through Pitkin County community meetings.
"This may sound strange, but I have found new meaning in my roles at AVH during this time, and I believe this is some of the most important work I have done, ever," she says.  
Her greatest challenge during the pandemic has been to practice patience—something she says "ER doctors are not typically known for"—from learning about a new disease and waiting for adequate tests, to dealing with limited supplies, changing protocols and underfunded public health needs.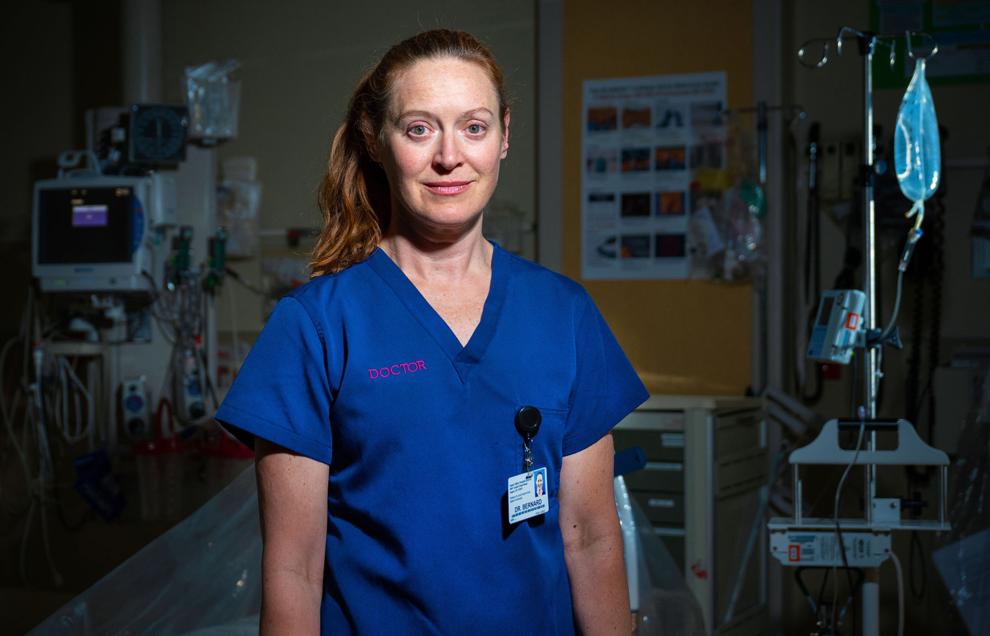 Randy Eis
Randy Eis is a critical care paramedic at Aspen Ambulance. Sporting a full suit with a powered air respiratory system, Eis is among the team that will transport critically ill Covid-19 patients to Denver.
Asked what it has been like to work on the frontline of the pandemic, Eis considers his patients. "It was pretty scary in terms of the patient … that [they had] gotten that sick that fast. That part was really eye-opening," says Eis. "It is startling to see patients so, so fragile and so sick."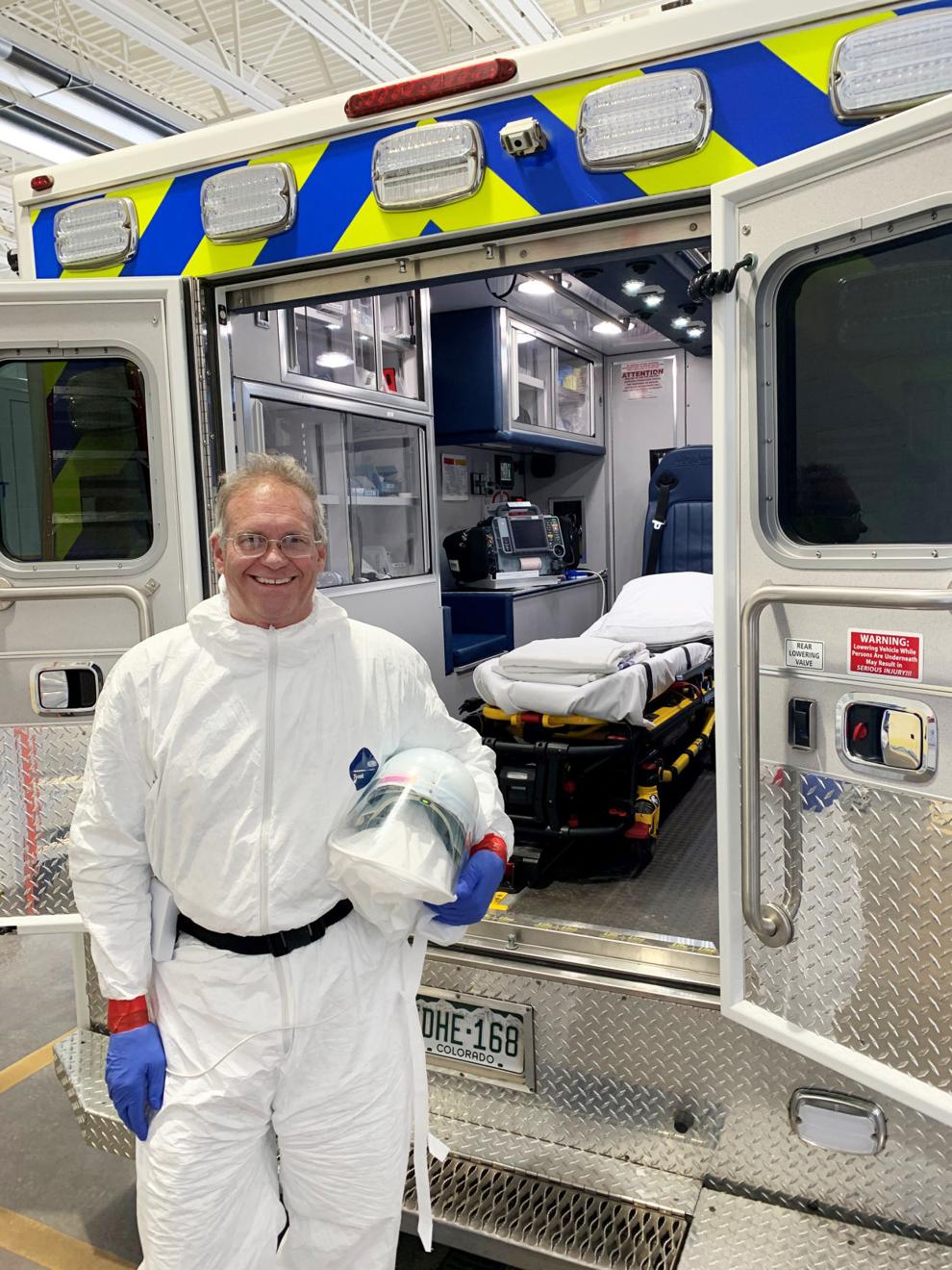 He says he isn't overly concerned about contracting the virus from a patient because the paramedic team "has been keeping up on all of the current ideas on what is safe and what are good practices to [implement]. We've got a pretty good system down."
Eis is most proud of the paramedics' teamwork throughout the Covid-19 pandemic.