Surrounded by four world-class ski areas with high-speed chairlifts whisking us to thousands of acres of terrain, most Aspenites get the majority of their winter fill by skiing, snowboarding and skinning within the boundaries of Aspen, Aspen Highlands, Buttermilk and Snowmass. But beyond the ropes, an entire world of alternate adventures on snow awaits. Whether it's earning your turns while backcountry skiing, gliding along scenic cross-country trails, winding on snowy singletrack on a fat bike or exploring new terrain by snowmobile, Aspen's winter activities stack up as high as the snowpack.
Backcountry Skiing and Snowboarding
"As big as our lift-served mountains are, they just barely scratch the surface of what's around here to ski," says Aspen Alpine Guide Nate Rolland. "When you're in the backcountry, you can forge your own path and make your own decisions as to what to get into and what to avoid. It's a mentally and physically engaging experience."
Backcountry skiing and snowboarding require education about snow safety and special equipment (think: avalanche gear like a beacon, shovel and probe, as well as alpine touring boots and bindings), but the actual skiing doesn't have to be any harder than skiing off-piste at a resort. "There's a common misconception that backcountry skiing is an expert-only pursuit," says Rolland. "Just like our ski areas, you have green, blue and black terrain and even some areas where you can avoid avalanche terrain altogether."
Finding those zones requires intimate knowledge of the area, which is why beginners and intermediates should hire a guide like Rolland (aspenalpine.com). Beyond route finding, a guide's main purpose is to keep the client safe. Whether it's with a guide or a mentor you trust, always backcountry ski and snowboard with an experienced partner who knows the snowpack. Rolland advises all backcountry skiers and snowboarders to check the Colorado Avalanche Information Center forecast on not just the days you want to ski, but every day throughout the season to better understand the snowpack.
Ashcroft, Independence Pass, Richmond Ridge and Marble are just some of the zones popular with local backcountry skiers and snowboarders. The 10th Mountain, Friends and Braun Hut systems draw many first-time backcountry skiers and snowboarding (huts.org). However, it's important to know some hut routes require more route-finding skills and avalanche knowledge than others.
Rolland suggests getting your feet wet (actually, making sure they don't) on Buttermilk. "Get your gear and your fitness dialed on Buttermilk," says Rolland. "You can test your equipment, you and your partner's pace and get everything worked out before you leave the resort boundary."
Nordic Skiing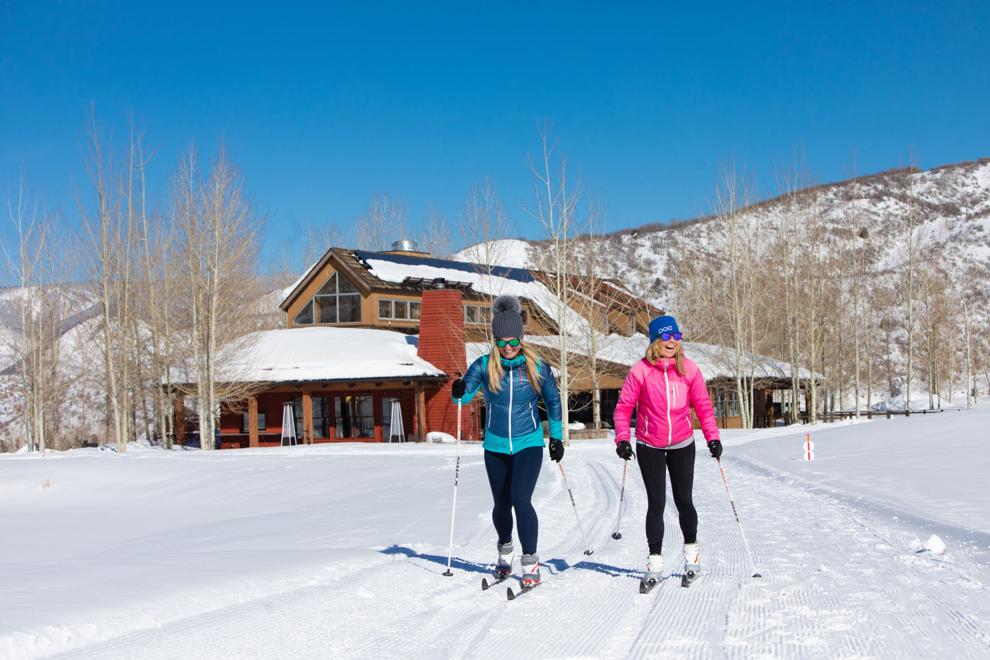 If you have yet to try cross-country skiing, consider this: With more than 55 miles of trails among Aspen, Snowmass and Basalt, the Aspen-Snowmass Nordic Ski Trail System constitutes one of the largest free Nordic trail systems in the country. Plus, you can find decent used equipment for a fraction of the cost of alpine skiing or snowboarding gear.
Aspen Valley Ski and Snowboard Club Nordic coach Sari Anderson started cross-country skiing more than 15 years ago to cross-train for mountain biking and immediately fell in love with the sport. "You can go out for a fairly short period of time and get a great workout," says Anderson. "What I love about it even more than running is the gliding. Plus, it's something you can do with the whole family—from small children to grandparents. Everyone can go at their own pace."
Cross-country skiing breaks down into two styles: Classic skiing and skate skiing. The equipment and mechanics differ, but the techniques share the fundamentals. Anderson recommends starting with classic skiing. "It's the basis of Nordic skiing, and you learn skills about transferring your weight that you can transfer over to skate skiing," says Anderson. "Plus, if you're visiting or only have a day, it's easy to go out on classic equipment and figure it out on your own." When honing your technique, both the Aspen and Snowmass cross-country centers offer group and private lessons (and sometimes free clinics).
When snow covers the Aspen Golf Club course, Nordic skiers of all abilities enjoy nearly 5 miles of fairly flat loops close to town. On the other side of Highway 82, the Aspen High School trails meander from the road up to the schools over 3.6 miles of up-and-down trails. Ashcroft Ski Touring grooms almost 22 miles of trails that roll from the ski center just above Toklat to Pine Creek Cookhouse. The North Star Nature Preserve hides a 1.5-mile loop along the river two miles east of Aspen. The Snowmass Cross Country Center offers more than 6 miles of groomed trails on the golf course with some challenging hills.
You'll find two town-to-town skinny-ski adventures in the Valley: The 8.5-mile Owl Creek Trail connects Aspen and Snowmass as it winds its way from Tiehack to Two Creeks, and the Rio Grande Trail offers a gentle 20-mile "descent" from Aspen to Basalt. (Check aspennordic.com for the grooming report.) Local Olympic cross-country skier Simi Hamilton's favorite trails in the world can be found at the Spring Gulch trail system west of Carbondale where 13 miles of trails roller coaster through the sagebrush.
Fat Biking
Local photographer and weekend warrior Ann Driggers started fat biking a few years ago during shoulder season when there wasn't enough snow to ski and too much snow to mountain bike. "A fat bike is a perfect transition toy," says Driggers. Now, she likes fat biking so much, she rides all winter.
Once the Sky and Crown mountain parks (the BLM land between Basalt and Carbondale that includes popular trails like Vaston and Buckhorn have too much snow for her fat tires, she rides everywhere from the Maroon Bells to the groomed trails at the Aspen Golf Course to Highway 82 up Independence Pass.
"The snow can be soft, and it might feel squirrelly, but if you commit to riding, those fat tires just carry you over everything," she says. "They're very forgiving and stable. At first, I was sketched out about doing down switchbacks, but the tires stick like glue—it's just a hoot."
Driggers' advice? "Dress warm. If you're cold, it's no fun whatsoever. Keep your hands warm with pogies (gloves that attach to the handlebars and encapsulate the brake levers, shifters and your hands) and wear a good pair of winter boots." Driggers carries extra layers and hot tea in a pack.
Stapleton Ski rents fat bikes in town, as does the Ute Mountaineer at the Aspen Cross Country Center (where you can begin the 4.5-mile Aspen Fat Bike Loop through the Marolt Open Space and Aspen Golf Course). Sun Dog Athletics offers guided rides (sundogathletics.com).
Snowmobiling and Snowbiking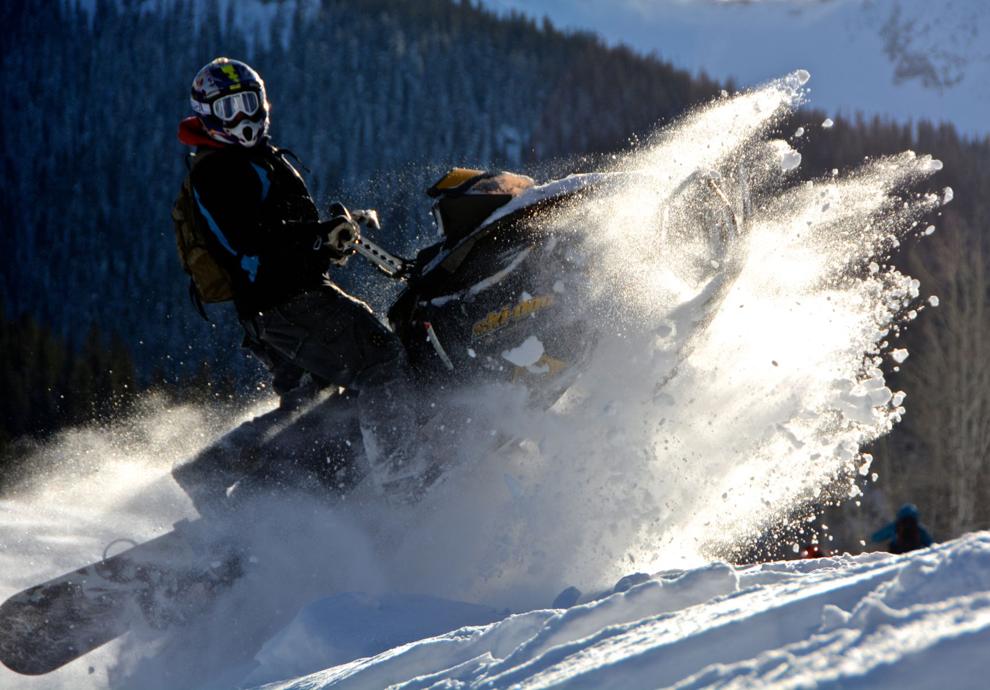 Chris Hendrickson, a longtime local builder, first got into snowmobiling to access backcountry skiing. "As snowmobiles have improved over the last 15 years—they are faster, more agile and get better gas mileage—the [sport has] gradually became more fun than skiing," says Hendrickson.
What Hendrickson and so many local snowmobilers appreciate about the sport is the machine's ability to cover vast amounts of terrain in a day. But with designated wilderness areas in every direction around Aspen, snowmobile access in Aspen is limited. Roads like Independence Pass and Maroon Creek Road offer a chance for snowmobilers to access prime backcountry skiing zones once they park their sleds. For pure snowmobiling, the plateaus, canyons and valleys that make up the Flat Tops near Glenwood Springs are world-famous among snowmobilers.
While people of all athletic abilities can enjoy a snowmobile tour up to the Maroon Bells (tlazy7.com), snowmobiling off the road requires as much, if not more, athletic ability than any aforementioned winter sport. It also requires the same avalanche and snowpack knowledge (and safety gear—Hendrickson wears an avalanche airbag) as backcountry skiing and snowboarding.
And, users need to understand how the machine works and basic engine repair.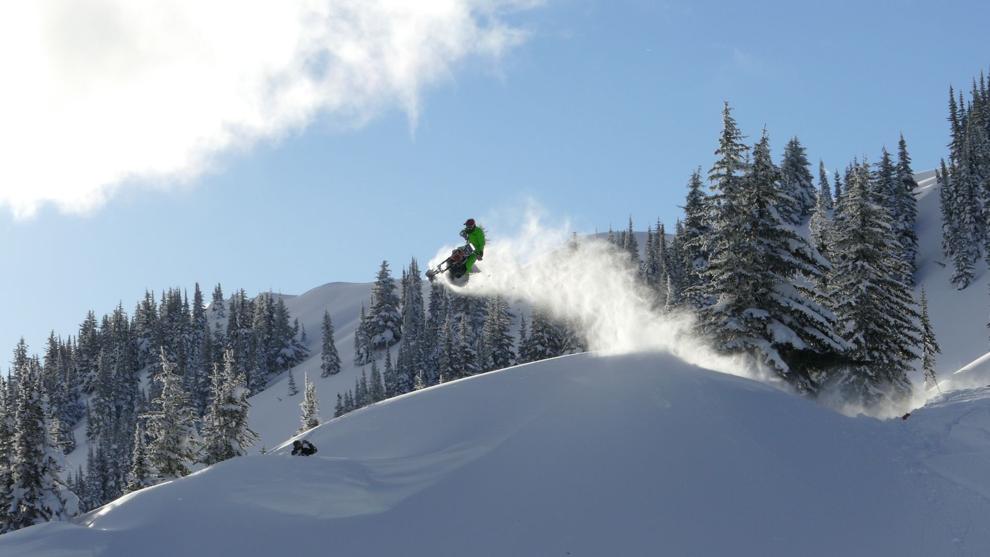 Beginner mistakes? Going solo. "Even if it's only a mile or two out, on a powder day, that's a lot of post-holing to get back if something goes wrong," says Hendrickson. "I've been snowmobiling for 15 years, and I never go alone." Even in a group, Hendrickson says snowmobilers should carry radios and a Spot device or satellite phone.
If you're looking for some of the benefits of a snowmobile and already own a dirt bike (aspenmotoworx.com), a brand named Timbersled makes a front ski and rear track system that replaces the tires on a dirt bike. Radio Boardshop owner Travis McClain converted his dirt bike two winters ago and says the learning curve lasted "about two minutes." On his snow bike, he's able to join a group of snowmobilers to access his favorite splitboarding zones without spending thousands on a new machine. While it lacks the power of a good snowmobile (you can't double with a partner), his snow bike is so maneuverable and adept at navigating advanced terrain, he often scouts routes through the woods and radios back to the crew, advising them which direction to go.
Says McClain, "It's harder to get stuck, and if you do, it's lighter to dig out."