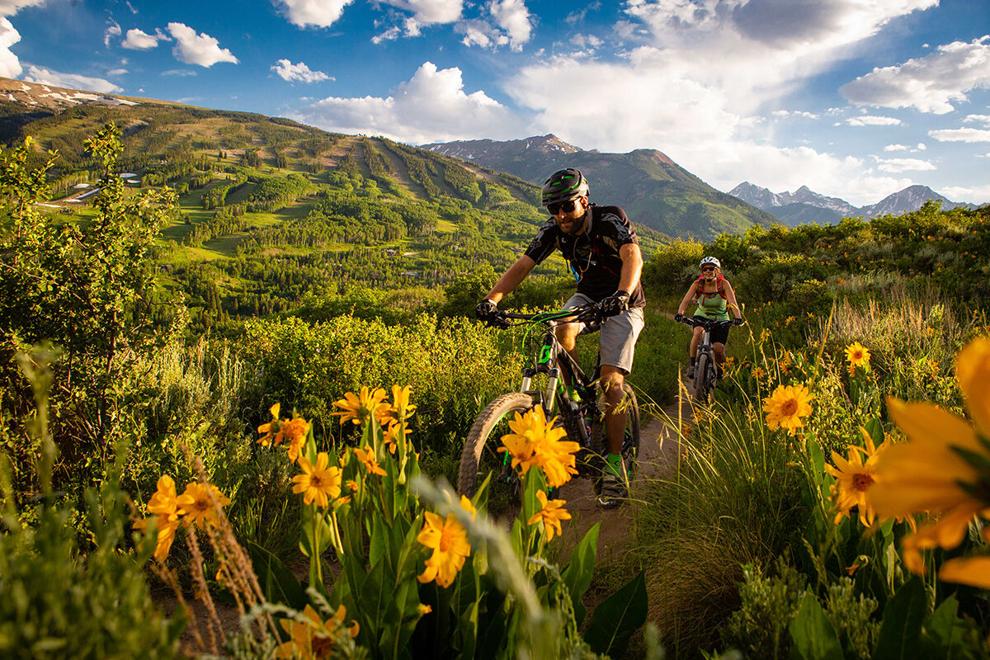 As two-wheel popularity surges, trails expand and programming grows.
Sales and activity data suggest there are more cyclists on roads and trails than ever before. That's certainly the case in the Roaring Fork Valley, where trail networks continue to expand, bike shops report record sales and events and programming grow. And with this summer projected to be Aspen's busiest yet (thanks to record occupancy reports and the busiest summer-flight schedule ever), we might be ground zero for the global cycling boom. 
As Basalt Bike & Ski owner Joel Mischke says, "2020 was the best year in history for the bike industry." In the United States, bike sales climbed 65 percent last year, and electric-bike sales shot up 145 percent, while mountain-bike sales saw a 116-percent increase over the last year. And those numbers would be even higher if supply could come close to meeting demand. "We're already 28 percent up in sales from last season, and last year was a record year," says Travis McClain, manager of Basalt Bike & Ski's Aspen location. "At this rate, we will be completely sold out by June, as supply chain issues are delaying shipments until August or September." Like many bike shops in the country, all three Basalt Bike & Ski locations are swamped with service work, short on rental fleets (again, blame the backlogged supply chain), and selling bikes before they even hit the showroom floor. 
The good news is that trails are also growing to keep up with demand. Last year, mountain-bike trail counts across the United States were up anywhere from 100 to 500 percent compared to the year prior. The Roaring Fork Mountain Bike Association (RFMBA) spearheads trail-building efforts in the Valley, working to create and sustain the best possible mountain-bike trail system from Aspen to New Castle, McClure Pass to Hagerman Pass. The advocacy group helped the Roaring Fork Valley gain International Mountain Bike Association (IMBA) Gold Level Ride Center designation in 2020—one of only seven such centers in the world—for its extensive trail networks designed for mountain bikers of every skill level, overall trail mileage, quality of trail experience, community dedication and local services. New connectors and extensions continue to improve the system. 
This summer brings almost 10 miles of new singletrack to the New Castle Trails, a user-friendly (thanks to increased signage) network of trails winding through pinyon-juniper woodlands near the growing community of New Castle, just west of Glenwood Springs. And, RFMBA teamed up with Roaring Fork Outdoor Volunteers and the Red Hill Council   last month to build the new Sutey Ranch Trail in Carbondale, which provides access to the northern end of the Red Hill trail system via the Northside Loop and the Elk Traverse Trail. The Sutey Ranch Trail is half hand-built, half machine-built to retain the character of the existing 19-mile trail system that's more tech than flow. Additionally, a new project in Hunter Creek Valley reroutes and extends the lowest portion of the Lower Plunge Trail with a new, higher quality trail that offers rocks and fun features, as well as creates a new valley-floor loop for hikers. And the highly anticipated Coal Basin Trail in Redstone—funded by the Walton Family on their private land—is tentatively set to open July 1. The former Mid-Continent Resources mine site offers family friendly, modern mountain-bike trails with a focus on restoration. The thoughtfully designed machine-built trails mitigate drainage and erosion while protecting stream health in the area. "The trails include Dutch Creek, which climbs through forested terrain near a creek, and Bear Ridge, which flows and berms down steep slopes and offers an optional jump line," says RFMBA President Mike Pritchard. At the trailhead, pump track loops and jump lines will entertain kids and riders of all ages.  
This summer, RFMBA expands its seasonal trail crew to work on
"deferred-maintenance" trails, or off-the-beaten-path trails long overdue for maintenance (like the big loop on Basalt Mountain) with funding through the Great America Outdoors Act—the landmark conservation legislation passed last year that provides up to $9 billion over the next five years to fix deferred maintenance at national parks, wildlife refuges and other federal lands, like our area's White River National Forest. 
In Aspen, Rapha—the style-conscious premium cycling-apparel company with a cult following—opens a pop-up store Downtown this summer, selling its minimalist designs and pouring espresso for area cyclists.
Rapha is also supporting the local cycling community by stepping up as the title sponsor of the Aspen Cycling Club (ACC) and its summer race lineup (alternating mountain-and road-bike races every Wednesday evening throughout the Valley). "Our hope and expectation is that people who pivoted their lives to become more outdoor focused this past year want to get out and test their fitness and skills," says ACC President Andy Ralston. "If you've ever thought about doing the Maroon Bells time trial, this is the year. No matter your experience, there will be other racers on your same level." After a season of socially distanced time-trial racing, mass-start racing returns, allowing groups to ride, race and socialize together.
With possibly more bikes on the trails than ever before, now is the time to explore the outer reaches of our Valley's trail network. When Sky Mountain Park feels busy, head to the Midvalley's Glassier Open Space, where modern singletrack provides up-and-down access through the Crown BLM land (and over to the Prince Creek network in Carbondale). Ever ridden the new-ish South Canyon trails in Glenwood Springs? Almost nine miles of purpose-built bike trails appeal to riders of all levels and offer unique views of the Flat Tops. Done Government Trail in each direction more times than you count? Try Hay Park Trail, which starts at the base of Mount Sopris and traverses its way across high-country meadows with spectacular views of Capitol Peak. 
Let's hope the more cyclists that populate Aspen's scenic roads and growing trail network, the happier and healthier the community.